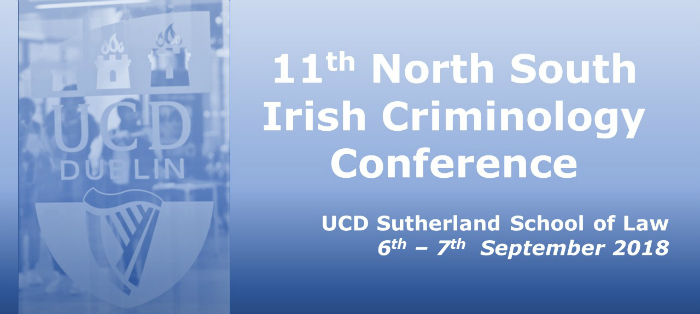 The 11th North South Irish Criminology conference will take place on 6-7 September 2018 at the Sutherland School of Law, University College Dublin.

The overarching theme of the conference is New Frontiers in Criminology. Reflecting this theme, we welcome papers on cutting-edge research in the field of criminology and criminal justice, particularly papers that report on methodological innovations, shed new light on the experiences of under-researched groups, or explore issues related to crime and criminal justice at the periphery. We also welcome papers from early-stage researchers and postgraduate students.

Sub-themes include but are not limited to:
• Theories of crime
• Victimology
• Penal policy
• Policing
• Sentencing
• Juries
• Imprisonment
• Capital punishment
• Restorative justice
• Youth justice
• Community sanctions
• Desistance and rehabilitation
• Drugs
• Intersectionality
• Research methods
• Offence types
• Criminal law
• Comparative criminology

Professor Eamonn Carrabine (University of Essex)
Eamonn Carrabine is professor of sociology at the University of Essex, co-editor of Crime, Media, Culture, and a Fellow of the Academy of Social Sciences. His latest books, both published in 2017, are Crime and Social Theory and (with Michelle Brown) The Routledge International Handbook of Visual Criminology.

Professor Fergus McNeill (University of Glasgow)
Fergus McNeill is professor of criminology and social work at the University of Glasgow. His many research projects and publications have examined institutions, cultures and practices of punishment and rehabilitation – and questions about their reform. He has co-written or co-edited several books including Offender Supervision: New Directions in Theory, Research and Practice, Offender Supervision in Europe, Reducing Reoffending: Social Work and Community Justice in Scotland, and Understanding Penal Practice and Youth Offending and Youth Justice.
Book Launch
Delegates are also invited to the launch of Professor Ian O'Donnell's new book, Justice, Mercy and Caprice: Clemency and the Death Penalty in Ireland Ireland (OUP, 2017), on 6 September. Tom O'Malley (Department of Law, NUI Galway) will officially launch the book, with a wine reception to follow. Tom O'Malley is a member of the Irish Law Reform Commission and a practising barrister specialising in judicial review.
Registration
Registration fee: €50 [€30 for students]
Call for papers now open
Abstracts (max. 200 words) should be submitted to criminology@ucd.ie by 30 June 2018 and accompanied by name and institutional affiliation.
About the Conference
The North South Irish Criminology conference was established in 2005 and has since become an important fixture in the criminological calendar. The conference aims to provide a forum for academics, researchers, policymakers and practitioners working in the fields of criminology and criminal justice to meet and exchange ideas. Typically, the conference attracts Irish and international delegates from a wide range of backgrounds including academia, research, policy and practice.
Symposium: Historical Perspectives on Capital Punishment
A symposium on capital punishment histories will run in parallel with the North-South Irish Criminology conference on Thursday, 6th September 2018. The symposium will bring together new historical research and critical perspectives on the death penalty, crossing jurisdictions to examine its operation in England and Wales, Scotland, Ireland, and the United States (further details available here. Delegates are welcome to attend some or all of the sessions.