UCD Business, Law and Regulation Seminar with Prof Michal S. Gal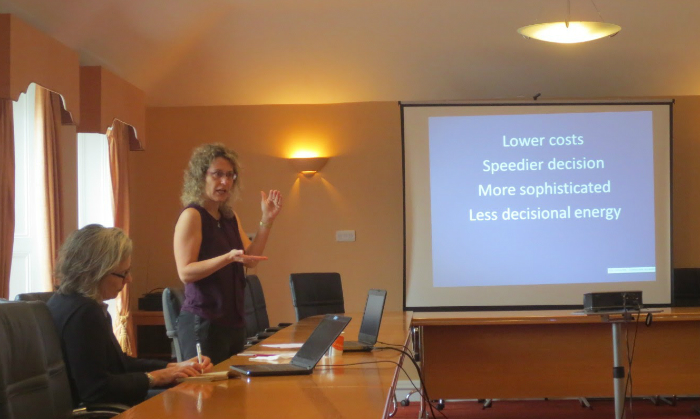 The UCD Business, Law and Regulation Research Group recently hosted a seminar on 'Algorithmic Consumers' with Professor Michals S. Gal of the University of Haifa. Professor Gal presented her recent article published in the Harvard Journal of Law and Technology (co-authored with Niva Elkin-Koren). The paper is available here.
The seminar examined how the next generation of e-commerce will be conducted by digital agents, based on algorithms that will not only make purchase recommendations, but will also predict what we want, make purchase decisions, negotiate and execute the transaction for the consumers, and even automatically form coalitions of buyers to enjoy better terms, thereby replacing human decision-making. Algorithmic consumers have the potential to change dramatically the way we conduct business, raising new conceptual and regulatory challenges. This game-changing technological development has significant implications for regulation, which should be adjusted to a reality of consumers making their purchase decisions via algorithms. Despite this challenge, scholarship addressing commercial algorithms focused primarily on the use of algorithms by suppliers.
Professor Gal is Director of the Forum on Law and Markets at the faculty of Law, University of Haifa. She has held visiting professorships at NYU, Georgetown, Melbourne, Lisbon and Columbia. She is author of several books including Competition Policy for Small Market Economies (2003). She has served as a consultant to several international organizations including the OECD and UNCTAD and was a non-governmental advisor to the International Competition Network. She is a board member of several international antitrust organizations including the American Antitrust Institute, the Antitrust Consumer Institute, the Asian Competition Law and Economics Centre and she is President of the International Academic Society for Competition Law Scholars.
Sean Murphy, Director of Consumer Enforcement Division and Senior Legal Advisor at Competition and Consumer Protection Commission with Dr Mary Catherine Lucey, UCD Sutherland School of Law
William Johnston, Consultant in Banking and Law, Arthur Cox with Anne O'Farrell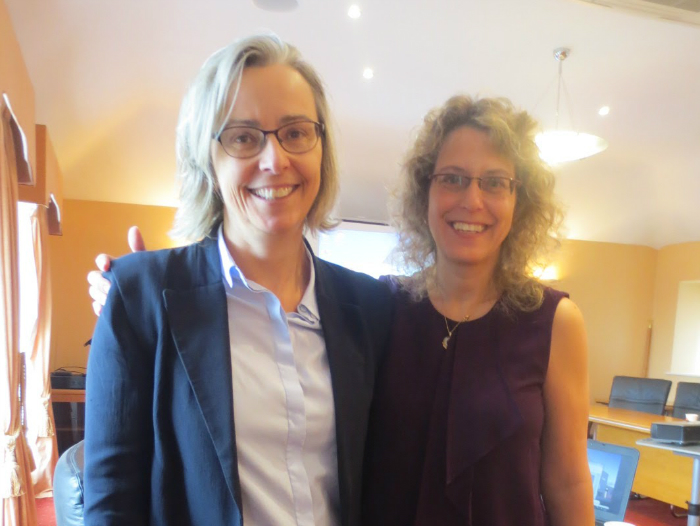 Prof Imelda Maher, UCD Sutherland School of Law and Prof Michal S. Gal
‌‌Chief Justice's Summer Internship Programme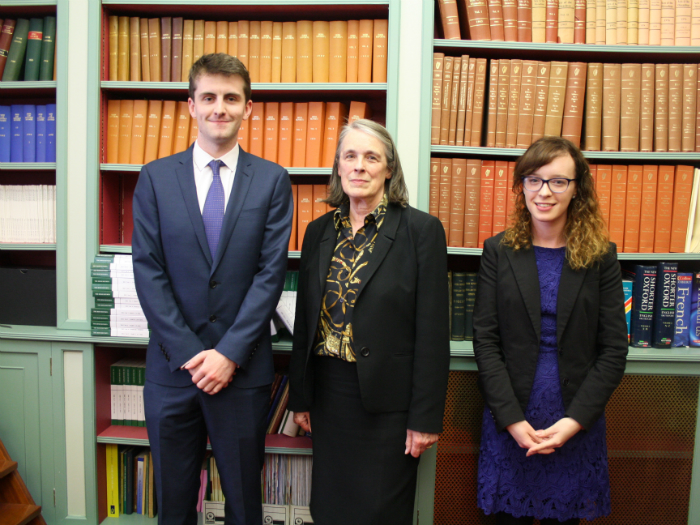 Pictured above; Jamie McLoughlin, The Hon. Mrs Justice Susan Denham, Melissa O'Sullivan
This Summer the Sutherland School of Law nominated two students to participate in the Chief Justice's Summer Internship Programme for Law Students. The programme is aimed at students who have recently completed their final examinations and offers students a unique experience that will boost their future careers.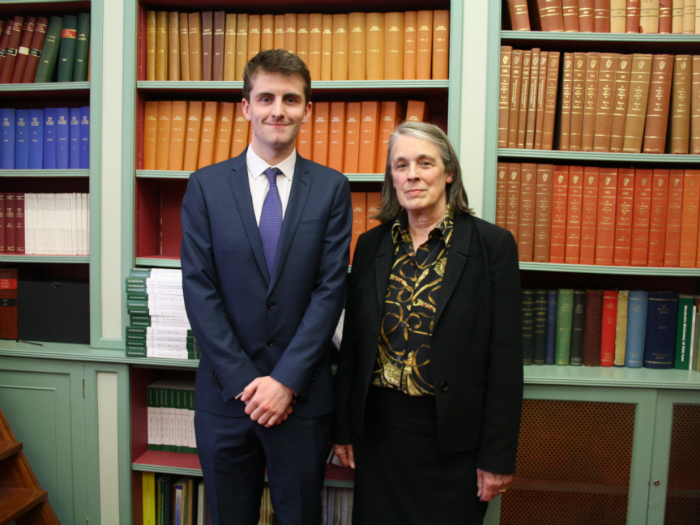 Pictured above; Jamie McLoughlin & The Hon. Mrs Justice Susan Denham
Reflecting on his intenship Jamie said 'Undoubtedly, my understanding of the law and how it works in practice, as well as my knowledge of court procedures have been greatly enhanced by my participation in this programme. This is something I would not have gained but for this one of a kind internship opportunity. It was also an enormous privilege and fantastic learning experience to discuss legal issues with a Supreme Court judge on a one to one basis'.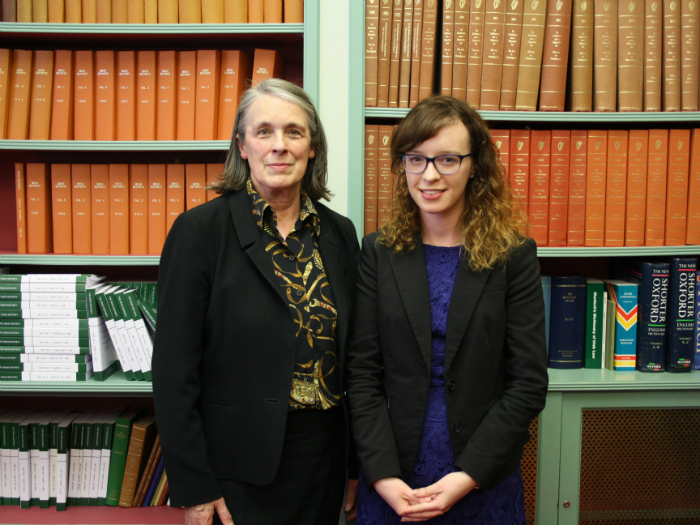 Pictured above; The Hon. Mrs Justice Susan Denham and Melissa O'Sullivan
Melissa also had a positive experience as an intern. 'I gained invaluable experiences during my time at the courts. I learned a lot about the practices, procedures, and traditions of the Superior Courts. It was incredible to get the opportunity to discuss the law with and to get to know both a High Court and a Supreme Court judge. I believe that my knowledge of the law and the courts have improved greatly because of this once in a lifetime internship.'
Professional Diploma in Employment Law Students Celebrate Graduation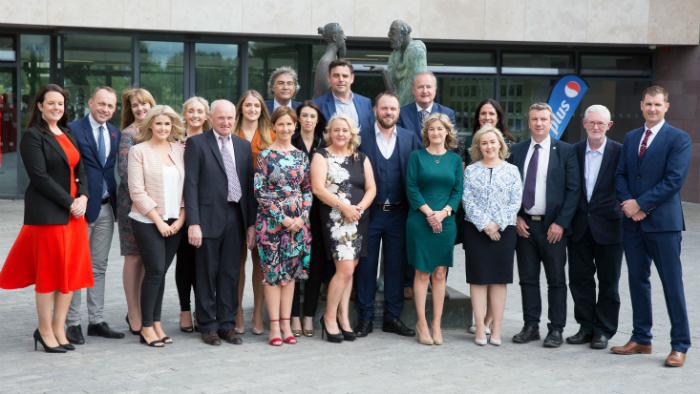 On the 13th July, the School hosted the presentation ceremony for graduates of the Professional Diploma in Employment Law. We are pleased to have been joined by noted UCD Alumnus the Honorable Mr Justice Richard Humphries of the High Court who presented students with their diplomas.

The Sutherland School of Law offers a number of Professional Diplomas. These part time courses specialise in areas of Law that are of interest to Professionals from a legal background or from a related area where a deeper specific knowledge is required. The Employment Law Diploma covers the formation of a contract of employment, employment rights and duties, dismissal, employment equality, industrial action, workplace privacy, bullying, stress at work and freedom of association.

This year's graduates include the General Secretary of the Operative Plasterers and Allied Trades Society of Ireland, Billy Wall, and the Director, Industrial Relations and Manpower Services of the Construction Industry Federation, Jean Winters.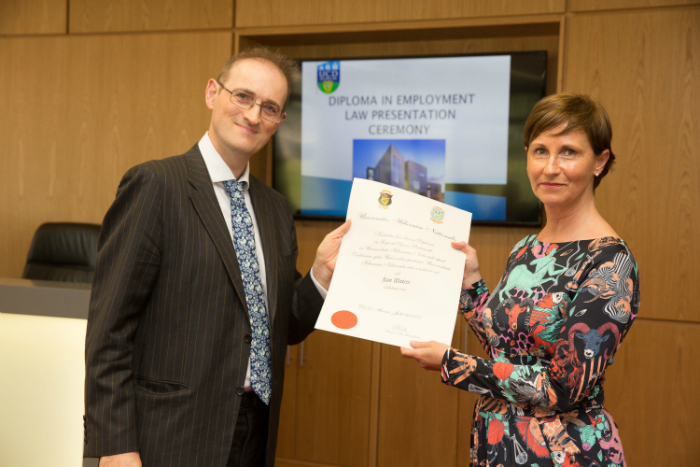 Picture Above: The Hon. Mr Justice Richard Humphries and Ms Jean Winters
The Law and Economics of State Aid before National Courts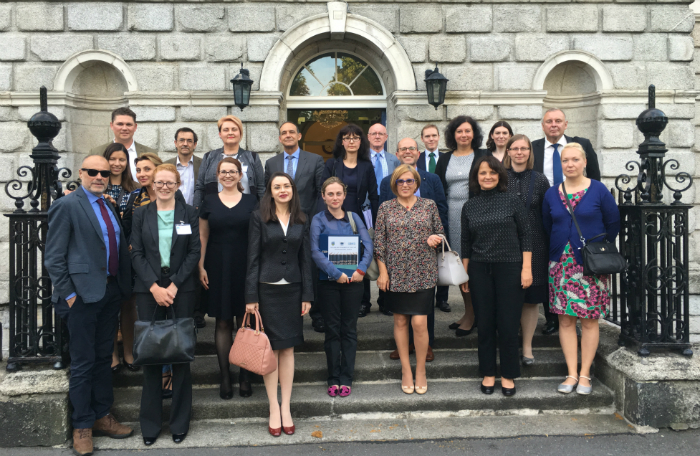 Pictured above: Delegates & Speakers outside the Law Society of Ireland
The Sutherland School of Law welcomed judges and prosecutors from across the European Union to UCD from the 6th to the 7th July 2017 for an international conference on The Law and Economics of State Aid before National Courts, which was organised by Professor Suzanne Kingston in conjunction with Oxera Economics Consultancy. The conference was co-funded by the European Commission (DG Competition) as a judicial training course for national court judges and prosecutors. The event received a huge amount of interest and was fully subscribed with 23 judges and prosecutors from Member States including Italy, Spain, Greece, Latvia, Lithuania, Estonia, Romania, Croatia, Hungary and the Czech Republic travelling to Dublin to attend the event.

The event programme featured top European experts in the field of State aid, including:
- Kelyn Bacon, QC, Brick Court Chambers, London
- The Hon. Mr. Justice John D. Cooke (formerly General Court of the European Union and Irish High Court)
- Professor Suzanne Kingston, University College Dublin and Law Library, Dublin
- The Hon. Mr. Justice Aindrias Ó Caoimh (formerly Court of Justice of the European Union and Irish High Court)
- Dr. Diarmuid Rossa Phelan, Senior Counsel and Trinity College Dublin
- Nicole Robins, Head of State aid team, Oxera Economics Consultancy, London and Brussels
- Professor Erika Szyzczak, University of Sussex and Littleton Chambers, London

The topics covered include:

- State aid and taxation;
- The role of the national judge in assessing the unlawfulness of State aid;
- Remedies before national courts for breach of the State aid rules;
- Key issues in the economics of State aid law;
- Case study on handling economic evidence in State aid cases as a national judge.

As well as engaging seminars and practical case study analysis, the event provided delegates with the opportunity to discuss and share experiences of issues relating to the various topics.

The conference dinner which took place at the Law Society of Ireland provided a memorable conclusion to the event.
The event received excellent feedback with judges commending, in particular, the balance between law and economics.
Pictured Below: Nicole Roberts of Oxera Economic Consultancy addresses delegates in the Moot Court at the Sutherland School of Law.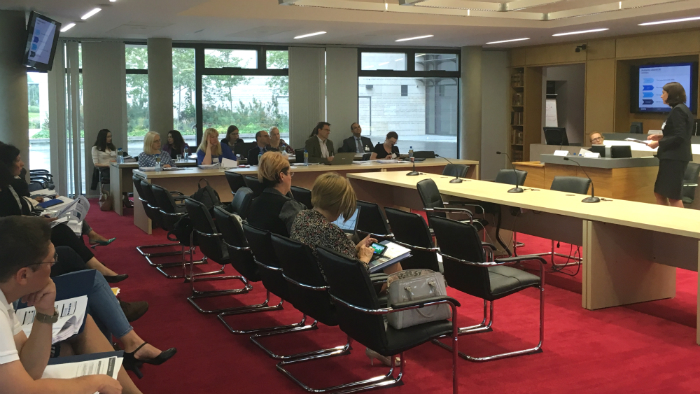 Teaching and Learning Awards 2017
Three colleagues from the School of Law received Teaching and Learning Awards in 2017.
Ms Suzanne Egan
received a University
Teaching Excellence Award
, while
Dr Niamh Howlin
received a College
Teaching Excellence Award
. These are awarded to individual members of teaching staff for sustained commitment to teaching excellence and student learning.
Mr James McDermott
received a University
Award for Outstanding Contribution to Student Learning.
This recognizes any UCD faculty, staff, tutors or demonstrators who have made contributions to student learning in a specific area.
There were 73 awards made at College level, and 13 at University level, following 1,675 nominations across UCD. The College of Law and Social Sciences awards were presented in June by Professor Colin Scott.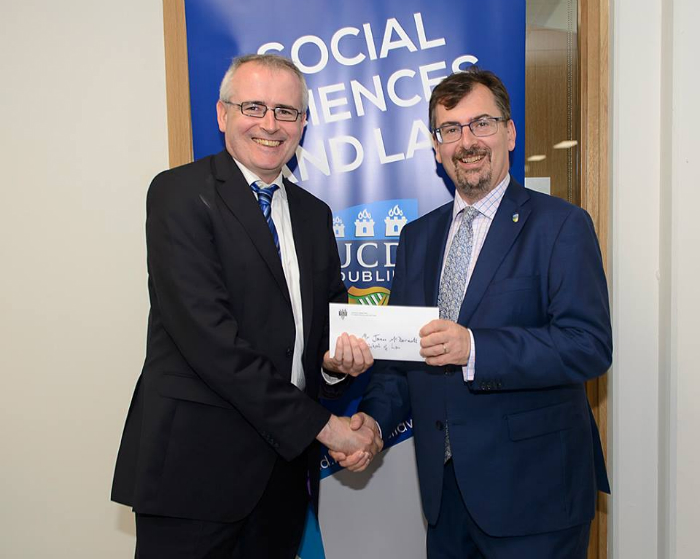 Mr James McDermott and Professor Colin Scott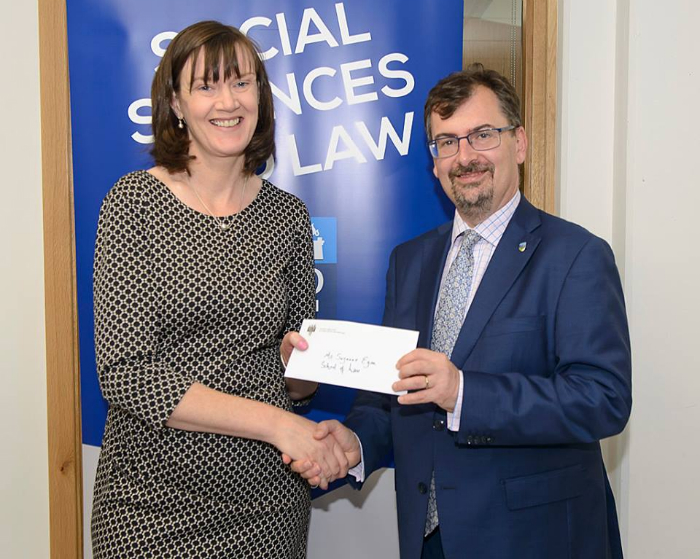 Ms Suzanne Egan and Professor Colin Scott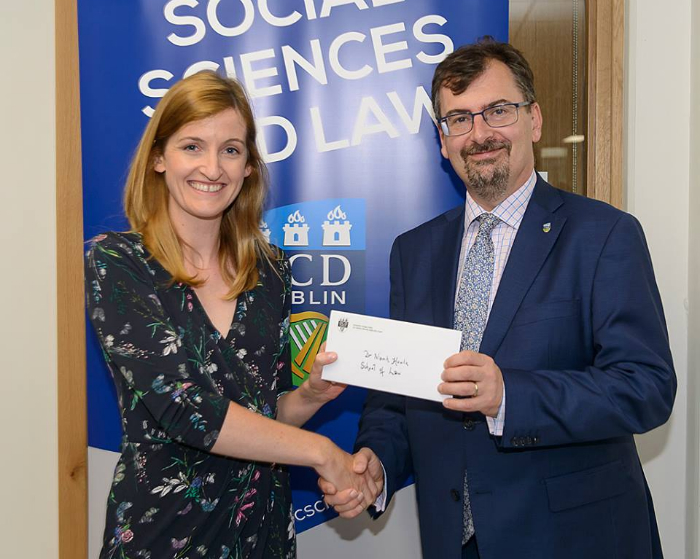 Dr Niamh Howlin and Professor Colin Scott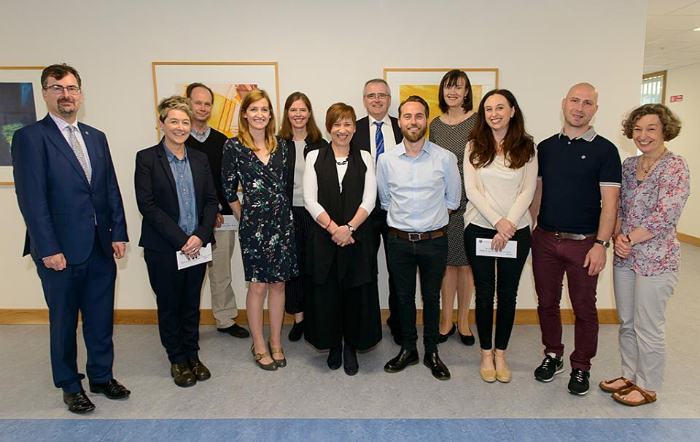 Prize winners from the College of Social Sciences and Law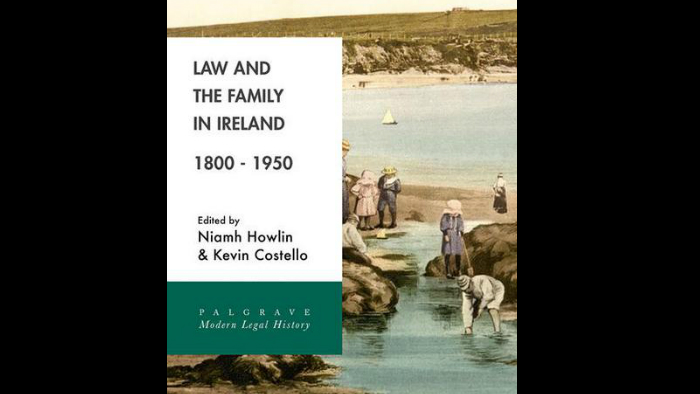 UCD Legal History Group Book Published
The first research project undertaken by UCD's Legal History Group was a study of the interaction between the law and the family in Ireland in the period 1800-1950. The project began as a roundtable conference on the legal history of the family in Ireland, held in the Sutherland School of Law in March 2015. The papers delivered at that conference have been collected in a book entitled Law and the Family in Ireland 1800-1950 edited by Dr Niamh Howlin and Dr Kevin Costello. The book, which appeared in June 2017, is the first volume in the Palgrave Modern Legal History series. The twelve papers which make up the book cover the principal stages of family life in Ireland 1800-1950: from engagement to divorce, and touching on issues like the legal history of adoption, the legal definition of infanticide in nineteenth century Ireland, married women's property, inter-family homicide trials in Ireland, the action for breach of promise of marriage, and the place of the family in the Irish Constitution.
The Eurozone 25 Years After Maastricht - EMU Workshop
UCD Sutherland School of Law was recently the venue for a highly successful 19th Irish European Law Forum (IELF), which this year comprised an international multi-disciplinary workshop marking the 25th anniversary of the laying of the foundations of Europe's Economic and Monetary Union by the Maastricht Treaty of 1992. The workshop was organised by Sutherland's Professor Gavin Barrett and Professor Fabian Amtenbrink of the European Research Centre for Economic and Financial Governance (EURO-CEFG).

23 leading academics and experts in the field from EU countries including Holland, Germany, Ireland, Italy, the United Kingdom and Greece spoke at the workshop, which was opened by the Dean of the College of Social Sciences and Law, Professor Colin Scott. Chairs included former Minister for Finance Alan Dukes, erstwhile Head of the Central Bank, Professor Patrick Honohan and incoming Law School dean, Professor Imelda Maher. Topics discussed at the Workshop, included the budgetary rules of the Eurozone, European Banking Union, democracy and the Eurozone, courts and the currency, the role of the ECB and the future of the Eurozone.

The workshop was supported by Professor Barrett's Jean Monnet Chair in European Constitutional and Economic Law, EURO-CEFG and the Seed Funding Scheme of the Sutherland School of Law. For the full programme please see EMU Workshop Programme 2017.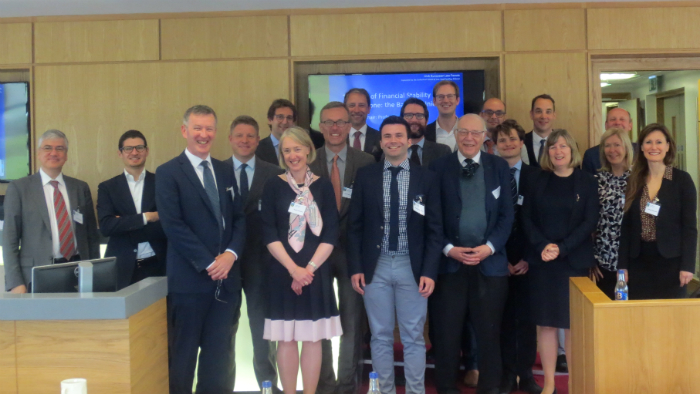 Speakers and panelists at the EMU Workshop in May in the Moot Court, Sutherland School of Law.
Professor Gavin Barrett, Jean Monnet Chair in European Constitutional and Economic Law and Professor Patrick Honohan, former Head of the Central Bank of Ireland.
Latest Lecture in UCD Institute of Criminology Series
Dr Gwen Robinson, (Sheffield Law School, The University of Sheffield​) delivered the inaugural lecture in the UCD Institute of Criminology lecture series, entitled 'Patrolling the borders of risk: The new bifurcation of probation services in England & Wales' on Friday 23 June 2017.

Dr Robinson is a leading expert in the field of probation studies and has published widely in the areas of offender rehabilitation and management, community sanctions/penalties, and restorative justice. Her lecture focused on the current philosophies and values underpinning probation work in England and Wales and the implications of recent changes to probation structures, including the institutionalisation of risk and the privatisation of some probation services.

Professor Ian O'Donnell (UCD Institute of Criminology/Sutherland School of Law) delivered the opening address and Vivian Geiran, Director of the Probation Service, delivered a response to Dr Robinson's lecture which reflected on her paper as well as on the values and philosophies underpinning probation work in Ireland. The event was extremely well attended and provided a valuable opportunity for the audience to discuss recent developments in probation work.

The UCD Institute of Criminology lecture series provides a forum for academics, policymakers and practitioners to meet and discuss important topics in the field of criminology and criminal justice.‌
‌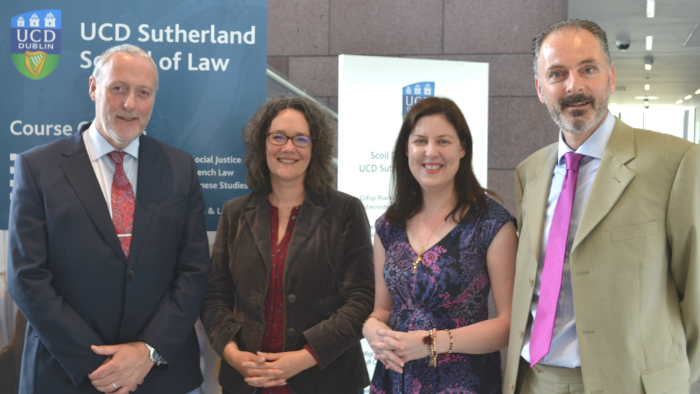 L-R Vivian Geiran, Dr Gwen Robinson, Dr Deirdre Healy, Prof Ian O'Donnell
BBL Alumnus Katie Nolan receives Fulbright Award
The UCD Sutherland School of Law congratulates Katie Nolan, a 2011 Bachelor of Business and Law alumnus who was recently honoured with a Fulbright Award by Minister Charlie Flanagan and Mr Reece Smyth, Chargé d'affaires of the US Embassy here. Katie is an Associate in Mason Hayes & Curran where she is part of the firm's Technology, Media and Communications team. In this capacity she advises private and public sector organisations on a wide variety of issues, including cross-border data exports, cyber-security breaches, product review and regulatory investigations and litigation in the privacy sphere. Her studies at the University of California will be closely linked to this area of law. While at Berkeley as a Fulbright Scholar she plans to focus on the comparative regulation of technology issues, in particular information privacy law.

Other Fulbright alumni from the UCD School of Law include former Dean, Professor Paul O'Connor, Barrister Rossa Fanning SC and Associate Professor at the Sutherland School of Law, Dr Oonagh Breen.

Founded by US Senator J. William Fulbright, the programme this year celebrates 60 years of educational and cultural exchange between Ireland and the US. Since 1957, it has provided awardees with the opportunity to study, research, or lecture in America, and supported US citizens to do the same in Ireland. The programme is now established in over 160 countries globally, providing an unrivalled international network for Fulbright Awardees and Alumni.

The unique nature of the Fulbright Awards is that it encourages cultural exchange as well as educational. In addition to completing study or research projects, awardees are encouraged to become cultural Ambassadors during their time in the US and on their return to their home country. Furthermore, the rigorous application process ensures that the successful candidates are those who have conveyed how their work can have a positive impact on society. Explaining his vision for founding the programme, Senator Fulbright has described the importance of educational exchange in the following terms " … from the standpoint of future world peace and order (it is) probably the most important and potentially rewarding of our foreign-policy activities."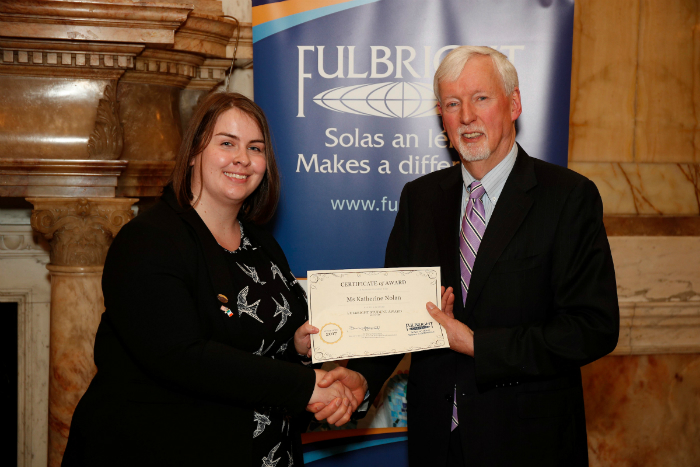 Katherine Nolan and Rrofessor John Hegarty, Chair of the Fulbright Commission Board in Ireland.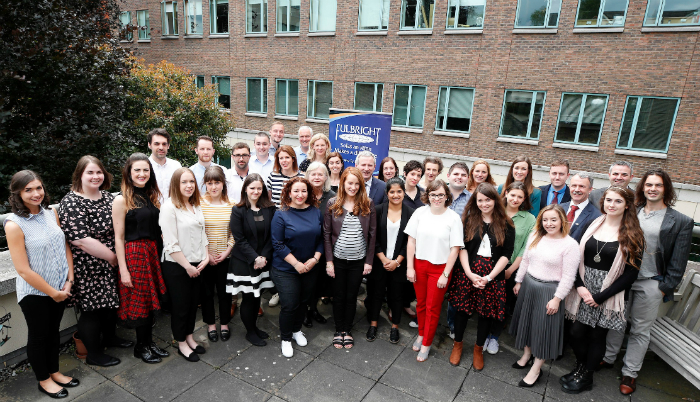 The 2017-18 Irish Fulbright Awardees

'Rest Here' An Installation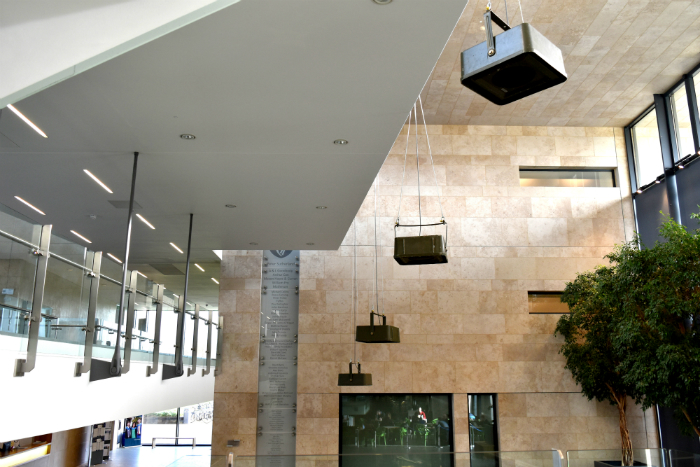 The opening of "Rest Here" recently took place in the Law School. The School was privileged to host this sound installation by the 2015 College of Social Sciences and Law Artist in Residence, Mr. Michael McLoughlin.
The artist developed this unique installation from the song of the Common Swift, a bird which annually travels from the Mediterranean, North Africa and the Middle East to Ireland. When the Swift arrives in Ireland, once a year, it rests...

Rest Here is an invitation…
an extended welcome to the landless traveller…
to remind us that we are part of their journey…
and we can offer support, hope and a safe place of rest.

This piece was originally inspired as a reflection and celebration of the increasing diversity amongst students and staff in the School of Law. As the work developed, the parallels between the story of the swifts' journey, and those of people taking flight from the Middle East and North Africa in search of refuge deepened, adding extra resonance to the installation. See further details here.

The artist, Michael McLoughlin, developed the work whilst Artist in Residence for the UCD College of Social Sciences and Law. The installation was facilitated by UCD Parity Studios, a university wide programme that connects the ecology of art practice in Ireland with research and education at UCD.
For Dr. Liam Thornton's speech reflecting on migration and the law see here.
For Professor Imelda Maher's speech of thanks and reflection on law and art see here.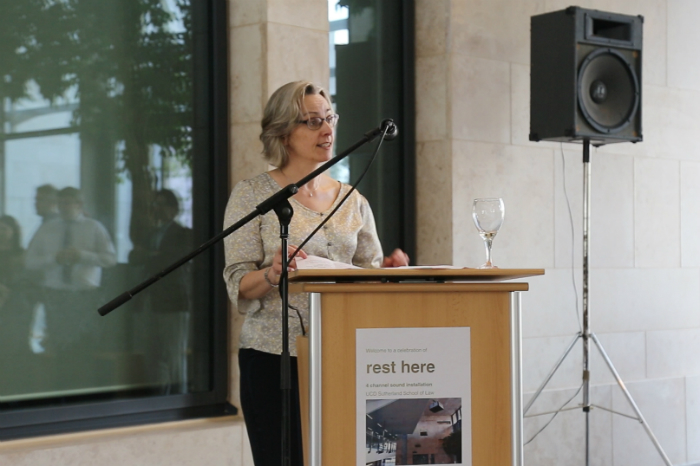 Prof Imelda Maher welcomes the crowd to the Sutherland School of Law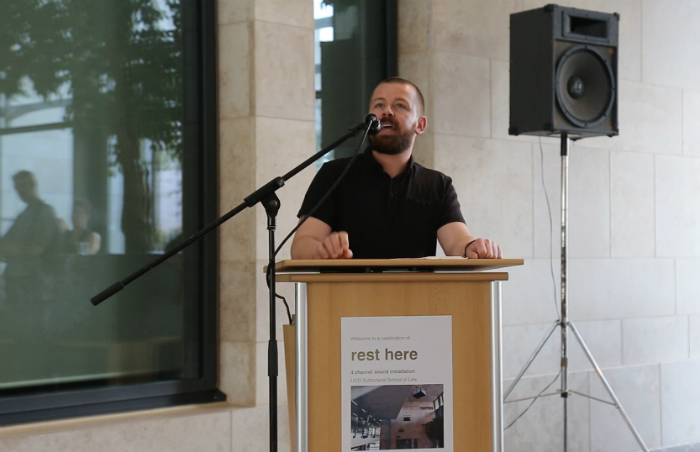 Dr Liam Thornton reflects on the migrant experience as it relates to 'Rest Here'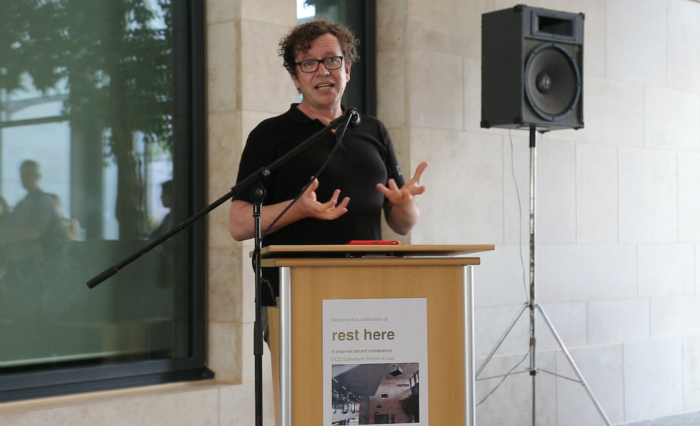 The Artist in Residence, Michael Mcloughlin

The Mason Hayes & Curran Property Law Prize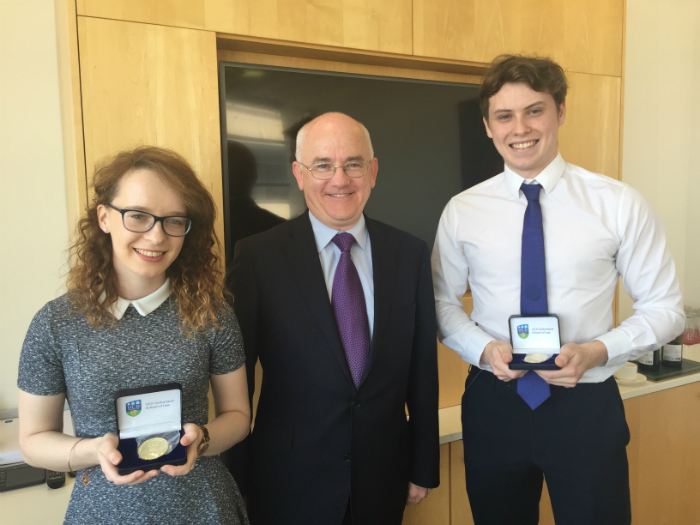 Congratulations to Melissa O'Sullivan and Liam Tully who were presented with The Mason Hayes Curran Property Law prizes for coming first in the undergraduate Property Law modules.

At a recent event in the firm's offices the prizes were presented by Mr. Kevin Hoy, partner, head of the MHC Real Estate team and UCD law alumnus. Dr Niamh Howlin and Dr Noel McGrath, lecturers in Property Law and Prof Imelda Maher, Deputy Dean represented the Law School.
Joint UCD-Queen's University Belfast workshop for PhD Students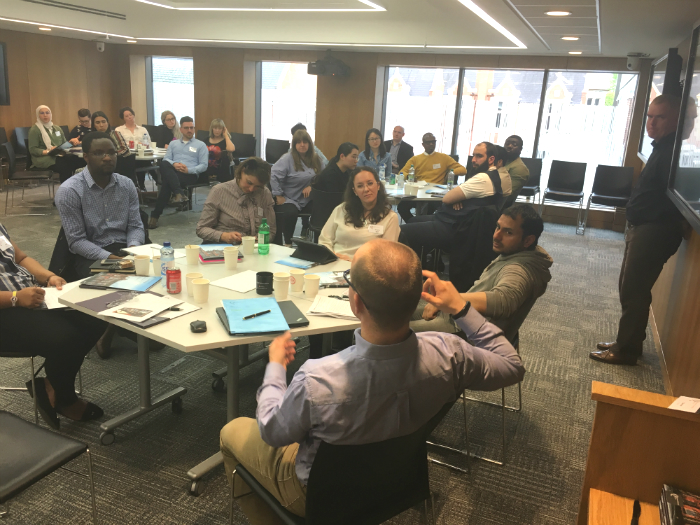 A group of the Sutherland School of Law's PhD students set off for Belfast early on Wednesday 17 May, accompanied by Dr. Andrew Jackson, for a joint workshop with Queen's University Belfast's (QUB) law school: "Early Academics' Skills Essentials (EASE)".

This is the second such event, the first having been held at UCD in 2014. The 2017 workshop comprised interactive sessions on teaching, publishing, finishing a PhD and getting a job. The event was held at QUB law school's new home on University Square and provided an excellent opportunity for students and staff to network and exchange experiences over the course of the day. The workshop finished with a working dinner and a flying visit to the 9th floor of the law school's tower to take in the spectacular view of Belfast and surrounds.

Many thanks to Dr. Mary Dobbs and Dr. Marek Martyniszyn (both UCD PhD alumni) for organising and hosting what was a very successful event. Additional photos of the workshop can be found here.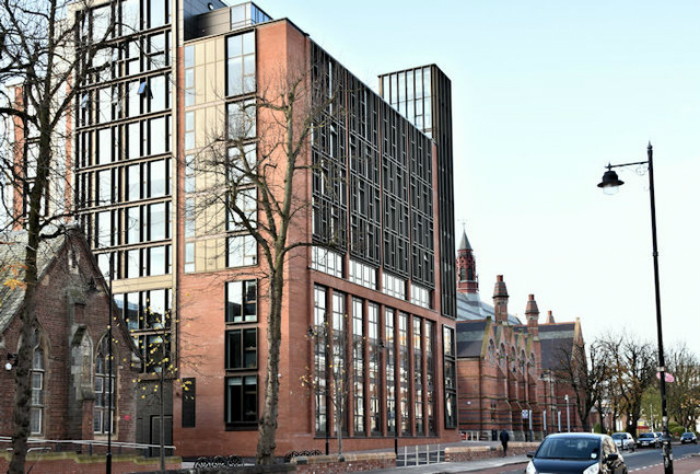 Image of QUB law school by Albert Bridge (Creative Commons licence).
McCann FitzGerald sponsors students to attend Negotiation Competition in Norway
Two outstanding UCD students are Oslo bound to compete in the prestigious International Negotiation Competition taking place in Norway this June. UCD Sutherland School of Law student, Matthew Hanrahan (4 BCL Law with History) and team-mate, Conor Rock (3 BA History and Politics) have been sponsored by law firm, McCann FitzGerald to travel to Norway. They earned their place in the world competition by defeating law schools from around the country at the recent National Negotiation Competition in the Law Society of Ireland.
Matthew and Conor (pictured outside the UCD Sutherland School of Law with their trophy) will represent Ireland in the world competition which takes place from June 27 to July 1. The INC is the oldest and most renowned competition in international legal negotiation with up to 30 teams from around the world participating. The judging panel consists of legal and business professionals, practicing lawyers, and academic professors in the field of negotiation. Teams take part in an intensive programme which includes a Master class in negotiation plus up to 4 rounds of competition, offering them a unique educational program for international legal practice.
We wish Matthew and Conor every success in the competition and thank McCann FitzGerald for their support. Further details of the competition are available at this link.
'Emerging Themes in Professional Regulation' attracts large crowd to Sutherland School of Law
The UCD Sutherland School of Law recently hosted a very successful Seminar on Professional Regulation. The seminar was in conjunction with the Professional Diploma in Professional Regulation which UCD is offering in partnership with law firm McDowell Purcell. This is the second year of the diploma which runs anually from late January for 12 weeks.
The theme of the Seminar was 'Emerging Themes in Professional Regulation' and the topics addressed included:
Reform of Professional Regulation
Professional Integrity and Ethics
Public Confidence and Trust in Professionals
Barrister, Ciara McGoldrick chaired a panel of experts in regulation across a range of areas including accounting, financial services, medicine, pharmaceuticals, nursing and education. She was joined by Dr Mary Canning, UCD College of Business, JP McDowell of McDowell Purcell, Professor Colin Scott and Assistant Professor Emer Hunt.
Each panel member addressed the outlined themes followed by a wide ranging audience discussion and questions and answers forum. Present on the evening were representatives of the Pharmacy Regulator, the Nursing & Midwifery Board, the Veterinary Council of Ireland, the Financial Services Ombudsman, CORU, HIQA, the Aviation Authority and the Law Library.
The Diploma in Professional Regulation was developed by the School of Law to cater for the increasing numbers of professions affected by the new requirements in regulation. As a result of the changing statutory requirements, the representative bodies, regulators and advisors for professions such as doctors, nurses, pharmacists, accountants, solicitors, teachers, and social workers need to be fully informed of their obligations. The Diploma will commence again in January 2018 and run for 12 weeks. Places are currently available and those interested should email aine.ahern@ucd.ie or call 01 716 4112 for further details.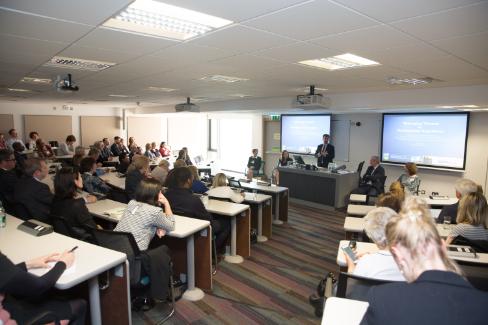 Professor Colin Scott addresses the Professional Regulation Seminar in the UCD Sutherland School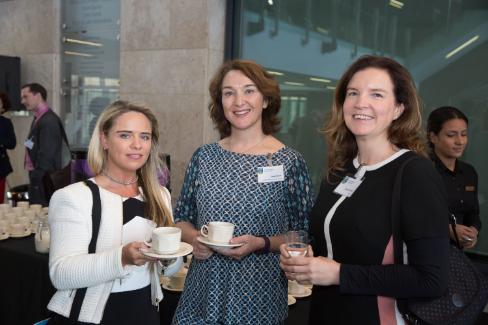 ‌Gwen Wilson, Society of Chartered Surveyors, Assistant Professor Emer Hunt & Sinead Boyle IAASA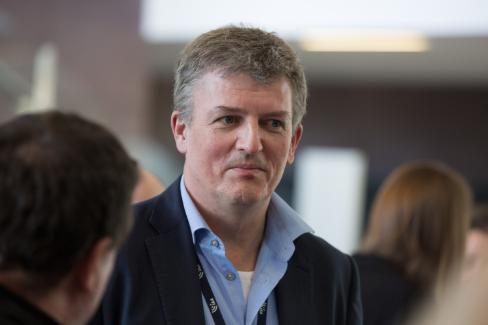 Niall Cummins of the Irish Aviation Authority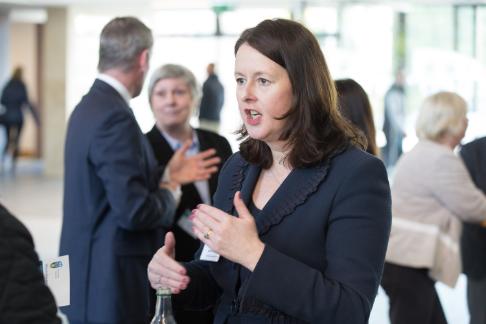 Barrister Ciara McGoldrick who chaired the Seminar Panel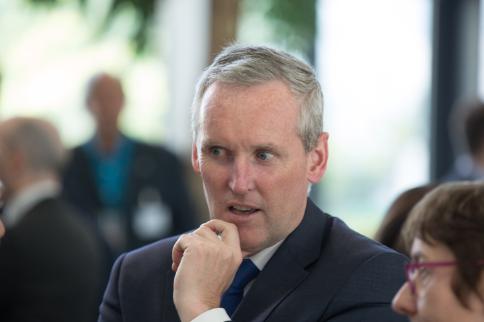 Panel member, JP McDowell, Managing Partner of McDowell Purcell ‌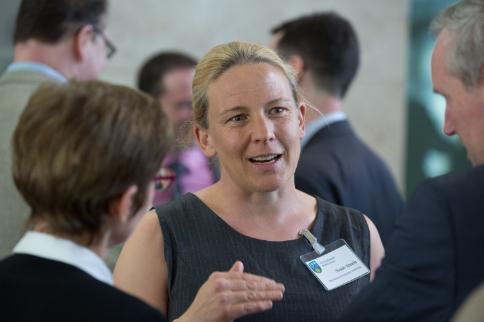 Susan Steele of the Sea Fisheries Protection Authority chats to Dr Mary Canning and JP McDowell

The John M Kelly Memorial Lecture 2017, delivered by Professor John Wylie
We were honoured to have the John M Kelly Memorial lecture delivered this year by distinguished academic, published author and renowned authority in the area of property law, Professor John Wylie (availabe to view here). We were also delighted to welcome a UCD alumnus and esteemed member of the judiciary, the Hon. Ms Justice Mary Laffoy, to deliver the introduction to the lecture. Justice Laffoy spoke about her twofold interest in giving the opening address, firstly, as a former student of Professor John Kelly and secondly due to the high regard in which she holds Professor John Wylie. In her short introduction (available to view here) she outlined the enormous degree to which Professor Wylie has added to the academic writings on property law coupled with his unrivalled contribution to the reform of this area of law in Ireland.
The John M Kelly lecture series offers the School of Law an opportunity to honour the memory of one of its most renowned and distinguished alumni. In addition to his tenure as Professor of Constitutional Law, Roman Law and Jurisprudence at UCD, the late John M. Kelly served as both Attorney General and Minister for Trade and Tourism.
Amongst the audience for Professor Wylie's lecture were members of the Kelly family, senior members of the judiciary, the law library and a great number of distinguished academic and legal professionals. Students of the Masters in Common Law (MCL) from the Sutherland School of Law were also present to hear Professor Wylie's lecture on the important area of Adverse Possession.
A summary of Professor Wylie's lecture is provided below and is available in full to view by clicking on this link. The lecture will also be published in the forthcoming issue of the Irish Jurist.
The evening concluded with Dr Oonagh Breen of the School of Law paying tribute to the late Professor James C Brady Professor of Real Property and Equity at UCD from 1979 to his death in 1998. This is the sixteenth year of a medal being awarded to top law students in his name and his daughter Sinead, son Damian and granddaughter Clodagh, were all present for Dr Breen's warm tribute.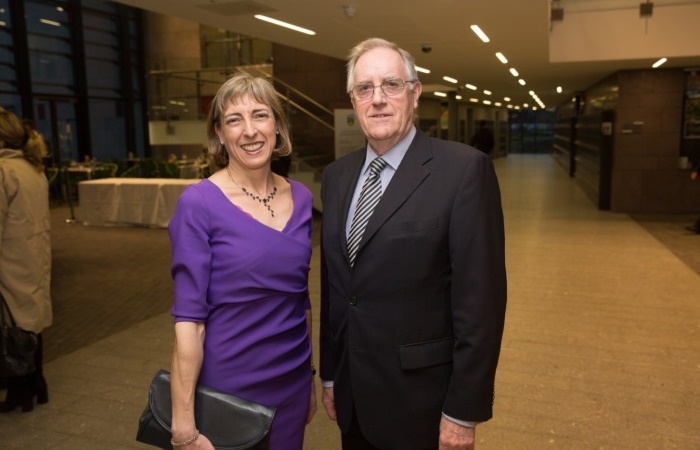 Professor John Wylie with Dr Oonagh Breen of the UCD Sutherland School of Law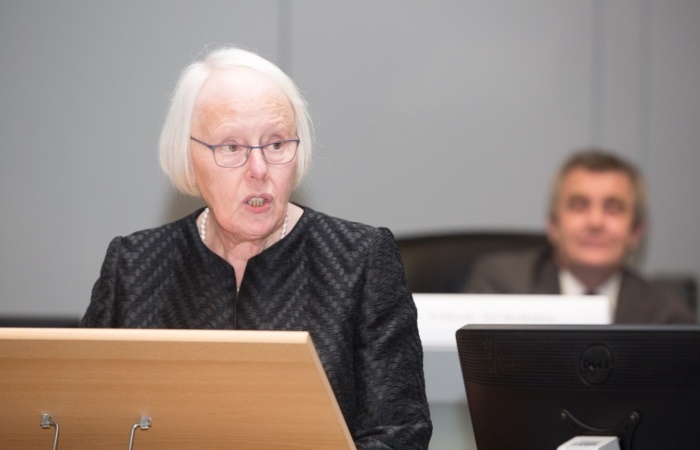 Ms Justice Mary Laffoy delivering the opening address to the lecture (available to view here)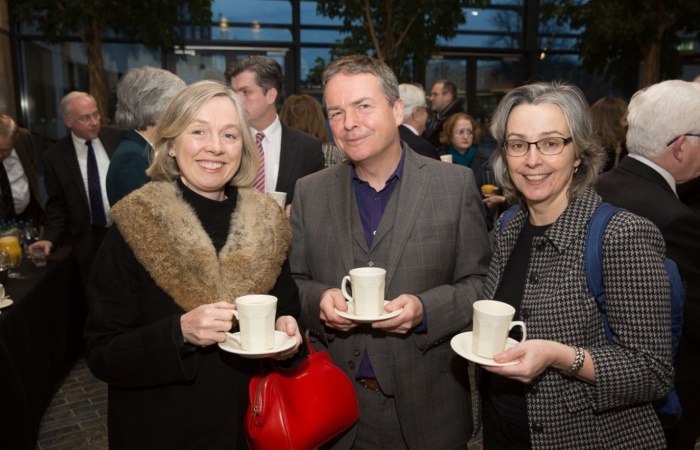 Ms Niamh Hyland SC, Mr Nick Kelly and Professor Imelda Maher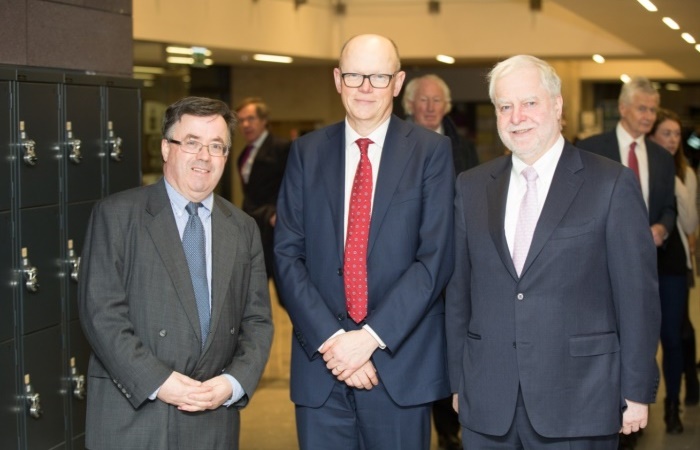 Mr Justice Gerard Hogan, Mr Justice Donal O'Donnell and Mr Paul Gallagher SC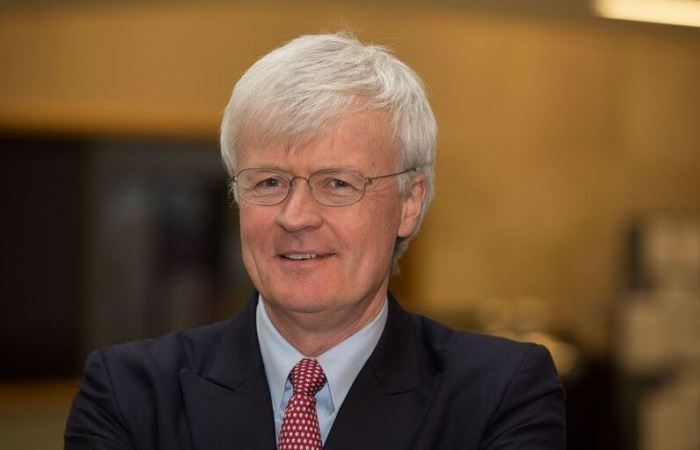 Mr Tom O'Connor, Consultant at Maples and Calder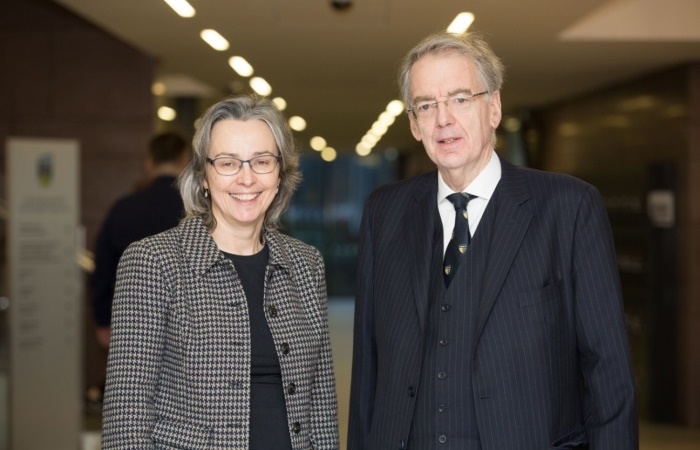 Professor Imelda Maher with Mr James O'Reilly SC
Students of the Masters in Common Law (MCL) programme with Dr Niamh Howlin and Dr Noel McGrath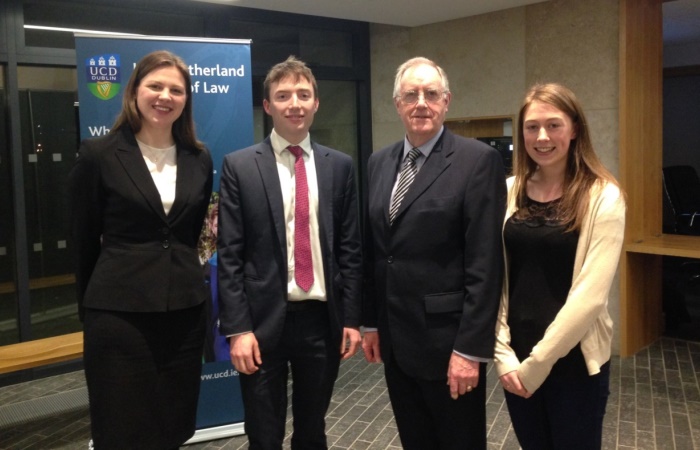 Pictured with Professor Wylie are three past winners of the James C Brady Prize (L to R) Sonja O'Connor, JJ McLoughlin and April Duff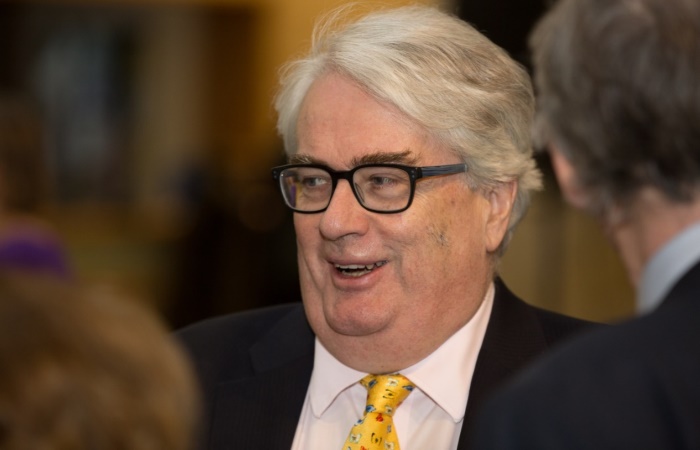 Mr Justice Frank Clarke of the Supreme Court of Ireland
A summary of Professor John Wylie's JM Kelly Memorial Lecture:
Professor Wylie began with a heartfelt tribute to two UCD alumni: Professor James C Brady (BCL 1961 LLB 1963), Professor of Real Property and Equity at UCD from 1979 to his death in 1998 and His Honour Judge John F Buckley (BA 1954 LLB 1955), Convener of the Law Reform Commission's Working Party on Land and Conveyancing Law Reform, who died recently. In relation to adverse possession, Professor Wylie acknowledged specifically the writing of Jim Brady and our colleague Tony Kerr on the limitation of actions.
In his lecture, Professor Wylie highlighted the failure to reform the law on adverse possession in Ireland over the last fifty years, despite the modernisation of most other aspects of land law. He identified a key element as being the moral unease caused by someone acquiring another person's property, without warning or compensation, through a wrongful act (and maybe even a criminal one). This has led to calls for some structural reform of the law, to rid it of these morally objectionable elements. Professor Wylie examined the rationales generally advanced for the law in its current form - which ignores any element of fault or desert on the part of the one dispossessing or the one dispossessed. These include its being an encouragement of the productive use of land or a remedy for homelessness. He found all but one of these arguments unpersuasive. The exception was the practical necessity for the current approach to adverse possession within the Irish conveyancing system. Situations like informal family arrangements for succession to property and encroachment by neighbours are too common to dispense with the role of adverse possession, even in relation to registered land. Even partially relaxing the rule, such as a warning and veto the dispossessed, would be inconsistent with good conveyancing practice. Having rejected any structural reform, Professor Wylie reviewed several technical reforms that might be made, such as modifying what kind of acts constitute adverse possession and dealing more clearly and logically with its consequences when it results from a tenant's encroachment on land other than that leased.
Professor Wylie's Lecture is available to view in full at this link.
Facilitating Human Rights Education in the Secondary School Curriculum:
An IHREC Funded Human Rights Education Project.
In April/May 2017, the School of Law facilitated the implementation of a research and education project led by Suzanne Egan and funded by the Irish Human Rights and Equality Commission. The aim of this project is to facilitate and enhance human rights education in secondary schools through the new Leaving Certificate Politics and Society Course. This new course was introduced by the Department of Education and Skills as part of the commemoration of 1916 and is currently being rolled out for the first time on a pilot basis in 41 secondary schools throughout the project. This IHREC funded project aims to facilitate this exciting initiative through the provision of dedicated training sessions by staff at the Law School and the UCD Centre for Human Rights to teachers in the 41 participating schools.
Over the course of two full days, Suzanne Egan and Dr. Liam Thornton (UCD School of Law) Professor Kathleen Lynch (UCD School of Education) and Dr. Graham Finlay (UCD School of Politics and International Relations) each led sessions with the teachers on human rights and equality themes central to the Politics and Society curriculum. The ensuing research component will involve a qualitative assessment of teachers' expectations, experience and practical implementation of the Politics and Society subject in its first year of delivery. In combination, it is anticiaped that the combination of the training and research evaluation will serve to better inform curriculum review of the Politics and Society module as well as the needs of teachers in service delivery.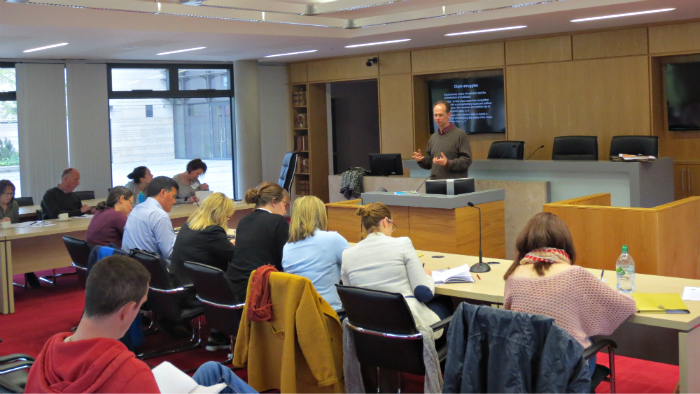 Dr Graham Finlay addresses the teacher's group.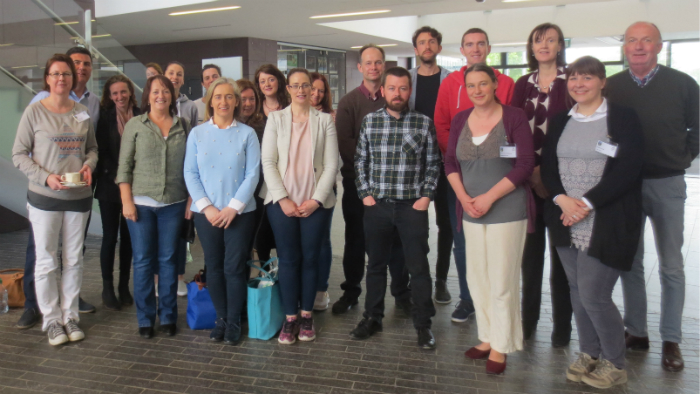 Participants in the project.

Celebrating the completion of the first Matheson Doctoral Scholarship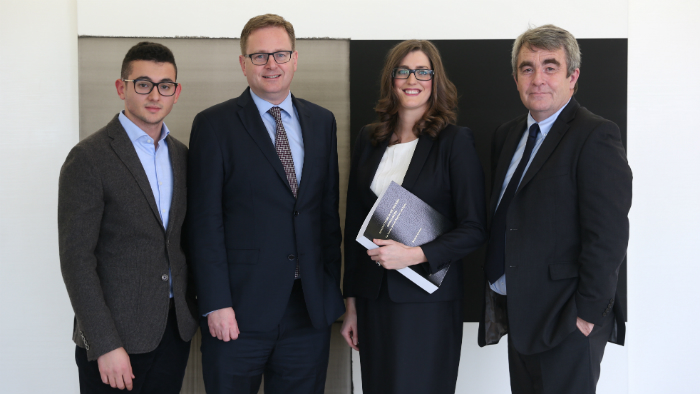 Celebrating with Elizabeth Corcoran the completion of her Matheson-sponsored Doctoral Scholarship was Michael Jackson, Managing Partner, Professor Joe McMahon, Dean of Law and current Matheson Scholar, Alexandru Soptica.
We congratulate Elizabeth Corcoran on completing the first Matheson-sponsored UCD doctoral programme in innovative legal research. Elizabeth's highly topical thesis examined fiduciary duties in the financial services sector and provides essential insights for Ireland's growing commercial law practice.
In 2012, leading Irish law firm Matheson commenced a 12-year agreement to sponsor the internationally renowned UCD School of Law doctoral programme. The sponsorship comprises three 4-year PhD scholarships and covers tuition fees and an annual bursary.
Scholarship applications are sought for research topics that cover financial services law, company law and corporate governance.
The second scholarship, for the 2016-2020 programme, has been awarded to Alexandru Gabriel Soptica. His research will explore EU competition law.
Michael Jackson, Managing Partner at Matheson, said: "As the only English speaking common law country in a post-Brexit EU, we believe that Ireland will play an increasingly important role in international business. To enable us to do that successfully, it is essential that we constantly review our laws and legal system to ensure that they provide the certainty required to enable business to grow and to contribute to the economy and the broader community and society. For that we must have a supply of industry-leading talent, particularly in the field of commercial law.
We are proud to partner with a respected academic institution like UCD. It underscores our own commitment to nurturing upcoming legal talent and supporting a new generation of graduates. Matheson's sponsorship of the UCD School of Law's doctoral programme is an investment in seminal legal research that will greatly improve Ireland's leadership position in business and law.
On behalf of everyone at Matheson, I would like to congratulate and thank Elizabeth Corcoran for her PhD which contributes to commercial law in Ireland, and to welcome Alexandru Soptica to the programme."
Headquartered in Dublin with offices in London, New York and Palo Alto, more than 600 people work across Matheson's four offices, including 73 partners and tax principals and over 350 legal and tax professionals. The firm's primary focus is on serving the Irish legal needs of internationally focused companies and financial institutions doing business in and from Ireland. The doctoral programme sponsorship closely aligns with Matheson's core values of developing and nurturing in Ireland's legal talent.
Professor Joe McMahon, Dean of the UCD Sutherland School of Law, said: "The Sutherland School of Law is extremely appreciative of this scholarship, provided by Matheson, in recognition of the importance of doctoral research in the broad field of Commercial Law. Their generous scholarship has allowed Elizabeth Corcoran to undertake a valuable thesis on Fiduciary Duties in the Financial Services Sector. Furthermore, the continuing support offered by Matheson has meant that the Sutherland School has now welcomed a new doctoral scholar, Alexandru Soptica who will undertake research in the all-important EU Competition Law area.
The Sutherland School of Law firmly believes that the support we receive from the legal profession for students, from undergraduate to doctoral level, plays an important part in shaping the future of the profession in this country, thus we are extremely grateful to Matheson for this significant contribution."
Commenting on her doctoral scholarship, Elizabeth Corcoran said: "Matheson must be congratulated on their pioneering doctoral scholarships as few are afforded the opportunity to immerse themselves in a novel area of law that intrigues and excites them with generous financial support to rely on. This support has allowed me to develop an expertise in the area of equity and financial services regulation which has greatly enhanced my academic writing, lecturing opportunities, and my practice at the Bar."
As he begins his four-year programme, Alexandru Soptica said: "This opportunity has made a significant impact on my future career prospects. Embarking on a PhD degree provides me with the necessary skills and professional network to work internationally and on projects of global significance. I see this scholarship as a gift and a responsibility - a gift, as an opportunity for my own personal development; and a responsibility, to provide value to society by using this opportunity to drive innovation and knowledge in competition law."
IRC Funded Human Rights Education in Secondary Schools
In April 2017, the School of Law together with the UCD Centre for Human Rights, welcomed students and teachers from four secondary schools who had participated in an Irish Research Council funded research project which Suzanne Egan had led in conjunction with Amnesty International. The aim of the project was to ascertain the extent to which a short programme of human rights education can facilitate attitudes and actions in young people consistent with the values of democratic societies based on equality and social inclusion.
The project specifically involved designing an 8-week course on Human Rights, Non-Discrimination and Social Inclusion and rolling it out to approximately 100 Transition Year students with a view to testing its impact at the end of the course delivery. A unique feature of the project was the involvement of graduates from the School of Law who had completed the innovative clinical legal education module on Human Rights Education as trainers on the 8 week Programme in the four participating Schools.
On 28th April, the School of Law hosted a reception for all participants in the project during which Colm O'Gorman, Executive Director of Amnesty International, congratulated the students from the schools on their enthusiastic involvement in the project, highlighting the important role of young people in promoting and realising human rights in their homes, schools, communities and in wider society. Suzanne Egan hosted an academic workshop later in the afternoon at which the results of the project were shared and discussed with academics as well as representatives of non-governmental organisations and national human rights institutions from throughout Europe.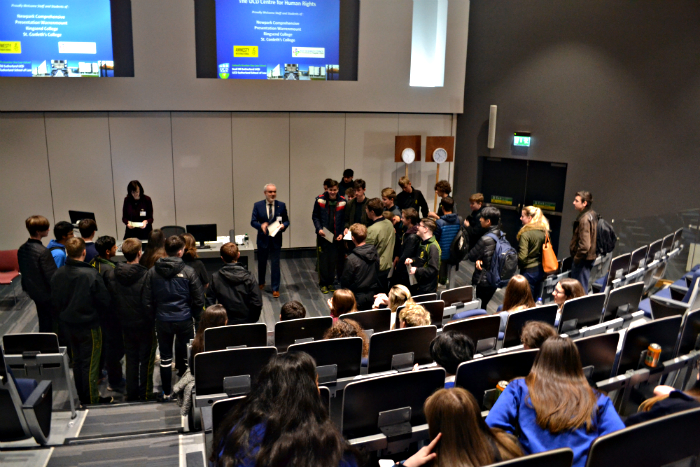 Colm O'Gorman presents certificates to students to mark the completion of the course.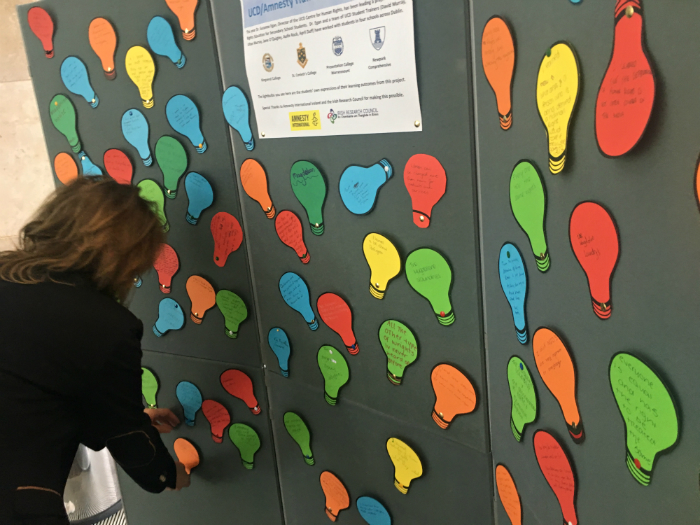 A display made by students to highlight their experiences on this course.
Brexit and Human Rights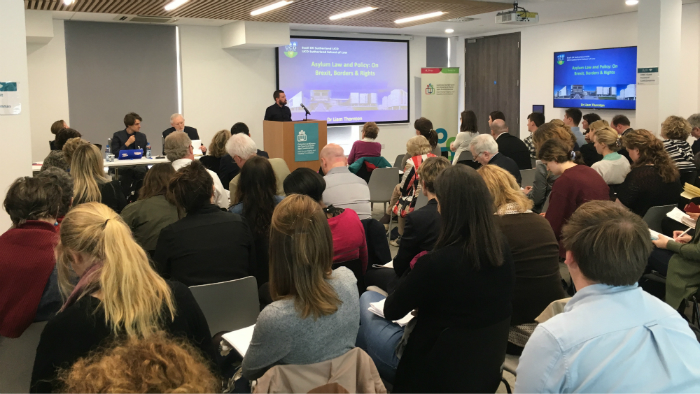 UCD Sutherland School of Law continues to lead legal and political conversations on the impact of Brexit for Ireland, Europe and the wider world. On Wednesday, May 3 2017, Dr Liam Thornton convened a seminar on Northern/Ireland After Brexit: Exploring the Human Rights Impact. Attended by over 70 delegates, from practitioners, civil society, the civil service and students, the seminar offered reflections on the potential human rights impact of Brexit on the island of Ireland. Chaired by Michael Farrell, Colin Murray, Dr Anne Smith, Dr Catherine O'Rourke, Suzanne Egan and Dr Liam Thornton, explored varied areas that Brexit will have a human rights impact. Michael Farrell noted the significant rise in racism and xenophobia that has arisen post-Brexit and reminded delegates of the significant impact Brexit may have on the peace settlement in Northern Ireland. The UCD Centre for Human Rights sponsored this event.

Colin Murray noted how current political discussions around customs borders did not resolve the human rights issues that will arise due to Brexit. As the European Union Charter of Fundamental Rights would no longer apply, this raised issues of comparability of rights protections between Ireland and Northern Ireland, provided for under the Good Friday/Belfast Agreement. Murray noted that the Irish government needed to ensure strong rights protections within Brexit negotiations.

Dr Anne Smith meanwhile pondered what silver linings may exist in a post-Brexit era. While admitting such silver linings may be elusive, Smith reflected on the need to re-invigorate the Bill of Rights for Northern Ireland. Speaking of her work with others, on drafting a model Northern Ireland Bill of Rights, Smith discussed the huge support for the Good Friday/Belfast Agreement on both sides of the border. The silver lining within the post-Brexit era may, Smith argued, be cross-political party support for maintaining a strong level of rights through the Northern Ireland Bill of Rights.

Sticking with the theme of potential solutions to maintaining rights equivalence, UCD Centre for Human Rights Director, Suzanne Egan, examined the potential development of a Charter of Rights for the Island of Ireland. Brexit, Egan states, would be a "complete game-changer" as regards rights protection on these islands. Noting the limits of this Charter debate previously, Brexit, Egan argued, that there was a need for cross-jurisdictional engagement from political actors in order to ensure the protection of international legal obligations for rights equivalence. What was urgently needed, was a full scoping of differences in rights protections between Northern/Ireland that needed to be resolved within the Brexit negotiations.

Dr Catherine O'Rourke placed Brexit within its global context, focusing on women's rights on these islands. O'Rourke noted that Brexit occurred in an atmosphere of suspicion towards internationalism. Reflecting on the impact EU law has had on women's rights more broadly on these islands, O'Rourke noted that women's rights organisations were lead innovators in progressing women's rights on the global stage, and this will become even more significant in the post-Brexit era. While acknowledging the significant negative impact the EU had as regards women's rights in austerity and rights of refugee women, the EU has broadly added significant protection for women's rights. Would a focus on international legal obligations, in particular under the UN Convention on the Elimination of All Forms of Discrimination Against Women (CEDAW), O'Rourke pondered, enable protection of rights of women in the post-Brexit landscape?

The final contributor, Dr Liam Thornton examined the impact of Brexit on asylum law and policy in Ireland. Noting that Ireland and the United Kingdom are suspicious partners within the Common European Asylum System, Thornton reflected on some of the core reasons why this is the case. With a focus on the Common Travel Area (CTA), Thornton explored how the existence of the CTA has led to Ireland's asylum laws and policy being overly influenced by the UK's deep suspicion to European Union legal rules on asylum and refugee rights. Tracing the political and legal impact of the CTA on Irish asylum law and policy, Thornton outlined three potential paths, some negative, some positive, that could occur within the post-Brexit legal landscape in the area of asylum law and policy.

You can access a Storify of the event here.
Pictured Below L-R: Dr Catherine O'Rourke, Dr Anne Smith, Suzanne Egan, Michael Farrell, Colin Murray, Dr Liam Thornton.