The Eurozone 25 Years After Maastricht - EMU Workshop
UCD Sutherland School of Law was recently the venue for a highly successful 19th Irish European Law Forum (IELF), which this year comprised an international multi-disciplinary workshop marking the 25th anniversary of the laying of the foundations of Europe's Economic and Monetary Union by the Maastricht Treaty of 1992. The workshop was organised by Sutherland's Professor Gavin Barrett and Professor Fabian Amtenbrink of the European Research Centre for Economic and Financial Governance (EURO-CEFG).

23 leading academics and experts in the field from EU countries including Holland, Germany, Ireland, Italy, the United Kingdom and Greece spoke at the workshop, which was opened by the Dean of the College of Social Sciences and Law, Professor Colin Scott. Chairs included former Minister for Finance Alan Dukes, erstwhile Head of the Central Bank, Professor Patrick Honohan and incoming Law School dean, Professor Imelda Maher. Topics discussed at the Workshop, included the budgetary rules of the Eurozone, European Banking Union, democracy and the Eurozone, courts and the currency, the role of the ECB and the future of the Eurozone.

The workshop was supported by Professor Barrett's Jean Monnet Chair in European Constitutional and Economic Law, EURO-CEFG and the Seed Funding Scheme of the Sutherland School of Law. For the full programme please see EMU Workshop Programme 2017.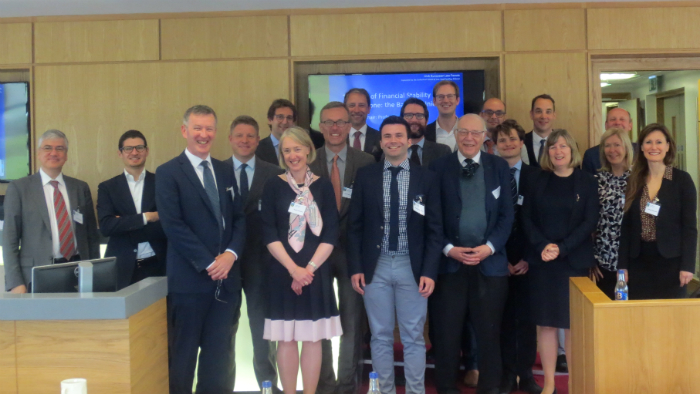 Speakers and panelists at the EMU Workshop in May in the Moot Court, Sutherland School of Law.
Professor Gavin Barrett, Jean Monnet Chair in European Constitutional and Economic Law and Professor Patrick Honohan, former Head of the Central Bank of Ireland.
Latest Lecture in UCD Institute of Criminology Series
Dr Gwen Robinson, (Sheffield Law School, The University of Sheffield​) delivered the inaugural lecture in the UCD Institute of Criminology lecture series, entitled 'Patrolling the borders of risk: The new bifurcation of probation services in England & Wales' on Friday 23 June 2017.

Dr Robinson is a leading expert in the field of probation studies and has published widely in the areas of offender rehabilitation and management, community sanctions/penalties, and restorative justice. Her lecture focused on the current philosophies and values underpinning probation work in England and Wales and the implications of recent changes to probation structures, including the institutionalisation of risk and the privatisation of some probation services.

Professor Ian O'Donnell (UCD Institute of Criminology/Sutherland School of Law) delivered the opening address and Vivian Geiran, Director of the Probation Service, delivered a response to Dr Robinson's lecture which reflected on her paper as well as on the values and philosophies underpinning probation work in Ireland. The event was extremely well attended and provided a valuable opportunity for the audience to discuss recent developments in probation work.

The UCD Institute of Criminology lecture series provides a forum for academics, policymakers and practitioners to meet and discuss important topics in the field of criminology and criminal justice.‌
‌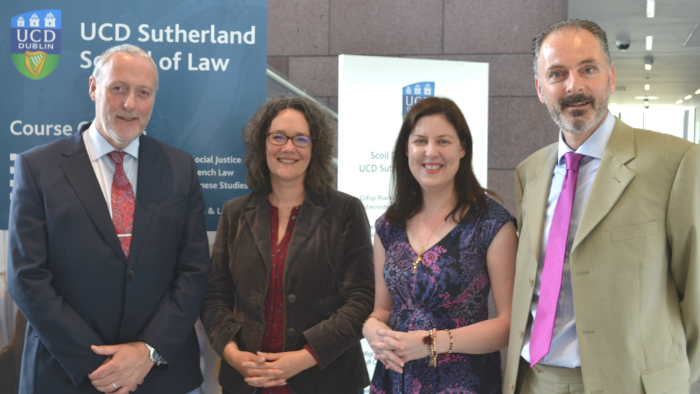 L-R Vivian Geiran, Dr Gwen Robinson, Dr Deirdre Healy, Prof Ian O'Donnell
BBL Alumnus Katie Nolan receives Fulbright Award
The UCD Sutherland School of Law congratulates Katie Nolan, a 2011 Bachelor of Business and Law alumnus who was recently honoured with a Fulbright Award by Minister Charlie Flanagan and Mr Reece Smyth, Chargé d'affaires of the US Embassy here. Katie is an Associate in Mason Hayes & Curran where she is part of the firm's Technology, Media and Communications team. In this capacity she advises private and public sector organisations on a wide variety of issues, including cross-border data exports, cyber-security breaches, product review and regulatory investigations and litigation in the privacy sphere. Her studies at the University of California will be closely linked to this area of law. While at Berkeley as a Fulbright Scholar she plans to focus on the comparative regulation of technology issues, in particular information privacy law.

Other Fulbright alumni from the UCD School of Law include former Dean, Professor Paul O'Connor, Barrister Rossa Fanning SC and Associate Professor at the Sutherland School of Law, Dr Oonagh Breen.

Founded by US Senator J. William Fulbright, the programme this year celebrates 60 years of educational and cultural exchange between Ireland and the US. Since 1957, it has provided awardees with the opportunity to study, research, or lecture in America, and supported US citizens to do the same in Ireland. The programme is now established in over 160 countries globally, providing an unrivalled international network for Fulbright Awardees and Alumni.

The unique nature of the Fulbright Awards is that it encourages cultural exchange as well as educational. In addition to completing study or research projects, awardees are encouraged to become cultural Ambassadors during their time in the US and on their return to their home country. Furthermore, the rigorous application process ensures that the successful candidates are those who have conveyed how their work can have a positive impact on society. Explaining his vision for founding the programme, Senator Fulbright has described the importance of educational exchange in the following terms " … from the standpoint of future world peace and order (it is) probably the most important and potentially rewarding of our foreign-policy activities."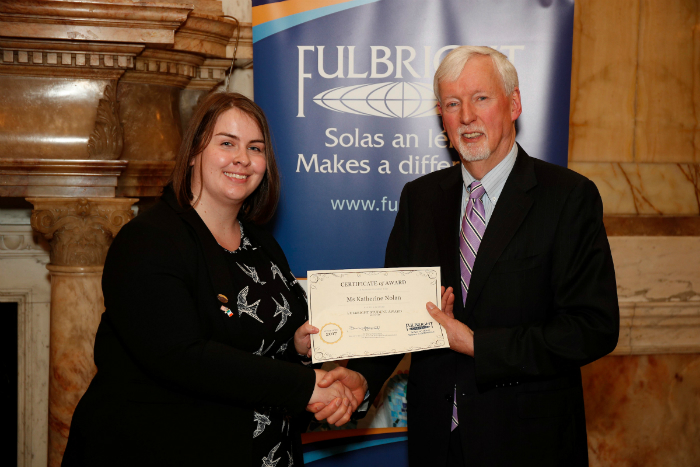 Katherine Nolan and Rrofessor John Hegarty, Chair of the Fulbright Commission Board in Ireland.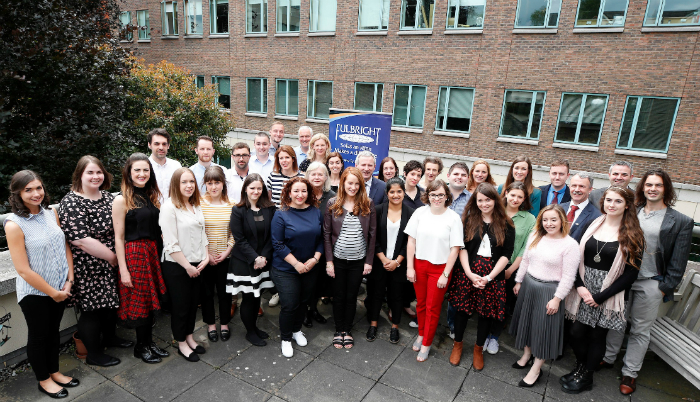 The 2017-18 Irish Fulbright Awardees

'Rest Here' An Installation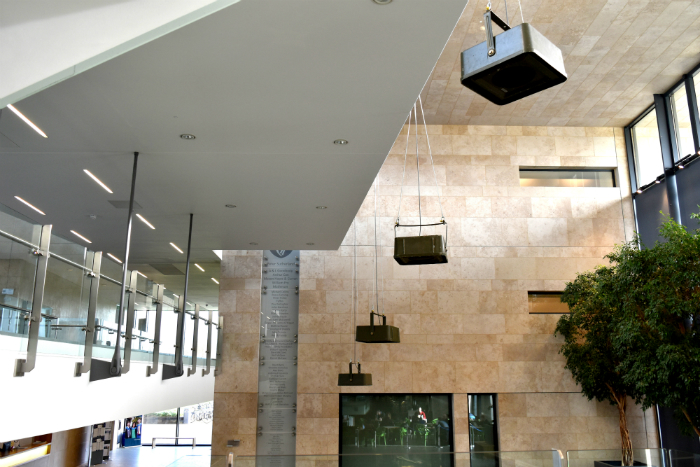 The opening of "Rest Here" recently took place in the Law School. The School was privileged to host this sound installation by the 2015 College of Social Sciences and Law Artist in Residence, Mr. Michael McLoughlin.
The artist developed this unique installation from the song of the Common Swift, a bird which annually travels from the Mediterranean, North Africa and the Middle East to Ireland. When the Swift arrives in Ireland, once a year, it rests...

Rest Here is an invitation…
an extended welcome to the landless traveller…
to remind us that we are part of their journey…
and we can offer support, hope and a safe place of rest.

This piece was originally inspired as a reflection and celebration of the increasing diversity amongst students and staff in the School of Law. As the work developed, the parallels between the story of the swifts' journey, and those of people taking flight from the Middle East and North Africa in search of refuge deepened, adding extra resonance to the installation. See further details here.

The artist, Michael McLoughlin, developed the work whilst Artist in Residence for the UCD College of Social Sciences and Law. The installation was facilitated by UCD Parity Studios, a university wide programme that connects the ecology of art practice in Ireland with research and education at UCD.
For Dr. Liam Thornton's speech reflecting on migration and the law see here.
For Professor Imelda Maher's speech of thanks and reflection on law and art see here.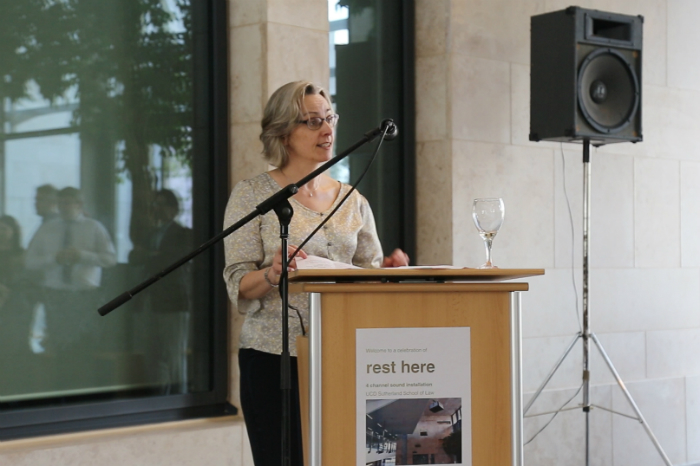 Prof Imelda Maher welcomes the crowd to the Sutherland School of Law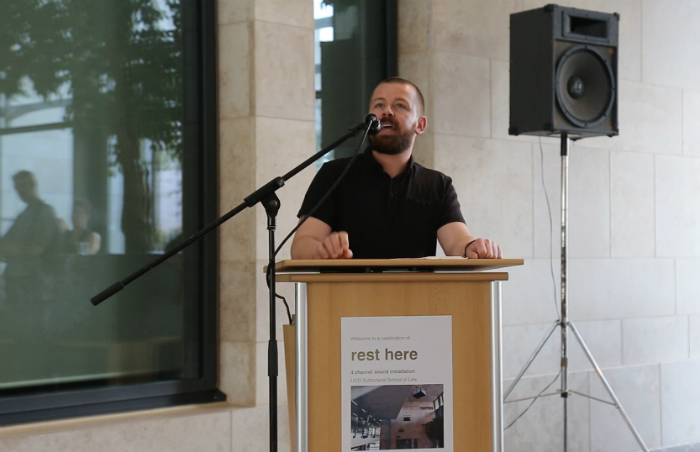 Dr Liam Thornton reflects on the migrant experience as it relates to 'Rest Here'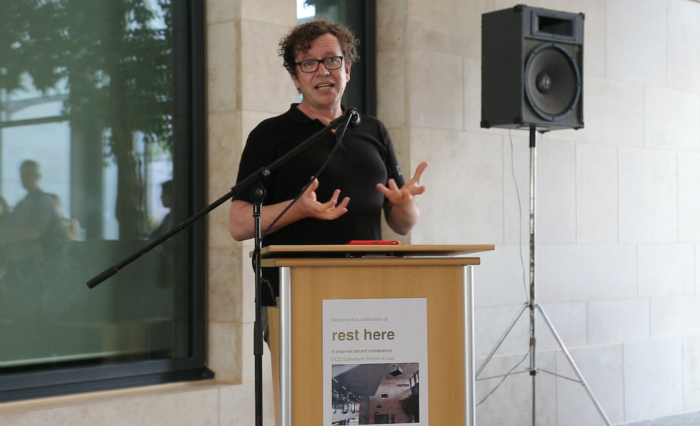 The Artist in Residence, Michael Mcloughlin

The Mason Hayes & Curran Property Law Prize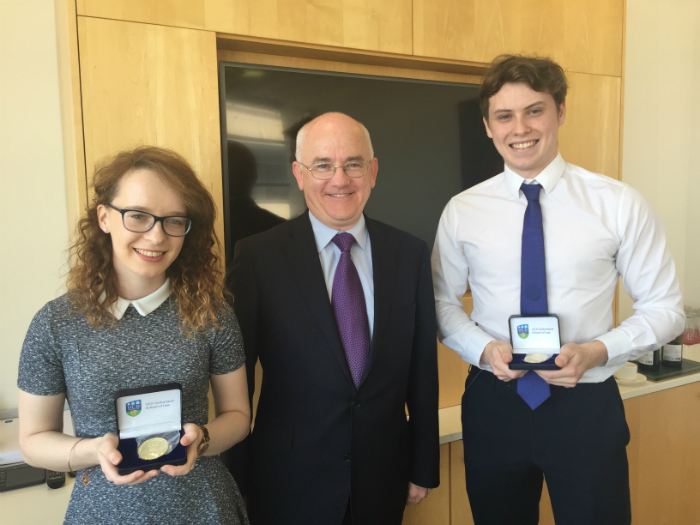 Congratulations to Melissa O'Sullivan and Liam Tully who were presented with The Mason Hayes Curran Property Law prizes for coming first in the undergraduate Property Law modules.

At a recent event in the firm's offices the prizes were presented by Mr. Kevin Hoy, partner, head of the MHC Real Estate team and UCD law alumnus. Dr Niamh Howlin and Dr Noel McGrath, lecturers in Property Law and Prof Imelda Maher, Deputy Dean represented the Law School.
Joint UCD-Queen's University Belfast workshop for PhD Students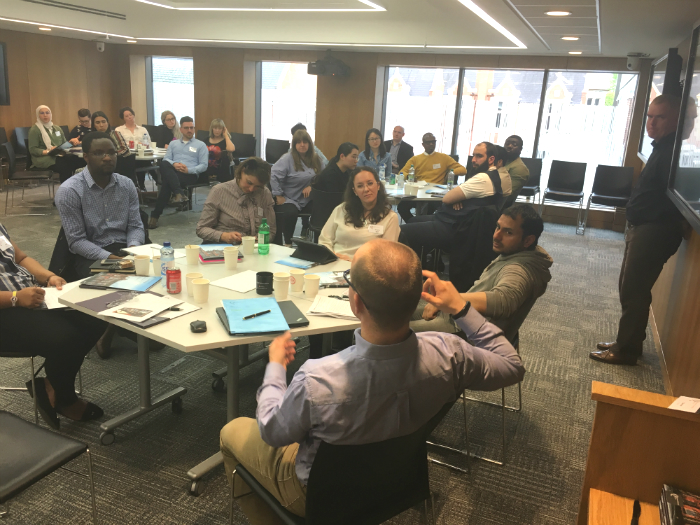 A group of the Sutherland School of Law's PhD students set off for Belfast early on Wednesday 17 May, accompanied by Dr. Andrew Jackson, for a joint workshop with Queen's University Belfast's (QUB) law school: "Early Academics' Skills Essentials (EASE)".

This is the second such event, the first having been held at UCD in 2014. The 2017 workshop comprised interactive sessions on teaching, publishing, finishing a PhD and getting a job. The event was held at QUB law school's new home on University Square and provided an excellent opportunity for students and staff to network and exchange experiences over the course of the day. The workshop finished with a working dinner and a flying visit to the 9th floor of the law school's tower to take in the spectacular view of Belfast and surrounds.

Many thanks to Dr. Mary Dobbs and Dr. Marek Martyniszyn (both UCD PhD alumni) for organising and hosting what was a very successful event. Additional photos of the workshop can be found here.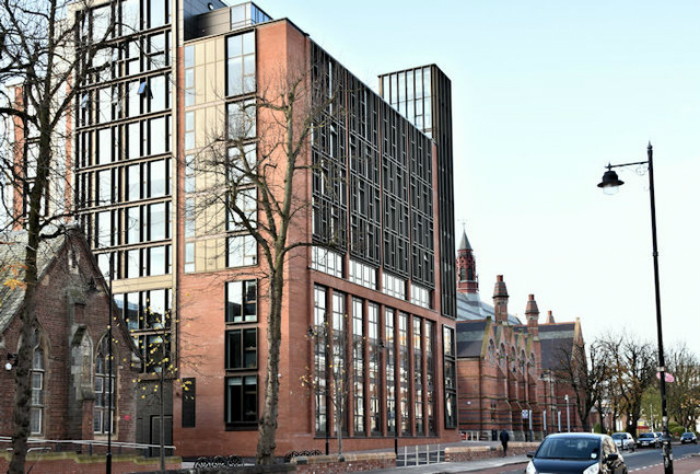 Image of QUB law school by Albert Bridge (Creative Commons licence).
McCann FitzGerald sponsors students to attend Negotiation Competition in Norway
Two outstanding UCD students are Oslo bound to compete in the prestigious International Negotiation Competition taking place in Norway this June. UCD Sutherland School of Law student, Matthew Hanrahan (4 BCL Law with History) and team-mate, Conor Rock (3 BA History and Politics) have been sponsored by law firm, McCann FitzGerald to travel to Norway. They earned their place in the world competition by defeating law schools from around the country at the recent National Negotiation Competition in the Law Society of Ireland.
Matthew and Conor (pictured outside the UCD Sutherland School of Law with their trophy) will represent Ireland in the world competition which takes place from June 27 to July 1. The INC is the oldest and most renowned competition in international legal negotiation with up to 30 teams from around the world participating. The judging panel consists of legal and business professionals, practicing lawyers, and academic professors in the field of negotiation. Teams take part in an intensive programme which includes a Master class in negotiation plus up to 4 rounds of competition, offering them a unique educational program for international legal practice.
We wish Matthew and Conor every success in the competition and thank McCann FitzGerald for their support. Further details of the competition are available at this link.
'Emerging Themes in Professional Regulation' attracts large crowd to Sutherland School of Law
The UCD Sutherland School of Law recently hosted a very successful Seminar on Professional Regulation. The seminar was in conjunction with the Professional Diploma in Professional Regulation which UCD is offering in partnership with law firm McDowell Purcell. This is the second year of the diploma which runs anually from late January for 12 weeks.
The theme of the Seminar was 'Emerging Themes in Professional Regulation' and the topics addressed included:
Reform of Professional Regulation
Professional Integrity and Ethics
Public Confidence and Trust in Professionals
Barrister, Ciara McGoldrick chaired a panel of experts in regulation across a range of areas including accounting, financial services, medicine, pharmaceuticals, nursing and education. She was joined by Dr Mary Canning, UCD College of Business, JP McDowell of McDowell Purcell, Professor Colin Scott and Assistant Professor Emer Hunt.
Each panel member addressed the outlined themes followed by a wide ranging audience discussion and questions and answers forum. Present on the evening were representatives of the Pharmacy Regulator, the Nursing & Midwifery Board, the Veterinary Council of Ireland, the Financial Services Ombudsman, CORU, HIQA, the Aviation Authority and the Law Library.
The Diploma in Professional Regulation was developed by the School of Law to cater for the increasing numbers of professions affected by the new requirements in regulation. As a result of the changing statutory requirements, the representative bodies, regulators and advisors for professions such as doctors, nurses, pharmacists, accountants, solicitors, teachers, and social workers need to be fully informed of their obligations. The Diploma will commence again in January 2018 and run for 12 weeks. Places are currently available and those interested should email aine.ahern@ucd.ie or call 01 716 4112 for further details.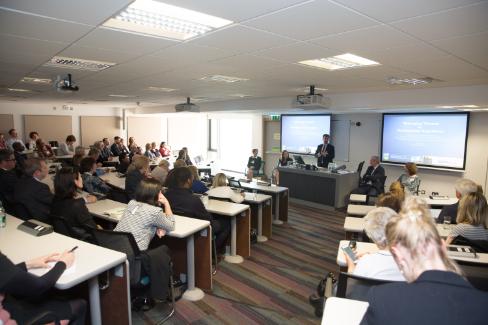 Professor Colin Scott addresses the Professional Regulation Seminar in the UCD Sutherland School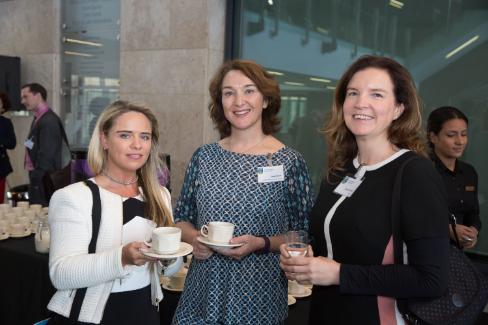 ‌Gwen Wilson, Society of Chartered Surveyors, Assistant Professor Emer Hunt & Sinead Boyle IAASA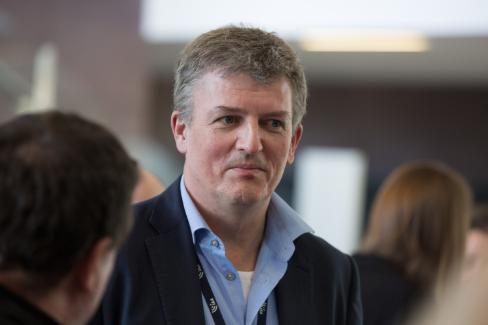 Niall Cummins of the Irish Aviation Authority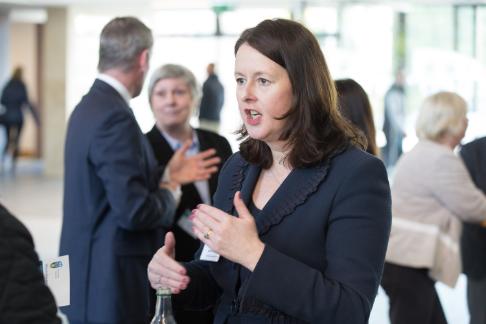 Barrister Ciara McGoldrick who chaired the Seminar Panel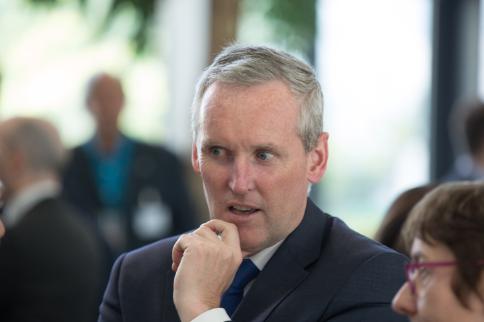 Panel member, JP McDowell, Managing Partner of McDowell Purcell ‌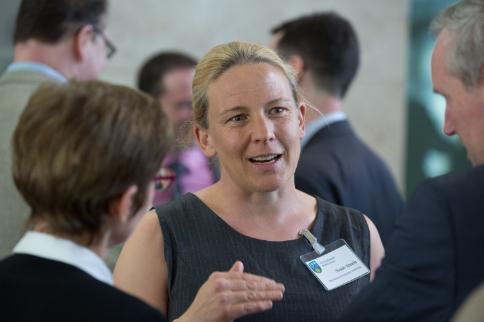 Susan Steele of the Sea Fisheries Protection Authority chats to Dr Mary Canning and JP McDowell

Professor Imelda Maher MRIA hosts reception at Irish Embassy in London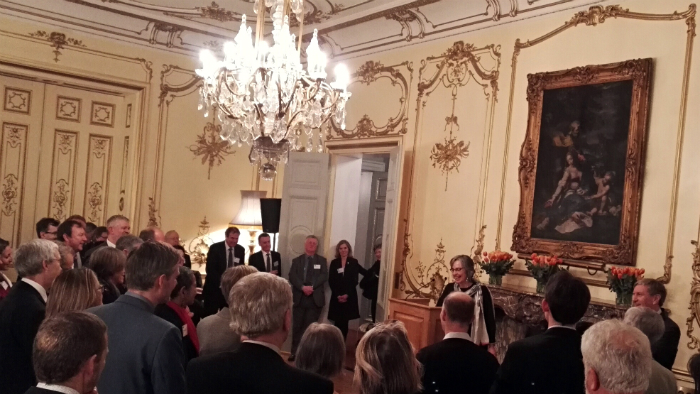 Professor Maher addresses guests at the Irish Embassy
Professor Imelda Maher in her role as President of the Society of Legal Scholars in the UK and Ireland recently hosted the Society's annual reception. For the first time and in recognition of the relationship between the common law legal traditions, the event was held in the Embassy of Ireland in London. The reception was attended by senior members of the UK judiciary and the Hon, Mr. Justice MacMenanin from the Irish Supreme Court along with representatives from the legal professions and education bodies. Ambassador Mulhall, who graciously agreed to the reception being held in the Embassy, welcomed each guest alongside Professor Maher and marked the occasion with an erudite and engaging speech. Professor Maher also spoke and awarded the Society's annual best paper and best posters prizes.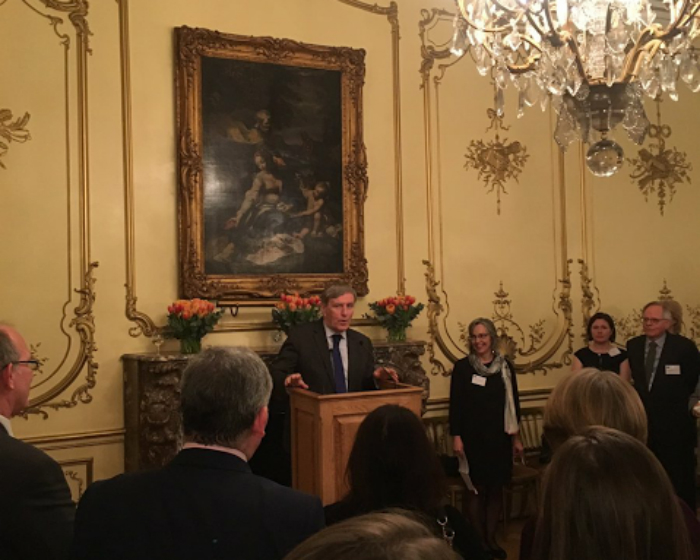 Ambassador Dan Mulhall speaking at the Society of Legal Scholars reception.
UCD Sutherland School of Law Number 1 in Ireland in QS Rankings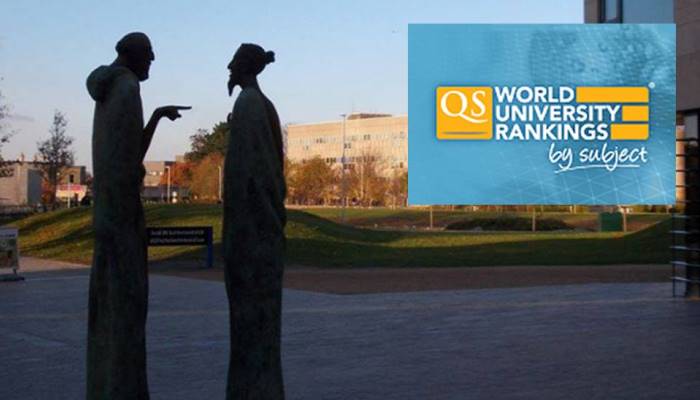 We are delighted to announce that the latest QS World University Rankings, published on March 7, 2017, has again confirmed that the UCD Sutherland School of Law is the leading law school in Ireland. These internationally recognised rankings are designed to assess performance according to reputation, research and nurturing employability. Furthermore, the UCD Sutherland School of Law has maintained its position in the top 100 Law Schools in the World and is now the only School of Law in Ireland in this category.
Achieving this status is particularly gratifying for the School because of the diversity of audiences researched in order to determine these rankings. Data is compiled from sources which include academics (from other universities) and a survey of employers, this is then used to assess an institutions' international reputation in each subject. The breadth of this survey is manifested by the large number of respondents, for example, almost seventy five thousand academic peers from over 140 nations throughout the world voting in the Academic Reputation indicator category last year. The crucial area of research impact is also included in the rankings. Performance is measured based on research citations per paper and, what is known as the h-index, which covers both the productivity and impact of the published work of an academic.
Commenting on the publication of the latest QS World University Rankings, the Dean of Law, Professor Joe McMahon, said:
'It is deeply gratifying to receive international recognition of something that our alumni and our students continually tell us – we are the number one Law School in Ireland. However, we cannot be complacent. Under our Strategic Plan we will continue to provide an education of the highest quality to our undergraduate and graduate students and to build our relationships with the community through CPD and alumni activities. On the research front, we have set ourselves the goal of being one of the top 50 Law Schools in the world and I am confident that with the continuing support of our students and alumni, we will realise this goal in the years to come."
The announcement of the QS World University Rankings by Subject was also a general cause for celebration across UCD as the University is now number 1 in Ireland for 40 of the 43 subject areas offered, and number 1 in Ireland for each of the five major subject groupings, Arts & Humanities, Engineering & Technology, Life Sciences & Medicine, Natural Sciences and Social Sciences & Management.
The John M Kelly Memorial Lecture 2017, delivered by Professor John Wylie
We were honoured to have the John M Kelly Memorial lecture delivered this year by distinguished academic, published author and renowned authority in the area of property law, Professor John Wylie (availabe to view here). We were also delighted to welcome a UCD alumnus and esteemed member of the judiciary, the Hon. Ms Justice Mary Laffoy, to deliver the introduction to the lecture. Justice Laffoy spoke about her twofold interest in giving the opening address, firstly, as a former student of Professor John Kelly and secondly due to the high regard in which she holds Professor John Wylie. In her short introduction (available to view here) she outlined the enormous degree to which Professor Wylie has added to the academic writings on property law coupled with his unrivalled contribution to the reform of this area of law in Ireland.
The John M Kelly lecture series offers the School of Law an opportunity to honour the memory of one of its most renowned and distinguished alumni. In addition to his tenure as Professor of Constitutional Law, Roman Law and Jurisprudence at UCD, the late John M. Kelly served as both Attorney General and Minister for Trade and Tourism.
Amongst the audience for Professor Wylie's lecture were members of the Kelly family, senior members of the judiciary, the law library and a great number of distinguished academic and legal professionals. Students of the Masters in Common Law (MCL) from the Sutherland School of Law were also present to hear Professor Wylie's lecture on the important area of Adverse Possession.
A summary of Professor Wylie's lecture is provided below and is available in full to view by clicking on this link. The lecture will also be published in the forthcoming issue of the Irish Jurist.
The evening concluded with Dr Oonagh Breen of the School of Law paying tribute to the late Professor James C Brady Professor of Real Property and Equity at UCD from 1979 to his death in 1998. This is the sixteenth year of a medal being awarded to top law students in his name and his daughter Sinead, son Damian and granddaughter Clodagh, were all present for Dr Breen's warm tribute.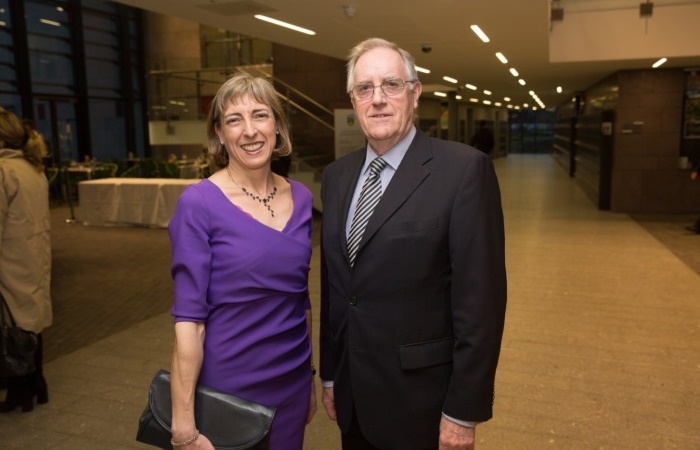 Professor John Wylie with Dr Oonagh Breen of the UCD Sutherland School of Law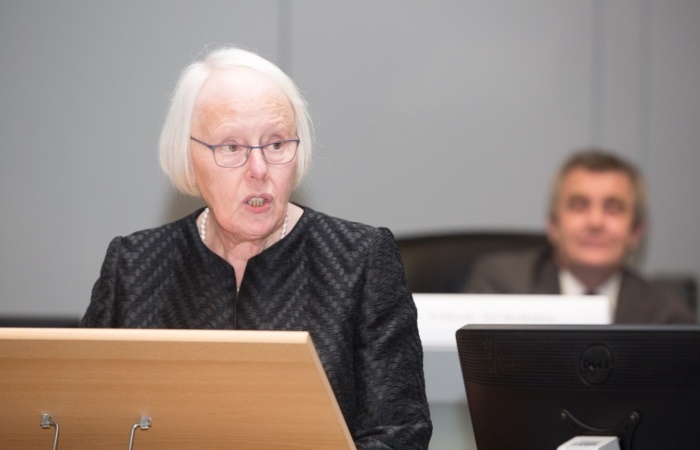 Ms Justice Mary Laffoy delivering the opening address to the lecture (available to view here)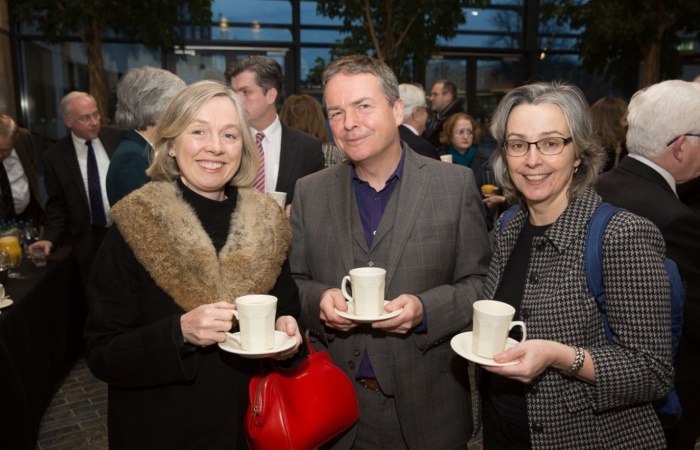 Ms Niamh Hyland SC, Mr Nick Kelly and Professor Imelda Maher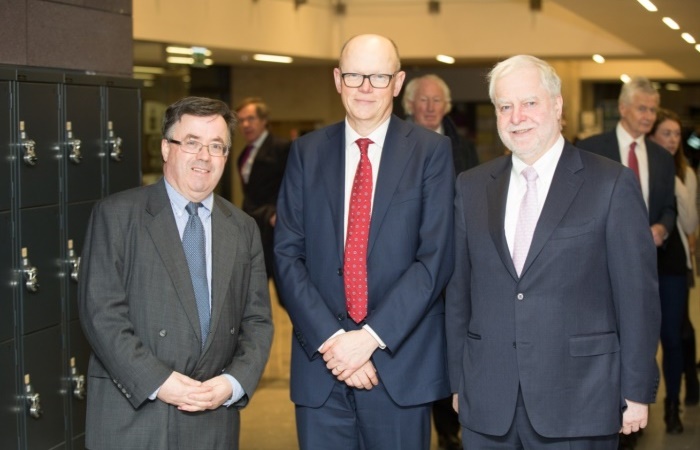 Mr Justice Gerard Hogan, Mr Justice Donal O'Donnell and Mr Paul Gallagher SC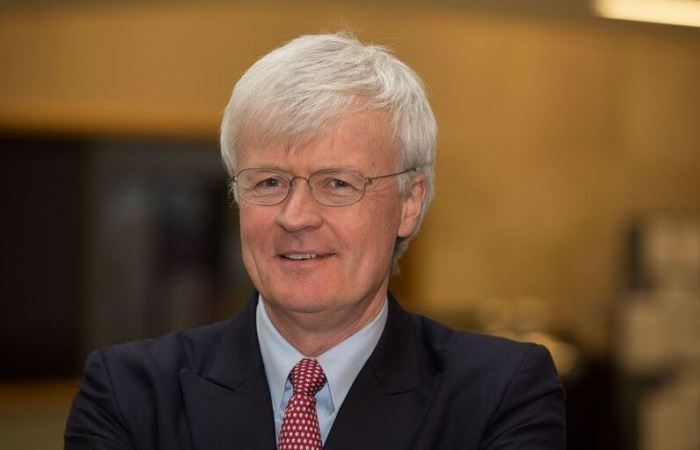 Mr Tom O'Connor, Consultant at Maples and Calder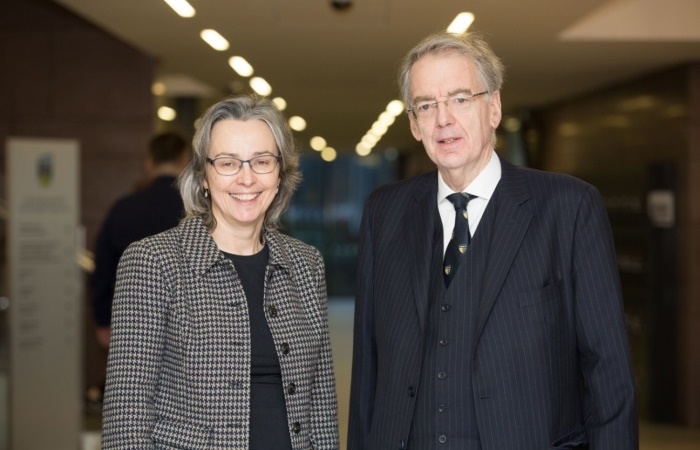 Professor Imelda Maher with Mr James O'Reilly SC
Students of the Masters in Common Law (MCL) programme with Dr Niamh Howlin and Dr Noel McGrath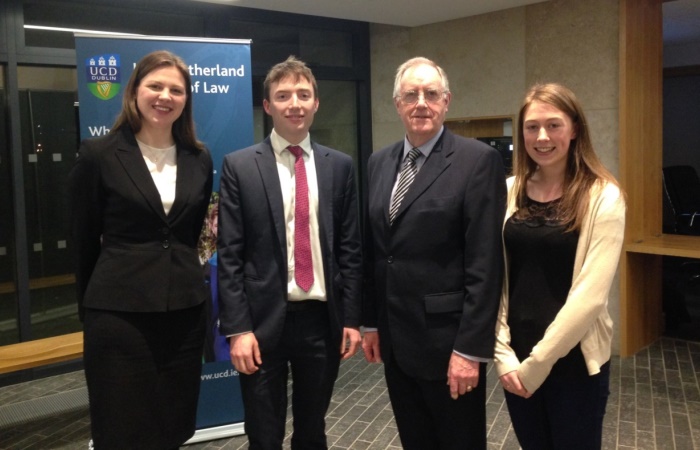 Pictured with Professor Wylie are three past winners of the James C Brady Prize (L to R) Sonja O'Connor, JJ McLoughlin and April Duff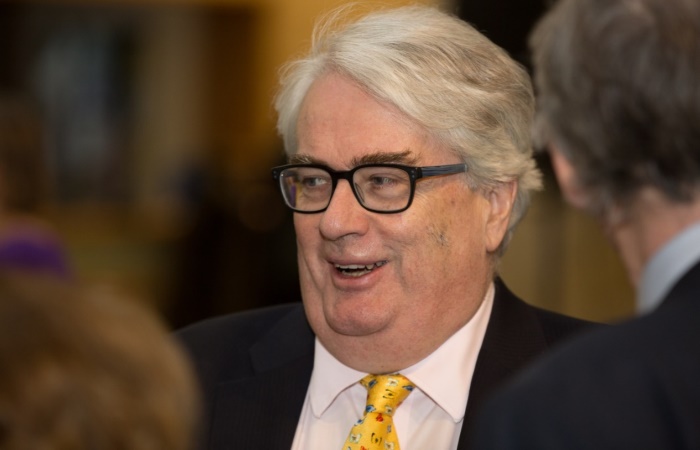 Mr Justice Frank Clarke of the Supreme Court of Ireland
A summary of Professor John Wylie's JM Kelly Memorial Lecture:
Professor Wylie began with a heartfelt tribute to two UCD alumni: Professor James C Brady (BCL 1961 LLB 1963), Professor of Real Property and Equity at UCD from 1979 to his death in 1998 and His Honour Judge John F Buckley (BA 1954 LLB 1955), Convener of the Law Reform Commission's Working Party on Land and Conveyancing Law Reform, who died recently. In relation to adverse possession, Professor Wylie acknowledged specifically the writing of Jim Brady and our colleague Tony Kerr on the limitation of actions.
In his lecture, Professor Wylie highlighted the failure to reform the law on adverse possession in Ireland over the last fifty years, despite the modernisation of most other aspects of land law. He identified a key element as being the moral unease caused by someone acquiring another person's property, without warning or compensation, through a wrongful act (and maybe even a criminal one). This has led to calls for some structural reform of the law, to rid it of these morally objectionable elements. Professor Wylie examined the rationales generally advanced for the law in its current form - which ignores any element of fault or desert on the part of the one dispossessing or the one dispossessed. These include its being an encouragement of the productive use of land or a remedy for homelessness. He found all but one of these arguments unpersuasive. The exception was the practical necessity for the current approach to adverse possession within the Irish conveyancing system. Situations like informal family arrangements for succession to property and encroachment by neighbours are too common to dispense with the role of adverse possession, even in relation to registered land. Even partially relaxing the rule, such as a warning and veto the dispossessed, would be inconsistent with good conveyancing practice. Having rejected any structural reform, Professor Wylie reviewed several technical reforms that might be made, such as modifying what kind of acts constitute adverse possession and dealing more clearly and logically with its consequences when it results from a tenant's encroachment on land other than that leased.
Professor Wylie's Lecture is available to view in full at this link.
UCD Law Human Rights Centre and the Human Rights Clinic host conversation with Magdalene survivors for Women's Day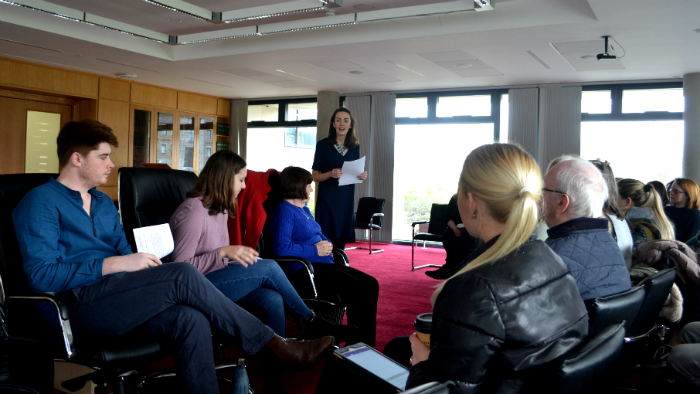 L-R Rory Geoghegan, Julia Canney, Mary Merritt, Maeve O'Rourke
On March 6th, in anticipation of International Women's Day, UCD Centre for Human Rights and the Human Rights Clinic at UCD Law School welcomed three survivors of Magdalene Laundries, Industrial Schools and Mother and Baby Homes to the School of Law, to engage in conversation and to honour their experiences and contributions to Irish society's ongoing reckoning with its legacy of discrimination and institutional abuse.
Introducing the women, Maeve O'Rourke (barrister and Human Rights Clinic instructor) noted that Gabrielle O'Gorman and Mary Merritt have been speaking in the media about the Magdalene Laundries and writing to elected representatives for decades, starting before the last Magdalene institution closed, in 1996, at Sean McDermott Street in Dublin. Maeve noted that the theme of this year's International Women's Day, 'Be Bold For Change', was a perfect description of the message that these women would impart to the students present. Mary Merritt (pictured), aged 85, urged the students to use their education to ensure that nothing similar is ever allowed to happen in Ireland again. Suzanne Egan, Director of the UCD Centre for Human Rights, thanked the women on behalf of the Centre and the Law School for sharing their experiences with the students and for inspiring them to use their knowledge of human rights to tackle injustice wherever they see it in their own lives.
Students in the Human Rights Clinic at UCD Law School are assisting with the Clann Project (www.clannproject.org), an initiative of Justice for Magdalenes Research and Adoption Rights Alliance which is gathering evidence and assisting individuals in engaging with the ongoing Commission of Investigation into Mother and Baby Homes and Certain Related Matters.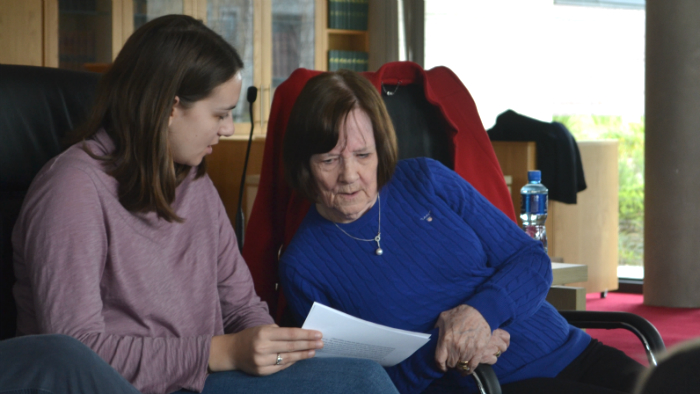 Julia Canney from the UCD Human Rights Clinic in conversation with Mary Merritt.
‌President Deeks Presents Student Awards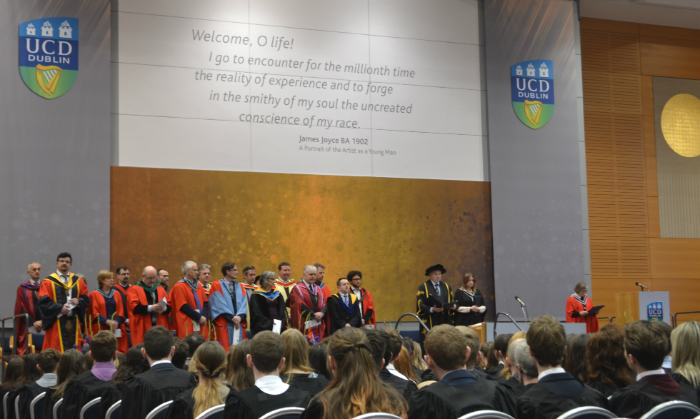 ‌This March, President Andrew J. Deeks, faculty members, and proud friends and family gathered in O'Reilly hall to recognise students for their achievements. Awards were given to students on the Bachelor of Law and Bachelor of Law and Business for academic achievement. The top students in stage 2, 3 and 4 of their programme each received an award.
Students from across the University were also awarded for their participation in student events and contribution to the wider campus community. James Aherne, a fourth year student on the BCL programme, was awarded for his work with the UCD Choral Scholars. For his contributions as Lawsoc Auditor, James Green was awarded a medal for Excellence in Student Activities. Eoin MacLachlan and Clíodhna Ní Cheileachair were also awarded medals for Excellence in Student Activities. Ciara Wallace, a Law with Social Justice student, was honoured for her work with the SVP.
For the first time in its sixteen year history the Professor James C. Brady Memorial Prize was shared by two winners, Kevin Bassett and Emily McMorrow. This annual prize commemorates James C. Brady (1940-1998), Professor of the Law of Property and Equity in University College Dublin. It was established in 2001 by the James C. Brady Memorial Trust as a tribute to Professor Brady and his skills in teaching and research in the field of equity and trusts. We were pleased to have been joined at the ceremony by members of the Brady family.
The winner of this year's Swift McNeill Memorial Medal is Ms Emma Foley. Ms Foley wins this award for having entered the Honourable Society of King's Inns with the highest overall GPA of a graduate of the Sutherland School of Law this year.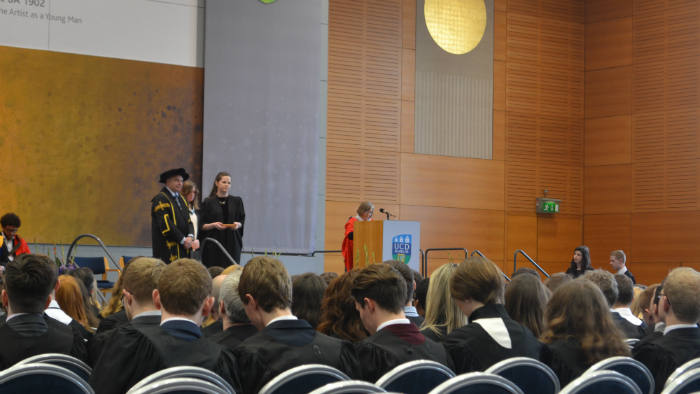 Ms Clíodhna Ní Cheileachair receives her medal from President Deeks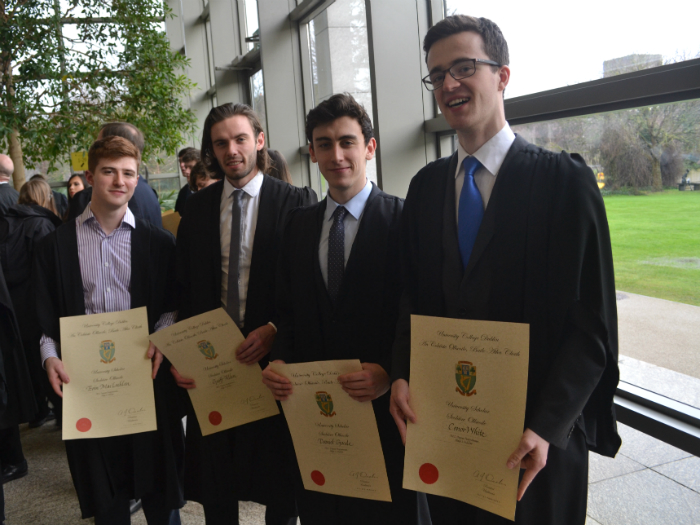 L-R Eoin Machlachlan, Geoff Allen, Daniel Goode and Conor White, some of the recipients of awards this year.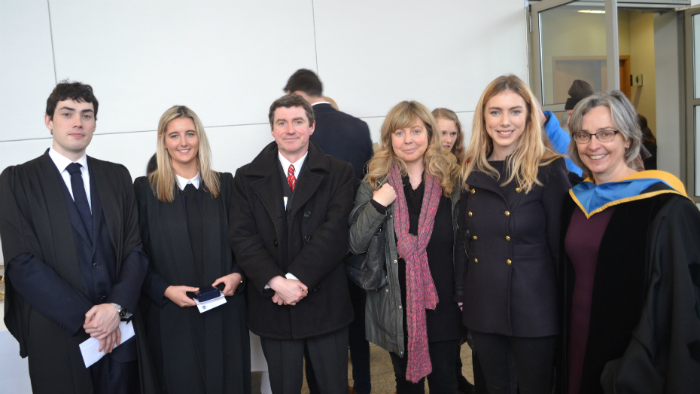 L-R Kevin Bassett and Emily McMorrow winners of the Brady Prize, members of the Brady family and Professor Imelda Maher.
‌
‌
‌
A Celebration of UCD Sutherland School of Law
On Wednesday, February 1, 2017 a special celebration took place in the UCD Sutherland School of Law. The President of UCD, Professor Andrew J Deeks along with the Dean of Law, Professor Joe McMahon and the academic faculty and administrative staff of the School of Law, welcomed a large number of distinguished guests to join in celebrating the achievements of the School since moving to the magnificent Sutherland Building in late 2013. Dr Peter Sutherland was unable to attend the celebration but his long standing and critically engaged support for the School was widely acknowledged by all present. A selection of photographs can be viewed by scrolling down this page or a full gallery can be viewed at this link: Celebration Photos.
The occasion gave the School the opportunity to take stock of what has been achieved since moving to the state-of-the-art facilities, made possible by the generous support of many present that evening. A short video showcased the strength of the community that has been built in the School, the world-class teaching and learning facilities on offer and an overview of the breadth of research output by faculty in that time (video link here). President Deeks delivered a powerful speech about the School's achievements and was followed by speeches from two outstanding students, Ms Joy Tendai Kangere and Mr Francis McNamara with Professor Imelda Maher, incoming Dean in September 2017 concluding. In her speech, Joy, a BCL student originally from Zimbabwe gave a moving account of her experiences studying in the UCD Sutherland School of Law. Francis, a graduate from 2014 who has recently returned to study an LLM in International Commercial Law and is the School's current Healy Scholar also gave a very engaging account of his time. The two students were extremely well received by the distinguished audience both for the excellence of their speeches and the passion with which they delivered them.
In the final speech of the evening, Professor Imelda Maher took the opportunity to thank all donors and friends of the School of Law when she said '… we have realised the trust and ambition that you invested in us through your support of this wonderful building'… it has realised our ambition and is a gateway through which law and criminology can be engaged with and understood… the building ensures our ideas, networks, and publications can influence here in UCD, nationally and internationally. 'She concluded by saying 'Through your support and generosity, we now have state-of-the-art facilities for the leading law school in Ireland: our focus is now to continue to build on that investment.'
Professor Maher's speech can be viewed at this video link.
With the conclusion of the speeches, the audience was entertained by an outstanding performance from the full choir of UCD Choral Scholars performing a selection of Irish and French works, conducted by their artistic director, Dr Desmond Earley.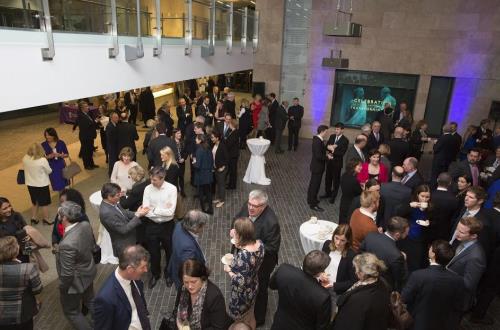 Facilitating Human Rights Education in the Secondary School Curriculum:
An IHREC Funded Human Rights Education Project.
In April/May 2017, the School of Law facilitated the implementation of a research and education project led by Suzanne Egan and funded by the Irish Human Rights and Equality Commission. The aim of this project is to facilitate and enhance human rights education in secondary schools through the new Leaving Certificate Politics and Society Course. This new course was introduced by the Department of Education and Skills as part of the commemoration of 1916 and is currently being rolled out for the first time on a pilot basis in 41 secondary schools throughout the project. This IHREC funded project aims to facilitate this exciting initiative through the provision of dedicated training sessions by staff at the Law School and the UCD Centre for Human Rights to teachers in the 41 participating schools.
Over the course of two full days, Suzanne Egan and Dr. Liam Thornton (UCD School of Law) Professor Kathleen Lynch (UCD School of Education) and Dr. Graham Finlay (UCD School of Politics and International Relations) each led sessions with the teachers on human rights and equality themes central to the Politics and Society curriculum. The ensuing research component will involve a qualitative assessment of teachers' expectations, experience and practical implementation of the Politics and Society subject in its first year of delivery. In combination, it is anticiaped that the combination of the training and research evaluation will serve to better inform curriculum review of the Politics and Society module as well as the needs of teachers in service delivery.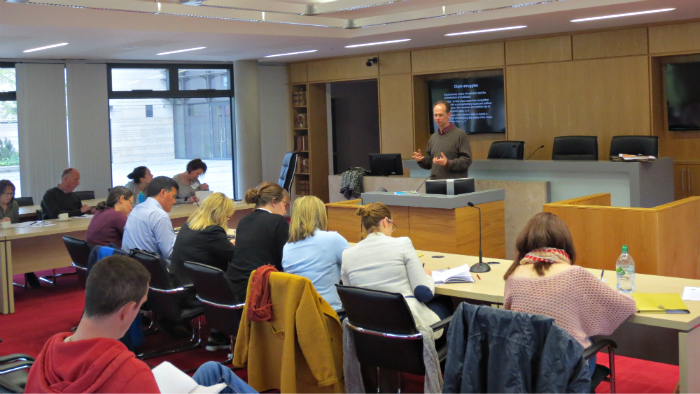 Dr Graham Finlay addresses the teacher's group.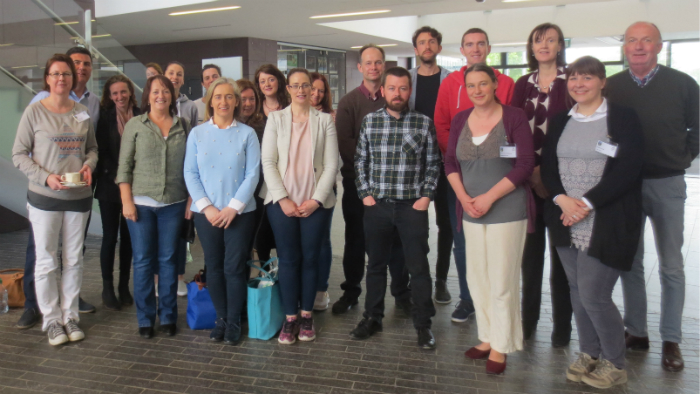 Participants in the project.

Celebrating the completion of the first Matheson Doctoral Scholarship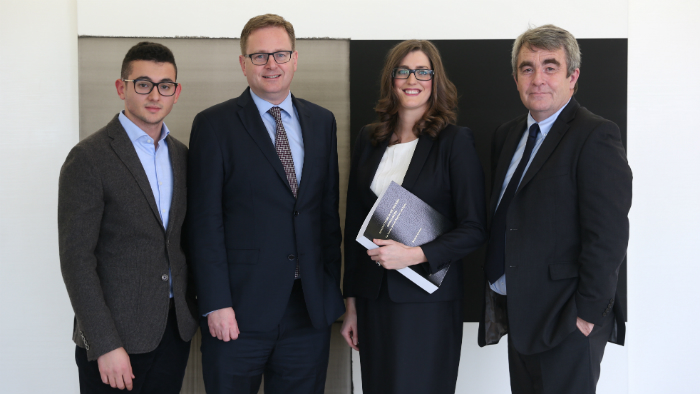 Celebrating with Elizabeth Corcoran the completion of her Matheson-sponsored Doctoral Scholarship was Michael Jackson, Managing Partner, Professor Joe McMahon, Dean of Law and current Matheson Scholar, Alexandru Soptica.
We congratulate Elizabeth Corcoran on completing the first Matheson-sponsored UCD doctoral programme in innovative legal research. Elizabeth's highly topical thesis examined fiduciary duties in the financial services sector and provides essential insights for Ireland's growing commercial law practice.
In 2012, leading Irish law firm Matheson commenced a 12-year agreement to sponsor the internationally renowned UCD School of Law doctoral programme. The sponsorship comprises three 4-year PhD scholarships and covers tuition fees and an annual bursary.
Scholarship applications are sought for research topics that cover financial services law, company law and corporate governance.
The second scholarship, for the 2016-2020 programme, has been awarded to Alexandru Gabriel Soptica. His research will explore EU competition law.
Michael Jackson, Managing Partner at Matheson, said: "As the only English speaking common law country in a post-Brexit EU, we believe that Ireland will play an increasingly important role in international business. To enable us to do that successfully, it is essential that we constantly review our laws and legal system to ensure that they provide the certainty required to enable business to grow and to contribute to the economy and the broader community and society. For that we must have a supply of industry-leading talent, particularly in the field of commercial law.
We are proud to partner with a respected academic institution like UCD. It underscores our own commitment to nurturing upcoming legal talent and supporting a new generation of graduates. Matheson's sponsorship of the UCD School of Law's doctoral programme is an investment in seminal legal research that will greatly improve Ireland's leadership position in business and law.
On behalf of everyone at Matheson, I would like to congratulate and thank Elizabeth Corcoran for her PhD which contributes to commercial law in Ireland, and to welcome Alexandru Soptica to the programme."
Headquartered in Dublin with offices in London, New York and Palo Alto, more than 600 people work across Matheson's four offices, including 73 partners and tax principals and over 350 legal and tax professionals. The firm's primary focus is on serving the Irish legal needs of internationally focused companies and financial institutions doing business in and from Ireland. The doctoral programme sponsorship closely aligns with Matheson's core values of developing and nurturing in Ireland's legal talent.
Professor Joe McMahon, Dean of the UCD Sutherland School of Law, said: "The Sutherland School of Law is extremely appreciative of this scholarship, provided by Matheson, in recognition of the importance of doctoral research in the broad field of Commercial Law. Their generous scholarship has allowed Elizabeth Corcoran to undertake a valuable thesis on Fiduciary Duties in the Financial Services Sector. Furthermore, the continuing support offered by Matheson has meant that the Sutherland School has now welcomed a new doctoral scholar, Alexandru Soptica who will undertake research in the all-important EU Competition Law area.
The Sutherland School of Law firmly believes that the support we receive from the legal profession for students, from undergraduate to doctoral level, plays an important part in shaping the future of the profession in this country, thus we are extremely grateful to Matheson for this significant contribution."
Commenting on her doctoral scholarship, Elizabeth Corcoran said: "Matheson must be congratulated on their pioneering doctoral scholarships as few are afforded the opportunity to immerse themselves in a novel area of law that intrigues and excites them with generous financial support to rely on. This support has allowed me to develop an expertise in the area of equity and financial services regulation which has greatly enhanced my academic writing, lecturing opportunities, and my practice at the Bar."
As he begins his four-year programme, Alexandru Soptica said: "This opportunity has made a significant impact on my future career prospects. Embarking on a PhD degree provides me with the necessary skills and professional network to work internationally and on projects of global significance. I see this scholarship as a gift and a responsibility - a gift, as an opportunity for my own personal development; and a responsibility, to provide value to society by using this opportunity to drive innovation and knowledge in competition law."
IRC Funded Human Rights Education in Secondary Schools
In April 2017, the School of Law together with the UCD Centre for Human Rights, welcomed students and teachers from four secondary schools who had participated in an Irish Research Council funded research project which Suzanne Egan had led in conjunction with Amnesty International. The aim of the project was to ascertain the extent to which a short programme of human rights education can facilitate attitudes and actions in young people consistent with the values of democratic societies based on equality and social inclusion.
The project specifically involved designing an 8-week course on Human Rights, Non-Discrimination and Social Inclusion and rolling it out to approximately 100 Transition Year students with a view to testing its impact at the end of the course delivery. A unique feature of the project was the involvement of graduates from the School of Law who had completed the innovative clinical legal education module on Human Rights Education as trainers on the 8 week Programme in the four participating Schools.
On 28th April, the School of Law hosted a reception for all participants in the project during which Colm O'Gorman, Executive Director of Amnesty International, congratulated the students from the schools on their enthusiastic involvement in the project, highlighting the important role of young people in promoting and realising human rights in their homes, schools, communities and in wider society. Suzanne Egan hosted an academic workshop later in the afternoon at which the results of the project were shared and discussed with academics as well as representatives of non-governmental organisations and national human rights institutions from throughout Europe.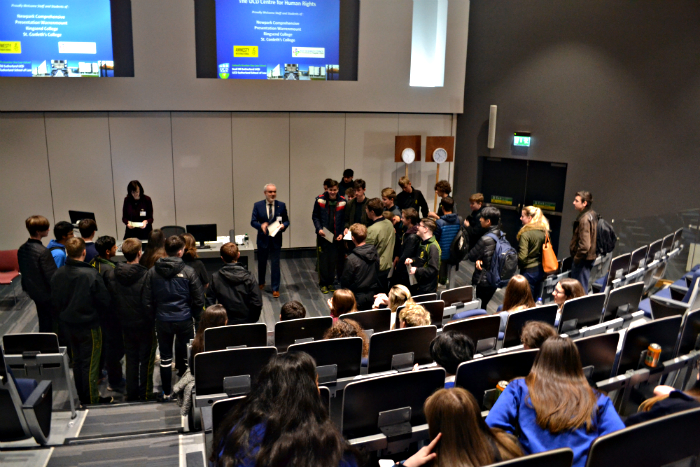 Colm O'Gorman presents certificates to students to mark the completion of the course.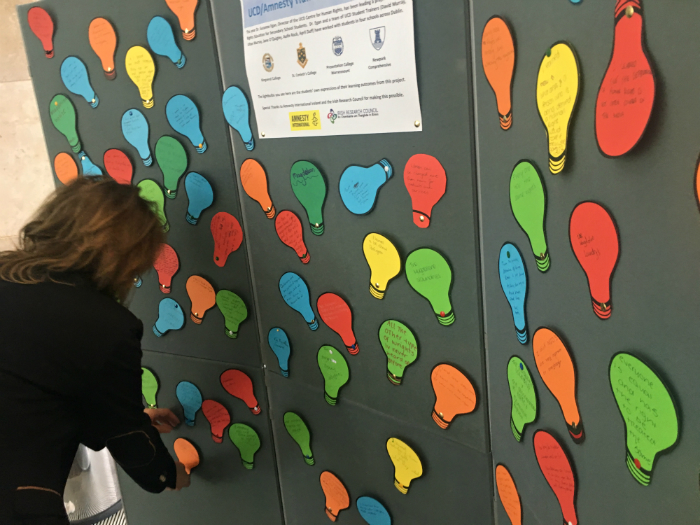 A display made by students to highlight their experiences on this course.
Brexit and Human Rights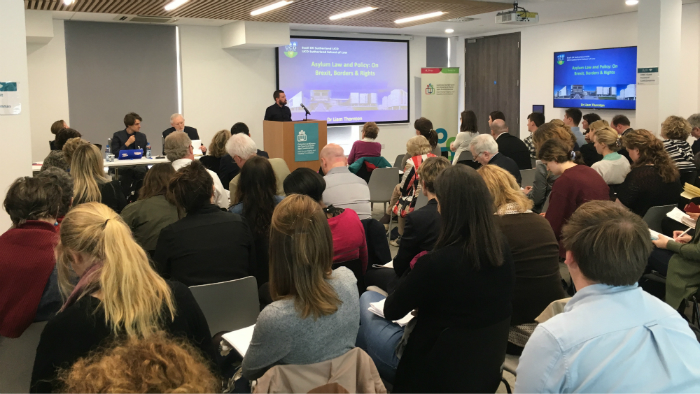 UCD Sutherland School of Law continues to lead legal and political conversations on the impact of Brexit for Ireland, Europe and the wider world. On Wednesday, May 3 2017, Dr Liam Thornton convened a seminar on Northern/Ireland After Brexit: Exploring the Human Rights Impact. Attended by over 70 delegates, from practitioners, civil society, the civil service and students, the seminar offered reflections on the potential human rights impact of Brexit on the island of Ireland. Chaired by Michael Farrell, Colin Murray, Dr Anne Smith, Dr Catherine O'Rourke, Suzanne Egan and Dr Liam Thornton, explored varied areas that Brexit will have a human rights impact. Michael Farrell noted the significant rise in racism and xenophobia that has arisen post-Brexit and reminded delegates of the significant impact Brexit may have on the peace settlement in Northern Ireland. The UCD Centre for Human Rights sponsored this event.

Colin Murray noted how current political discussions around customs borders did not resolve the human rights issues that will arise due to Brexit. As the European Union Charter of Fundamental Rights would no longer apply, this raised issues of comparability of rights protections between Ireland and Northern Ireland, provided for under the Good Friday/Belfast Agreement. Murray noted that the Irish government needed to ensure strong rights protections within Brexit negotiations.

Dr Anne Smith meanwhile pondered what silver linings may exist in a post-Brexit era. While admitting such silver linings may be elusive, Smith reflected on the need to re-invigorate the Bill of Rights for Northern Ireland. Speaking of her work with others, on drafting a model Northern Ireland Bill of Rights, Smith discussed the huge support for the Good Friday/Belfast Agreement on both sides of the border. The silver lining within the post-Brexit era may, Smith argued, be cross-political party support for maintaining a strong level of rights through the Northern Ireland Bill of Rights.

Sticking with the theme of potential solutions to maintaining rights equivalence, UCD Centre for Human Rights Director, Suzanne Egan, examined the potential development of a Charter of Rights for the Island of Ireland. Brexit, Egan states, would be a "complete game-changer" as regards rights protection on these islands. Noting the limits of this Charter debate previously, Brexit, Egan argued, that there was a need for cross-jurisdictional engagement from political actors in order to ensure the protection of international legal obligations for rights equivalence. What was urgently needed, was a full scoping of differences in rights protections between Northern/Ireland that needed to be resolved within the Brexit negotiations.

Dr Catherine O'Rourke placed Brexit within its global context, focusing on women's rights on these islands. O'Rourke noted that Brexit occurred in an atmosphere of suspicion towards internationalism. Reflecting on the impact EU law has had on women's rights more broadly on these islands, O'Rourke noted that women's rights organisations were lead innovators in progressing women's rights on the global stage, and this will become even more significant in the post-Brexit era. While acknowledging the significant negative impact the EU had as regards women's rights in austerity and rights of refugee women, the EU has broadly added significant protection for women's rights. Would a focus on international legal obligations, in particular under the UN Convention on the Elimination of All Forms of Discrimination Against Women (CEDAW), O'Rourke pondered, enable protection of rights of women in the post-Brexit landscape?

The final contributor, Dr Liam Thornton examined the impact of Brexit on asylum law and policy in Ireland. Noting that Ireland and the United Kingdom are suspicious partners within the Common European Asylum System, Thornton reflected on some of the core reasons why this is the case. With a focus on the Common Travel Area (CTA), Thornton explored how the existence of the CTA has led to Ireland's asylum laws and policy being overly influenced by the UK's deep suspicion to European Union legal rules on asylum and refugee rights. Tracing the political and legal impact of the CTA on Irish asylum law and policy, Thornton outlined three potential paths, some negative, some positive, that could occur within the post-Brexit legal landscape in the area of asylum law and policy.

You can access a Storify of the event here.
Pictured Below L-R: Dr Catherine O'Rourke, Dr Anne Smith, Suzanne Egan, Michael Farrell, Colin Murray, Dr Liam Thornton.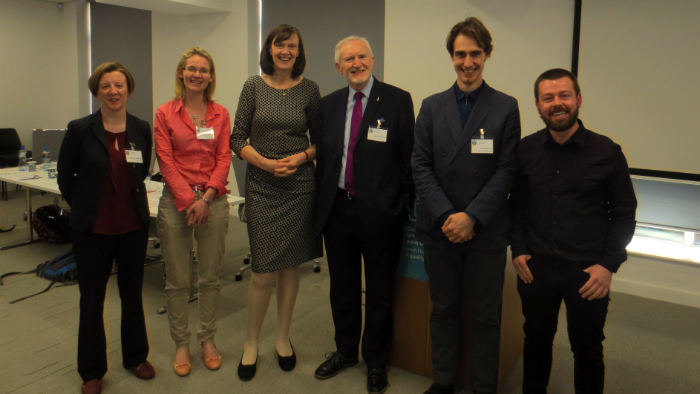 Fifth Annual Corporate and Commercial Study Visit to London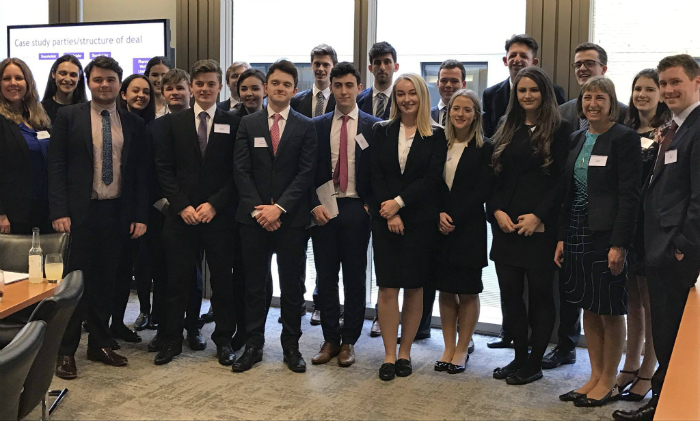 The 5th annual UCD Corporate and Commercial Law Study Visit to London took place in March 2017. Twenty second year students from across the Law, Business and Law, Law with Economics and Law with Politics degree programmes were selected to accompany Dr. Oonagh Breen, Head of Alumni and Career Development at the Sutherland School, Dr. David Foster Director of the UCD Career Development Centre and Ms Sarah Brown, UCD Career Skills Consultant on the 5-day trip to London.
Over the course of the week, students met with lawyers at leading firms Clifford Chance, Clyde and Co, Slaughter and May, Freshfields Bruckhaus Deringer, Herbert Smith Freehills, Dentons and DLA Piper. Students participated in a number of skills related exercises that explored their negotiation and advocacy skills, their contract and commercial knowledge and their ability to speed network!
The trip provided participants with the invaluable opportunity to experience life as a city lawyer first hand, to meet with trainees, associates and partners at the various law firms and to begin to think about their future career paths. An added bonus was the welcome chance to meet up with some of our alumni – Michael Dwyer (Law with Econs) and Jodie Jane Tingle (Law with Econs) from Slaughter and May; Anne Collins (BBL) at Clifford Chance, Vincent Keaveny (BCL) at DLA Piper and Nadine McMahon (BBL) at Herbert Smith Freehills. Nadine was a student on the very first corporate study visit to London back in 2013 so it was a particular pleasure to have a study visit alumna introduce our current students to her new firm!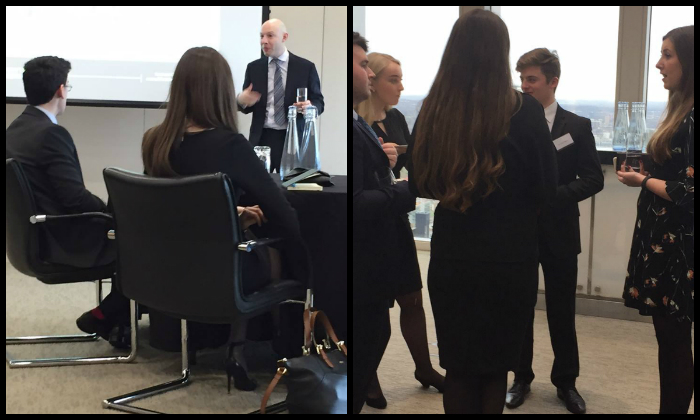 Students listened to a briefing from Partner Dan Neidle before lunch at Clifford Chance.

UCd Alumnus Nadine McMahon (trainee solicitor at Herbert Smith) with UCD Students and and Dr Oonagh Breen.‌
Professor Devenney Delivers Inaugural Lecture
Professor James Devenney, the new McCann FitzGerald Chair of International Law and Business at University College Dublin's Sutherland School of Law, yesterday delivered his inaugural lecture entitled "Spies, Parking Tickets, Illegal Transactions and Insider Dealing". Professor Devenney reflected on four recent cases which fundamentally alter our understanding of Contract Law and have wide-reaching implications for lawyers and businesspeople alike.
Professor Devenney is currently overseeing the prestigious Master's Degree in International Law and Business offered jointly by the UCD Sutherland School of Law and the UCD Smurfit Graduate School of Business. This programme, established in 2014, offers an innovative degree for students who have successfully completed an undergraduate degree in law, business or related disciplines.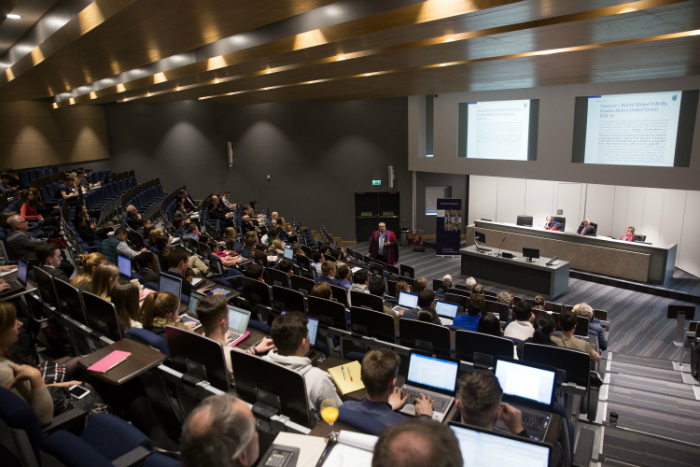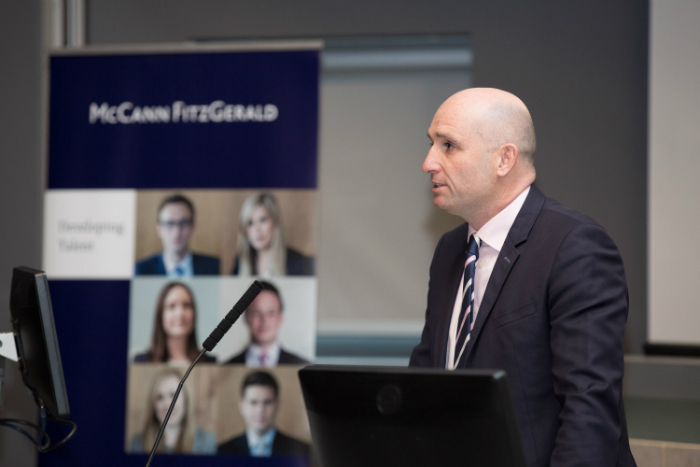 Commenting on Professor Devenney's lecture, Barry Devereux, Managing Partner of McCann FitzGerald said, "James is widely recognised as a world-leading expert on Transactional Commercial Law and his inaugural lecture showed why his insight is so valuable to international business and law, and particularly important in uncertain times for trade globally. At McCann FitzGerald we are very proud to have him represent our firm in the legal educational world and we look forward to building on our ongoing support of the Chair."
Professor Imelda Maher, Deputy Dean of UCD Sutherland School of Law said, "We were delighted that Professor James Devenney took up the role as McCann FitzGerald Chair in International Law and Business. His insightful and thought-provoking inaugural lecture is a real demonstration of the expertise he has already brought to the position and we look forward to him continuing to build on this work."
Professor Devenney chose four cases to represent some important recent and ongoing developments in the law of contract in the UK and Ireland. The first was Attorney General v Blake [2001] 1 AC 268 concerning the proper method of assessing damages for breach of contract if the breach has generated a profit for the defendant without a corresponding loss for the plaintiff. The House of Lords held that, in exceptional cases, it may be just and equitable to order the defendant to pay damages corresponding to some or all of the profit made, where the plaintiff's interest in performance of the contractual obligation warrants this. It remains unclear how exceptional this should be, where the notion of an "efficient breach" (ie that society benefits by allowing a defendant to retain whatever profit from the breach that exceeds the plaintiff's loss) now stands and how Blake relates to cases on damages for a lost opportunity to bargain for the defendant's release from the contract.
The second case that Professor Devenney examined was ParkingEye Limited v Beavis [2016] AC 1172. The UK Supreme Court here rejected the sharp distinction between a penalty clause (unenforceable) and a genuine pre-estimate of the damage caused by a breach of contract (enforceable). Instead, the court should examine a provision by asking whether the "the impugned provision is a secondary obligation which imposes a detriment on the contract-breaker out of all proportion to any legitimate interest of the innocent party in the enforcement of the primary obligation." (Lord Neuberger and Lord Sumption). As with Blake this emphasizes the injured party's interest in performance and requires a more sophisticated analysis of this than the nineteenth centuries cases employed. It is not fully clear how this new approach will be applied and how it relates to the law on relief against forfeiture.
James Devenney Lecture from UCD Sutherland Law on Vimeo.
Professor Devenney finished by looking at two cases - Patel v Mirza [2016] UKSC 42 and Quinn v Irish Bank Resolution Corporation Ltd (In Special Liquidation) [2015] IESC 29. The highest courts in England and Wales and in Ireland agree that the law in relation to the enforceability of illegal contracts (and restitution of money paid or property transferred under them) needs to be more flexible. However, if the prevailing view in England and Wales is that the circumstances of each case need to be assessed (such as the seriousness of the breach or the degree of culpability of each party), the Irish position is that each statutory scheme should be analysed to decide what the consequences of illegality should be, but that all cases falling within each statute should be treated alike.