Law PhD student speaks at Conference in Lancaster University
The Sutherland School of Law is pleased to report that one of our PhD students, Osayomwanbor Bob Enofe recently delivered a paper at the SLSA (Socio-Legal Studies Association) annual conference, in Lancaster University.
The paper was titled 'Developing Countries, Nigeria, and Cartel Criminalisation: of Transplantation and Desirability' and was extremely well received, drawing as it does from Bob's PhD research. His research investigates cartel criminalisation, as an American export, and its compatibility with the realities of developing countries. Cartels can be particularly harmful in developing countries where they are extremely prevalent. Adopting Nigeria as a case study however, Bob highlights problems that could accompany transplant, challenging the view of the desirability of criminalisation. Adopting epistemological insights from postmodern comparative law, he explores some of mainstream competition law's underlining assumptions, arguing the case for careful investigation of suitability of proposed contexts, before transplant. His thesis is supervised by Professor Imelda Maher MRIA, Sutherland Professor of European Law.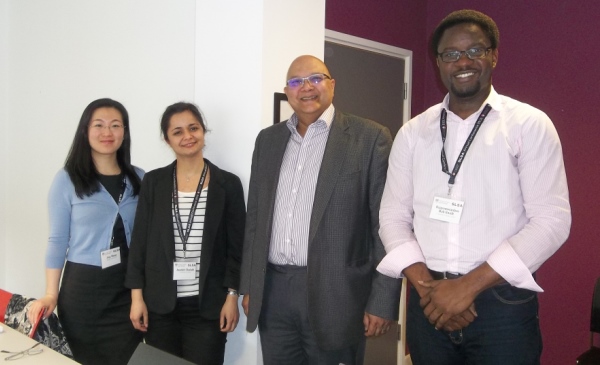 Bob (right) is pictured with Jing Wang (PhD, Bangor University), Azadeh Chalabi (Academic, University of Ulster) and Mervin Martin (Academic, Teeside University) chairing.