Success in Research Impact Competition
While Associate Professor Crystal Fulton, UCD School of Information and Communication Studies, has been declared overall winner of the 2018 University College Dublin (UCD) Research Impact Competition, Sutherland School of Law, had three of their researchers feature as runner-ups.
Dr T.J. McIntyre, UCD School of Law, Challenging mass surveillance in Ireland and Europe.
Dr Niamh Howlin, UCD School of Law, Man pardoned 136 years after being hanged for murder.
Professor Ian O'Donnell, UCD School of Law, Surviving solitary confinement.
Now in its second year, the research impact case study competition was established by UCD Research and Innovation to build capacity throughout the university in the area of capturing and articulating research impact. The competition offers UCD researchers an opportunity to develop a short written case study to highlight the impact of their research to predominantly external and non-specialist audiences.
The case studies are judged by a panel, composed of internal and external experts, on three main criteria; capture and articulation; scale and significance and beneficiaries and reach.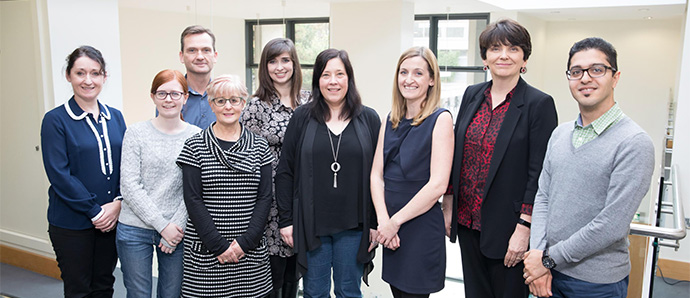 Pictured (l-r) are winners of the 2018 UCD Research Impact Case Study Competition: Associate Professor Margaret McGee, Eve O'Reilly, Dr David Hughes, Associate Professor Ann Sheridan, Dr Aoibhinn Ní Shúilleabháin, Associate Professor Crystal Fulton, Dr Niamh Howlin, Professor Orla Feely, Vice-President for Research, Impact and Innovation, UCD and Dr Amirhossein Jalali
The overall winner receives a €2,500 grant to assist with future research and 9 runner-ups receive a €500 grant each.
Full story can be found here.