Edwin Alblas - Making an Impact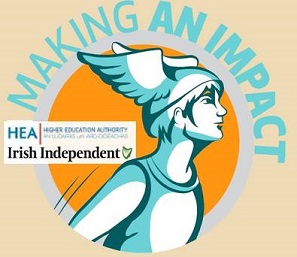 ‌
Effective Nature Law researcher Edwin Alblas reaches National PhD "Making an Impact" finals
Warm congratulations to Edwin Alblas, PhD scholar on the European Research Council-funded "Effective Nature Laws" project (http://effectivenaturelaws.ucd.ie/), for reaching the finals of the National PhD "Making an Impact" competition. This competition, organized by the Higher Education Authority and the Irish Independent, challenges young researchers to communicate their research to a lay audience and explain why it matters to society. At the event, which was held in DCU, he got the opportunity to present the Effective Nature Law project's goals and methods to an audience of about 400 secondary school students from across Ireland, as well as to a jury consisting of representatives from the HEA and the Independent.
The key message Edwin emphasised in his presentation was the need to protect nature more effectively by designing nature protection rules that actually work. One way in which he engaged with the audience was by introducing an Instagram photo competition for the students in the audience, asking them to post their best nature photo using the hashtag #effectivenaturelaws, with the chance to win free pizza. This Instagram competition – under the heading 'sharing is caring' – has already generated several positive responses, with the winner to be announced by Edwin November 25.
Edwin's achievement in reaching the national finals highlights the important impact that the ERC project seeks to make in improving the effectiveness of European nature laws in practice.

30 November 2017
Well Below 2°C: Progress and Challenges in Meeting the Paris Agreement's Goals
‌The event is a multi–disciplinary discussion on the future of the Paris Agreement in tackling climate change and has been organised by the Environmental Law PhD students in the Sutherland School of Law: Mícheál Callaghan, Julie Foulon, Edwin Albas and Orla Kelleher.
It has been advertised to PhD and Postgraduate students in all schools in UCD.
We hope this will provide a good opportunity for research students with an interest in climate and environmental issues to meet each other and discuss this problem from a multi–disciplinary perspective.
This event will take place on Thursday, 30 October 2017 at 16:00 Sutherland School of Law, Room L249.
All PhD / Postgradute students are welcome but we ask you to register at Eventbite.ie.
Professor Poonam Puri
Osgoode Hall Law School
10 October 2017
‌

UCD Sutherland School of Law (BLREG) are happy to announce that Prof. Poonam Puri will be visiting the School to present a paper entitled 'Piercing the Corporate Veil: The Case Between Parent and Foreign Subsidiary Corporations'.

Professor Puri is one of Canada's leading experts in corporate governance, corporate law and securities law and will be speaking on how multinational corporations use the doctrine of the corporate veil, among other structures and strategies, to limit their liability and avoid accountability on human rights and environmental abuses.

She will also speak to an interesting, emerging trend in Canadian litigation, where the courts seem to be exhibiting a greater willingness to listen to arguments that extend beyond traditional corporate law principles in the context of parent corporate liability for the actions of its foreign subsidiary corporation.

This presentation will take place on Tuesday, 10 October 2017 at 14:00 in the Harty Boardroom, L106, Sutherland School of Law.