Bloomsday
Bloomsday
Bloomsday celebrates the day on which the action of James Joyce's novel Ulysses takes place, the 16th June, 1904, and also the day Joyce first went out with his future wife, Nora Barnacle.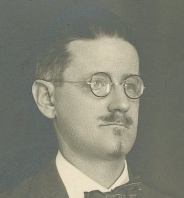 The day is named after Leopold Bloom, the central character in Ulysses. The novel follows the life and thoughts of Bloom and a host of other characters - real and fictional - from 8.00 am on 16 June through to the early hours of the following morning.
We first see Bloom in the house he shares with his wife, Molly, at 7 Eccles in Dublin and the novel concludes with a long interior monologue as Molly Bloom recounts her thoughts and feelings as she lies in bed.
An early Bloomsday celebration was the Déjeuner Ulysse at the appropriately named Léopold Restaurant in Les Vaux de Cernay, near Versailles. It was organised by Sylvia Beach, publisher of Ulysses, and her partner, Adrienne Monnier, in June 1929, to celebrate the first French edition of Ulysses. Among the guests were some of the most prominent figures in French literature at that time: Léon-Paul Fargue, Eduard Dujardin, Paul Valéry, Jules Romains, and Philippe Soupault. Also in attendance was Samuel Beckett, though he does not appear in the photograph.
Dublin celebrations of Bloomsday began in the 1950s. Typically, Joyce enthusiasts don Edwardian dress, re-enact scenes from Ulysses and visit areas associated with the novel. Pork kidneys feature on Bloomsday menus in homage to Bloom's breakfast choice: "Mr Leopold Bloom ate with relish the inner organs of beasts and fowls".
Joyce attended University College (then at St. Stephen's Green) from 1898 and graduated with a BA in English, French and Italian in 1902. The James Joyce material at UCD Special Collections is taken from the Curran Collection and consists of signed copies of his works (including a signed copy of the first edition of Ulysses) and letters, from Joyce to his UCD classmate and life-long friend, Constantine Curran. There are also many photographs. The Curran collection was acquired from Curran's family in the 1970s. The photographs are reproduced here courtesy of Curran's granddaughter, Professor Helen Solterer. For further information please contact Special Collections at UCD Library.
Declan Kiberd, former Professor of Anglo-Irish Literature and Drama at UCD, and now Professor of English at the University of Notre Dame, published in 2009 Ulysses and Us: The Art of Everyday Living, which shows that Ulysses, far from being the epitome of elitism, was always intended as a book for the common people. A scholarcast where Kiberd reads the closing chapter of his book is available at UCD Digital Library.
Find more items and history relating to Joyce and Ulysses in Constantine Curran's book collection held in our Special Collections located in the James Joyce Library, and in the Curran Collection of photographs in the UCD Digital Library.