Launch of SPHERE; a New UCD-based Vascular Research Group
Minister for Health, Dr Leo Varadkar T.D. welcomed the launch of SPHERE and spoke of the enormous worldwide burden posed by venous thromboembolism during his address to delegates at the inaugural international thrombosis conference, supported by Science Foundation Ireland.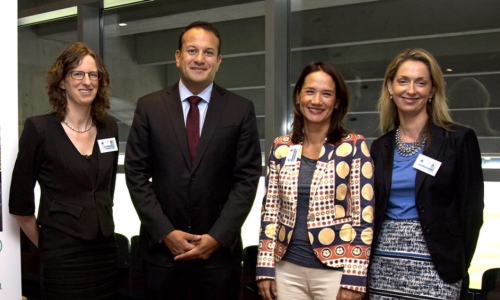 (Pictured L-R: Dr Fionnuala Ní Áinle, UCD; Minister for Health, Dr Leo Varadkar T.D.; Prof Saskia Middeldorp, Academic Medical Centre, the Netherlands; Dr Patricia Maguire, UCD)
The acronym SPHERE describes the state-of the art translational interests of this group that will focus on 'Systemic inflammatory disorders: role of blood Particles,Haemostatic factors andExtRacEllular vesicles'.
Current research projects investigate the impact of blood particles, haemostatic factors and extracellular vesicles in a wide range of diseases including acute ischaemic stroke, early onset preeclampsia, multiple sclerosis, liver disease, Eisenmenger syndrome and schizophrenia.

SPHERE, since its inception, has attracted significant funding from industry collaborators through investigator-initiated innovation awards granted by LEO Pharma and Actelion.
SPHERE Co-Directors
Dr Maguire is an SFI-funded Principal Investigator and Fellow of the UCD Conway Institute. She is also a Senior Lecturer in Biochemistry in the UCD School of Biomolecular & Biomedical Science. Over the past ten years, her research has focused on a comprehensive assessment of the anucleate platelet proteome based on a sequential series of analyses that included fractional proteomics, characterisation of specific interactomes and recently detailed description and functional analyses of novel platelet pathways. Recently, she has focused on the release of various extracellular vesicles (EVs) from platelets, the contents of these vesicles and their powerful paracrine effects. She has also shown that circulating levels of these EVs can be altered in inflammatory disease.
Dr Ní Áinle was appointed Consultant Haematologist in the Mater Misericordiae University Hospital (MMUH), UCD School of Medicine and Rotunda Maternity Hospital, Dublin in 2012. She subsequently established a translational research group based at the UCD Conway Institute where she holds an Associate Clinical Fellowship and is a Principal Investigator. Dr Ní Áinle has undergone specialist training in haematology and subsequently haemostasis, thrombosis and obstetric haematology. Since her appointment, she has been awarded several competitive research funding awards including a prestigious Health Research Award from the Health Research Board of Ireland. Dr Ní Áinle treats patients affected with disorders of blood clotting with major interests in thrombosis and maternal haematology. She has published in high impact journals of her field, including Blood and the Journal of Thrombosis and Haemostasis.
SPHERE Collaborators
Currently include Prof. Peter Kelly and Prof. Sean Murphy, MMUH Dept. of Stroke Medicine; Dr Chris McGuigan, Consultant Neurologist, SVUH; Dr Orina Belton, UCD Conway Institute; Prof Des Fitzgerald, Professor of Molecular Medicine, UCD; Prof Willem Ouwehand, Professor of Experimental Haematology, University of Cambridge; Dr Stephen Stuart, Consultant Hepatologist, MMUH; Prof. Kevin Walsh, Consultant Cardiologist, MMUH; Prof Saskia Middeldorp, Academic Medical Centre, the Netherlands and Prof. Beverley Hunt, King's College, London; Prof Jogin Thakore, Consultant Psychiatrist, St. Vincent's Hospital Fairview, Dr Alastair Poole, Bristol University; Prof Johan Heemskeerk, Maastricht University and Prof. Denisa Wagner, Harvard Medical School, all of whom have outstanding academic track records and are recognised leaders in their respective fields.
SPHERE Research Group
Dr Karl Egan, Postdoctoral fellow.
Project Title: Novel approaches to determining the procoagulant state in early-onset pre-eclampsia: diagnostic relevance and therapeutic opportunities
Funding: Health Research Board
Dr Seamus Allen, Postdoctoral fellow
Project Title: Characterisation of plasma in adults with pulmonary hypertension secondary to congenital cardiac disease
Funding: Actelion Pharmaceutials LtD
Dr Barry Kevane, MD/PhD fellow.
Project Title: Beneficial anticoagulant and cytoprotective properties of low molecular weight heparin in cancer
Funding: Leo Laboratories
Ms Brid Holohan, MSc Student.
Project Title: Proteomic analysis of clinical samples in patients with cardiovascular disease
Funding: Irish Research Council Enterprise Partnership Scheme so-supervised with Java Clinical Research
Mr Tim Donlon, PhD student.
Project Title: WNT signalling in platelets
Funding: Science Foundation Ireland
Ms Paulina Szklanna, PhD student.
Project Title: The platelet releasate in Early-onset Preeclampsia
Funding: Irish Research Council PhD scholarship award
Mr Martin Parsons, PhD student.
Project Title: The platelet releasate in Multiple Sclerosis
Funding: UCD School of Biomolecular & Biomedical Science
(Pictured top (l-r) Dr Patricia Maguire, Dr Karl Egan, Dr Seamus Allen, Dr Barry Kevane, Ms Paulina Szklanna, Ms Brid Holohan, Dr Fionnuala Ní Áinle, Mr Martin Parsons)
Orignial article UCD Conway Institute