Understanding Gastric Bypass Weight Loss
Researchers at University College Dublin (UCD), Ulster University and Florida State University have been awarded €2.5 million to investigate the effectiveness of gastric bypass surgery under the US-Ireland Research and Development Partnership grant programme.
The research will specifically aim to identify if long term weight loss from gastric bypass or bariatric surgery is due solely to changes in appetite and food choices or if it is also associated with changes in metabolic rate following surgery.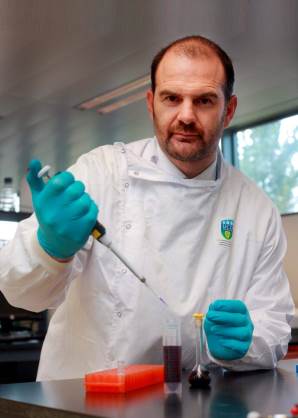 Bariatric surgery has been found to consistently allow patients to lose a quarter of their weight and maintain the weight loss for several decades. The safety of bariatric surgery is similar to hip replacements or gall bladder surgery, but the health gains are much more far reaching. Many patients achieve a cure for type 2 diabetes, mobility problems and sleep apnoea. It has also been shown to reduce heart attacks by a quarter and cancer by a third.
Conway Fellow, Professor Carel le Roux (pictured right) from UCD Diabetes Complications Research Centre is one of the scientists leading the research. He said:
"Losing weight is relatively easy in comparison with maintaining weight loss. Understanding how gastric bypass surgery works and why it is so easy for patients after surgery to make essential behavioural changes may be the key to helping more people achieve long term success with and without surgery."
Graham Love, Chief Executive at the Health Research Board, which is funding the Republic of Ireland aspect of this collaboration, said:
"Obesity is a global health challenge – this research has real potential to help us understand what influences people's behaviour and advance the treatment of people with obesity."
Obesity levels are increasing globally and the associated medical conditions such as diabetes, heart disease, stroke and cancers are placing strain on already challenged healthcare resources. It is vital to fully investigate not only the effectiveness of treatments but also any associated factors such as foods, attitudes and behaviours that may assist with helping people to make healthier food and lifestyle choices.
University College Dublin is uniquely positioned to play a critical role in the research as it has the most extensive translational medicine research programme into how bariatric surgery works in Europe.
The facilities and existing expertise at the UCD Conway Institute and St Vincent's University Hospital enable researchers to obtain a fundamental understanding of behaviours and attitudes to food. This will best position the research team to understand how a change in these behaviours after surgery may assist in the overall success of the surgical procedure and how it can be applied to people who do not want, or cannot have, surgery.
The US-Ireland Research and Development Funding Programme is a unique arrangement. It involves funding agencies in the USA, the Republic of Ireland and Northern Ireland who combine resources to enable the best researchers from Ireland and the USA to work together on research to address critical issues and generate valuable discoveries that will impact on patient care.
---
Original article by UCD Conway Institute reproduced with permission.