UCD School of Medicine PhD student awarded young investigator prize for blood pressure research
A University College Dublin PhD graduate has been awarded a young investigator prize by the British Hypertension Society for his research that has found a new way of lowering blood pressure levels in patients.
Conor Kerley's scientific abstract showed that consuming certain foods containing the gas nitric oxide can significantly reduce blood pressure. The presentation also included the details of a clinical trial.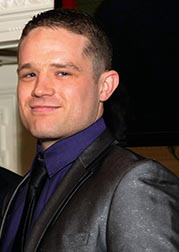 Conor is a dietitian and nutrition researcher and recently completed his PhD at the UCD School of Medicine.
His abstract entitled 'Dietary nitrate: Novel roles in hypertension and obstructive sleep apnoea' was selected as the winner of the Young Investigator Award at the BHS annual scientific meeting recently. His abstract was one of 12 that were presented at the meeting.
The young Irish scientist reasoned that dietary nitrate could lower blood pressure in those with high blood pressure and in those who suffer from the sleep disorder obstructive sleep apnoea, which also predisposes sufferers to high blood pressure.The British Hypertension Society (BHS) is the forum for professionals working in the field of hypertension and cardiovascular disease in the UK and Ireland.
In 1998, the Nobel Prize for Physiology and Medicine was awarded to three US-based physicians for the discovery of a gas called nitric oxide (NO).
Higher levels of the gas in the body can relax and widen blood vessels and therefore potentially lower blood pressure.
As part of the young researcher's clinical trial, a group of 20 patients with hypertension and another group of 12 obstructive sleep apnoea sufferers wore a blood pressure monitor for 24 hours.
They then consumed nitrate-rich beetroot juice for 14 days and low-nitrate beetroot juice for 14 days. Conor then assessed blood pressure levels in the patients again after they had consumed the nitrate-rich beetroot juice and low-nitrate beetroot juice.
The results found that blood pressure levels fell in those with hypertension who had consumed the nitrate-rich juice by 8/4mmHg and by 8/6mmHg in those with obstructive sleep apnoea.
These results are comparable to a decline in blood pressure that patients generally experience after taking one to two doses of standard blood pressure medications.
Although we used beetroot juice for our studies, I recommend consuming whole foods, not juices, when possible. Nitrate is found in green vegetables, beetroot and rhubarb. My conclusion is simple: Eat more vegetables
said Conor.

Adapted from an original article by Jamie Deasy, digital journalist, UCD University Relations. Reproduced with kind permission.