Successful Matrix Biology Ireland Conference
The School hosted a successful second annual meeting of Matrix Biology Ireland (MBI) from the 2nd to 4th of December 2015. The scope of MBI is both to promote and consolidate scientific interest and expertise around extracellular matrix research in all its forms within Ireland, and, to link this with the international scientific community on matrix biology.
Almost 100 national and international delegates descended on the UCD Health Sciences Centre for MBI 2015, which offered focussed thematic sessions on the role of the tissue matrix in cancer, fibrosis and tissue engineering/regenerative medicine – areas of considerable research strength at UCD and nationally.
The meeting was opened by co-chair, Dr Neil Docherty (UCD Diabetes Complications Research Centre) who described the biological phenomena that were common to the major meeting themes, and highlighted the cross-disciplinarity and mechanistic insights that can emerge from one theme to another. Prof Dietmar Hutmacher of Queensland University of Technology, Australia, then delivered the meeting plenary lecture - an inspiring presentation on the use of in vitro and in vivo tissue engineering models to study aspects of cancer progression and metastasis. The opening day, which focussed predominantly on cancer and the tumour microenvironment, continued with sessions opened by Dr Róisín Dwyer (NUI, Galway), and also by Prof Maja Oktay (Albert Einstein College of Medicine, New York) whose participation at the meeting was supported by the Irish Cancer Society Collaborative Cancer Research Centre, BREAST-PREDICT. The day concluded with the meeting poster session, at which a scientific panel adjudicated an exceptional standard of student poster submissions.
The second day of the meeting focussed primarily on fibrosis and tissue engineering, with invited lectures from Prof Abhay Pandit (Director of the Centre for Research in Medical Devices, CÚRAM at NUI, Galway), Dr Derek Brazil (Queen's University Belfast), Prof Boris Hinz (University of Toronto), Dr Andrea Brancaccio (ICRM-CNR, Rome) and Prof Andrew Pitsillides (Royal Veterinary College, London). The latter two speakers were kindly supported at the meeting by the International and British Societies for Matrix Biology, respectively. The invited talks addressed topics ranging from the influence of mechanical factors on tissue repair and fibrosis, to the application of hydrogels for repair of the intervertebral disk. A day of stimulating discussion continued into the evening with the conference dinner at the Beaufield Mews restaurant in Stillorgan.
The final day of proceedings commenced with an invited lecture from Prof Alan Sitt (Queen's University Belfast) on regenerative medicine-based approaches to treat diabetic retinopathy and continued with further talks from a number of national PIs, post-docs and PhD students. The meeting closed with an invited talk from Prof May Griffith (University of Linköping, Sweden) on corneal regeneration, before the MBI 2015 student prizes were awarded to Rukmani Sridharan, RCSI (Best Student Oral Presentation), Doireann Joyce of NUI, Galway (Runner-Up Student Oral Presentation), Caoimhe Keoghegan, UCD (Best Student Poster Presentation) and Joanne Cregg, also based at NUI, Galway (Runner-Up Student Poster Presentation).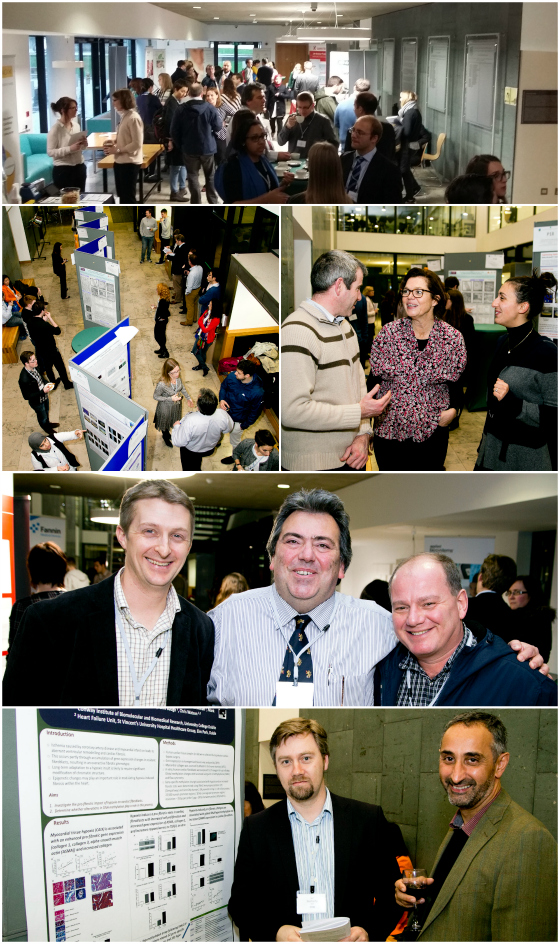 The MBI 2015 chair and MBI Secretary, Dr. Tom Flanagan, described the meeting as a real success and a clear-cut endorsement of the recently established Matrix Biology Ireland as a national, learned society focussed on an important subject.
"The extracellular matrix in our body tissues underpins a number of fundamental biological processes in both health and disease. We wanted to highlight the importance of the matrix in three key areas of strategic research excellence, both at UCD and nationally - namely cancer, fibrotic disease and tissue engineering. We were delighted to secure a number of distinguished invited faculty who are leading the field on these topics, together with abstract submissions from key national and international groups. We are also delighted to strengthen and expand our MBI membership based on this year's activities, but matrix biology clearly has a much wider influence on health and disease and we will be keen to expand the society further in 2016."
MBI co-founder and current President, Dr. Fabio Quondamatteo, spoke of the potential for a bright future and expressed a wish to continue to attract a wide range of scientists into the MBI research community, in particular young investigators, after attending MBI 2015.
"I would like to congratulate Tom and the local organising committee on a fantastic second meeting here in University College Dublin. It is evident from both the composition of the programme and the audience that the research community is beginning to recognise the importance of growing a platform to harness Matrix Biology knowledge and expertise in Ireland. Our main goal for 2016 will be to further promote MBI as an all-island society, and indeed to host the 3rd annual meeting next year in Northern Ireland."
The MBI 2015 organising committee acknowledge the support of sponsors and exhibitors which include UCD School of Medicine, the International & British Societies for Matrix Biology, BREAST-PREDICT, Biocolor, Biosciences, Fannin, Gradientech, Ibidi, Lennox, Mason Technology, Microscopy Society of Ireland, Santa Cruz Biotechnology and Sarstedt.
MBI 2015 Meeting Chairman, Dr Tom Flanagan extends his thanks to local organising committee which comprised Dr Aoife Canney, Dr John Crean, Prof Liam Gallagher, Dr Fiona Lanigan, Dr Claire Kilty, Dr Ciara Murphy, and Dr Neil Docherty (co-chair) as well as administration staff Ms Margaret Tiuchta, Ms Erin Finnerty, Mr Steven Masterton and Ms Comfort Odesola.
The UCD School of Medicine is delighted to extend our best wishes to Matrix Biology Ireland for their continued success and in particular, to MBI President Dr Fabio Quondamatteo who takes up a new role as Professor of Anatomy at the University of Glasgow.
For further information on Matrix Biology Ireland, please visit the society website (www.mbi.ie). For membership enquiries (both Council and ordinary membership), please contact the MBI Secretary at secretary@mbi.ie.