The Brush and the Scalpel
After completing our move from Earlsfort Terrace in 2006, the School discovered approximately 1000 anatomy watercolour paintings which were taken at the old Richmond Hospital in Dublin. These highly detailed illustrations from 1850 - 1870 present a snapshot of a variety of medical conditions which were prevalent in the city at that time. The collection of images provide a fascinating insight into a very different era and includes hundreds of faces of Dublin's citizens. The illustrations have recently been digitally scanned and catalogued by UCD Archives.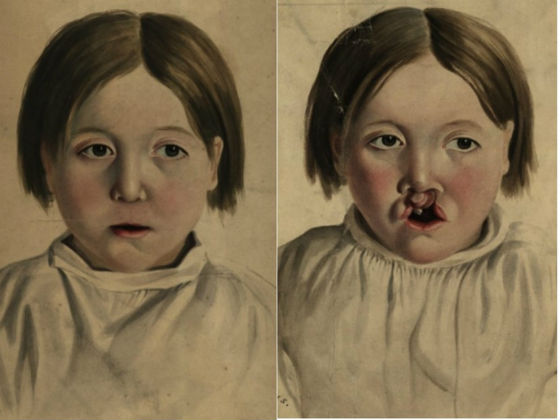 The images facilitate all manner of medical insight while also acting as a symbolic representation of hundreds of years of medical research, acting as a reminder to the wider medical community and general public that UCD, Dublin, and Ireland have always had an important part to play in Medicine.
The aim of this project was to have a team of medical students, supported by staff and faculty examine, research, study and review a selection of the water-colours. They developed poster style presentations which will form a permanent display at the Mater Misericordiae University Hospital, as well as a temporary exhibition in various locations across the UCD campus and at UCD community events, such as the UCD festival. The posters will also provide the basis for an electronic publication and the research undertaken will also be put forward for the UCD Student Medical Journal.
Eight School of Medicine students took part in the SPARC-funded project led by Mr Adam Tattersall and his Technology Enhanced Learning team called 'The Brush and the Scalpel'. SPARC is an initiative of the UCD Career Development Centre and the project was supported by the Department of Surgery at the Mater Misericordiae University Hospital.
The eight students included David Burke, Camilla English, Jack Evans, Alan Hopkins, Emma Hughes, Joel Lee, Jia Wen Lok and Priscilla Pua. The students were supported by Mater Hospital and UCD staff: Ms Debbie Killeen, Prof Cahill, Mr Kevin Cronin, Prof Tim Lynch, Prof Padraic MacMathuna, Mr Dylan Murray, Mr Martin O'Donohoe and Ms Helena Rowley.
Also involved in the project were UCD Belfield staff including Adam Tattersall (SoM Technology Enhanced Learning Manager), Allison Kacperski (SoM Educational Technologist), Meadhbh Murphy (Archivist at UCD Library) and Rebecca Boyle (SPARC representative).
The project was funded by the SPARC (Supporting Partnerships And Realising Change) programme which enables UCD staff and students to work together on projects that make UCD and/or the surrounding community a better place to learn, work and live.