Dean Scores with Students
Stage 4 UCD Medicine student, Kevin Keane and colleagues took on a Dean's selection in a highly competitive Student v Staff charity football match at UCD Belfield on Friday 21st February 2014. The match was organised as part of Kevin's fundraising efforts for the 100 Minds campaign in aid of the Children's University Hospital, Temple Street.
The Dean, a stylish sweeper in the Franz Beckenbauer mould, assembled a crack team of academic staff which included Prof Donal O'Shea, Prof Cormac Taylor, Prof Bill Watson, Dr Tom Flanagan, Dr Shane Foley, Dr Paul Minis and Dr Patrick O'Connor. The staff suffered a pre-match injury blow when Dr Pat 'Fellaini' Felle was forced to withdraw due to flu. With a number of other staff unavailable when the original match had to be rescheduled due to bad weather, the Kaiser wisely elected to handicap both sides. Hence the highly competitive match of 'Lights' against the 'Darks' featured staff on both sides.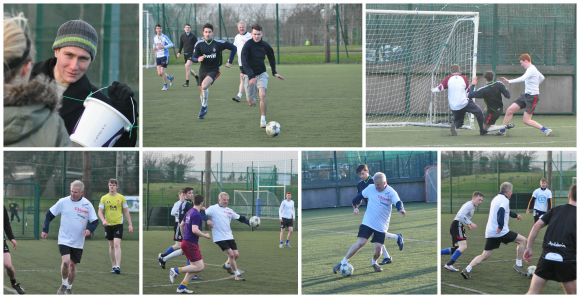 Bolstered by a solid defence which the Dean led with some aplomb, the 'Lights' raced into a 2-0 lead with a neat brand of tiki-taka football. The 'Darks' fought back bravely however driven onwards by a Roy Keane-like performance from Prof O'Shea and the students equalised with two stunning strikes. Despite a Al Pacino-inspired half-time team talk by the 'Lights' coach, it was the 'Darks' who started the second half stronger and they quickly opened up a 2 goal advantage with the baby-faced Shane Foley particularly impressive down the left wing. The Kaiser's men were not beaten however and they levelled the scores thanks to determined play by Cormac 'Koeman' Taylor and Bill 'Chopper' Watson. The match ended all square at 4-4 before, a penalty shoot out saw the Dean's 'Lights' prevail.
The game was played in a relaxed and friendly manner and by common agreement was a highly successful and enjoyable event. The Dean and his team emerged with considerable kudos for risking life and limb in a battle against students half his age. Kevin and his colleague Sligoman CJ McCarrick (also Stage 4 UCD Medicine) succeeded in raising €485 from the match for 100 Minds. Photographs from the event are available here and here.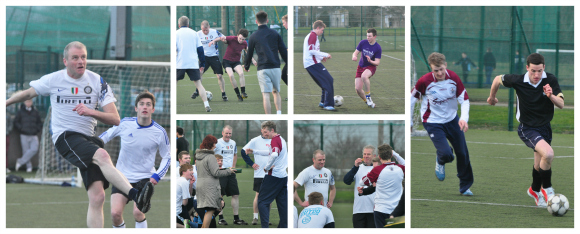 Kevin is a Stage 4 UCD medical student from Adare, Co. Limerick. He is involved with UCD GAA, Mater Hospital RFC, and UCD Medics Golf Society. One of his primary interests is paediatrics and so raising money for Temple Street is something that he was keen to be a part of. Kevin has previously worked in a Hole In The Wall summer camp in America for chronically and terminally ill children.
Kevin noted that
This (experience) demonstrated what a huge difference state of the art facilities can have. It doesn't have to be a new MRI machine or fancy equipment, a few simple toys can alter whether the child perceives the hospital as a friend or a foe.
About 100 Minds
The structure of 100 Minds is simple; 100 Students, giving 100%, for 100 days, to raise €1000 each, giving a total of €100,000 for the hospital. And because transparency is part of the mission at 100 Minds, Kevin has included the full 'spend breakdown' here.
At the time of going to press, Kevin has raised €2,255 over twice his original target. You can find out more about Kevin's fundraising efforts and can contribute online here. Donations can be made up until Friday 28th February 2014.