National Cancer Strategy To Address Unique Needs of Adolescents and Young Adults
he unique and distinct needs of older adolescents and young adult (AYAs) cancer patients will be comprehensively addressed for the first time in the new National Cancer Strategy 2017 - 2026, which was launched recently by the Minister for Health Simon Harris TD.
Services for the AYA cohort, and transition arrangements to adult services, are a particular focus of the new Strategy.
Amongst the key new provisions relevant to the adolescent and young adult population is the establishment of an AYA Cancer Service Network, involving the designated cancer centres. The Network will function on a hub and spoke model, with Our Lady's Children's Hospital at Crumlin - and when it opens the new children's hospital - as the hub.
Cancer is the leading cause of natural death in the 16 to 24 age group, with approximately 30% coming from haematological malignancies, or cancer of the blood. Although recent studies show that child and older adult cancers have seen a large increase in survival rates, the same unfortunately cannot be said for AYA cancers and this has led to an increased focus in the oncology community on the unique needs of this population.
This lack of survival improvement amongst AYAs may be caused by a number of factors including:
Chemotherapy is metabolised differently during puberty due to hormone influences
Poor medication adherence and compliance
Low clinical trial enrollement
Complex psychological factors
Genetics of the patients normal (germline) cells and those of the cancer (somatic) cells
Professor Owen Smith CBE, Consultant Paediatric Haematologist at Our Lady's Children's Hospital, Crumlin, UCD Professor of Paediatric and Adolescent Medicine, and Academic Lead with the Children's Hospital Group, was a member of the Steering Group for the National Cancer Strategy 2017-2026, with specific responsibility for advising on the needs of children and AYA cancer patients.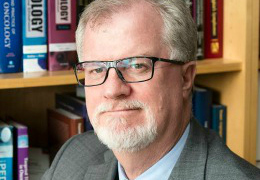 ‌Welcoming the publication of the Strategy today, Prof Smith said;
"In recent years adolescents and young adults have been recognised as a distinct population within the oncology community because of their unique needs - which are very different to children or older adults."

"To date, Ireland's existing models of cancer care have not been adequately meeting these needs and, as a result, adolescents and young adults with so called paediatric centric cancers (cancers that are usually found in children) tend to have poorer clinical outcomes than children, particularly blood cancers like acute lymphoblastic leukaemia."

"The new National Cancer Strategy outlines the establishment of a dedicated AYA Cancer Service Network involving the designated cancer centres. This will function on a hub and spoke model, with Our Lady's Children's Hospital at Crumlin - and when it opens the new children's hospital - as the hub, but with strong input from dedicated adult haematologists /oncologists."

"The creation of an AYA Unit within at least 4 of the 8 designated cancer centres as outlined in the Strategy is a very welcome move and will support the development of tailored treatment plans, specific to the needs of adolescents and young adults. These patients will be best served by a joint integrated programme between paediatric and adult haemato-oncologists / medical oncologists, in strong partnership with the patients and their families."

"The new children's hospital will play a critical roll in the implementation of the new Strategy, specifically in the development of child and young adolescent cancer services. The schedule of accommodation of the new haematology and oncology unit in the new hospital will significantly increase the capacity to deliver more comprehensive cancer care."

"The hospital's location on a campus shared with one of Ireland's leading cancer centres St James's Hospital, including St Luke's Centre at St James's, will ensure that all the required services and clinical expertise are available on a single campus, and also importantly that the smooth transition to adult services are provided for," he said.