Dr Kate Coleman Honoured
UCD Physiology Alumna recognised for her philanthropic work in ophthalmology in Africa
University College Dublin conferred an honorary degree of Doctor of Medicine honoris causa on Dr Kate Coleman (UCD Physiology 1987) at the UCD Medicine 2019 Conferrings on Thursday 6th June 2019 at UCD O'Reilly Hall. The degree award was given in recognition of Dr Coleman's extensive philanthropic efforts in Africa which has resulted in the provision of accessible, expert, ophthalmic care and over 250,000 sight-restoring surgical procedures. The degree was conferred by UCD President, Prof Andrew Deeks with the citation and presentation made by Prof Colm O'Brien, UCD Professor of Ophthalmology at the Mater Misericordiae University Hospital.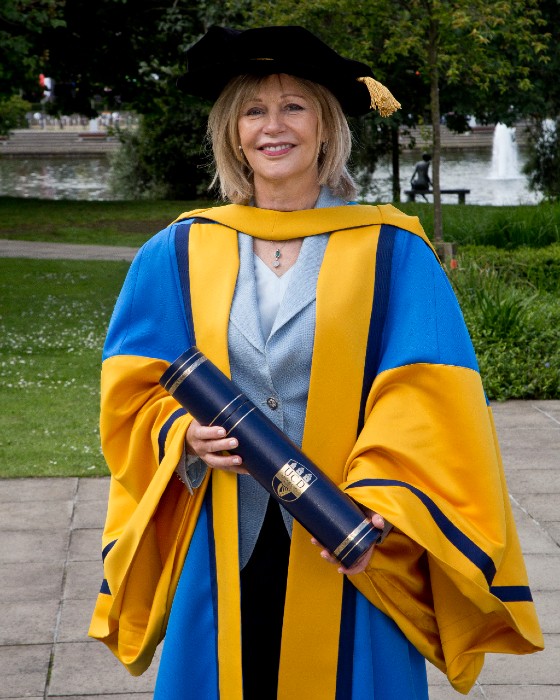 Prof O'Brien's citation
Originally from near Navan, County Meath, Kate Coleman qualified as a medical doctor in 1985. Following graduation and internship, Kate spent a year in University College Dublin completing a BSc Honours in Physiology specialising in electro-physiology of the eye in carotid artery disease. She trained to be an ophthalmic surgeon here in lreland and then in 1989, she travelled to Amsterdam to undertake a fellowship in orbital and oculo-plastic surgery. While there she started a PhD in Quantitative Pathology of Ocular Uveal Melanoma and completed it on her return from Amsterdam under the guidance of Professor Mary Leader at the RCSI. She then worked as a Lecturer in the University Department of Ophthalmology at UCD based at the Mater Hospital working with the late Professor Peter Eustace. Kate then went on to become a Consultant Ophthalmologist at the Blackrock Clinic with a specialist interest in oculo-plastic surgery and a special focus on treatment of facial nerve palsy including Bell's Palsy

Kate is here today to receive an Honorary Degree from University College Dublin for her philanthropic work in Africa. ln the year 2000 Kate was in the audience at a lecture delivered here in Dublin by Alan Foster one of the founders of the Christian Blind Mission outlining the severe shortage of cataract surgeons on the continent of Africa. The shortage of surgeons meant that patients requiring cataract surgery often went blind as a result of not having access to a surgeon, a condition that would not be acceptable in western society.

Therefore in 2006 Kate founded the charity called Right to Sight to address the shortage of African Eye Surgeons. The charity has provided eye healthcare at more than 20 sites to more than 2.5 million people and facilitated more than 250,000 sight restoring surgical operations through partner hospitals in Angola, Cameroon, Ethiopia, Kenya, Malawi, Rwanda, Somalia, South Africa and the Democratic Republic of Congo. Just recently the latest eye clinic was opened six months ago for the Massai Tribe in Kenya by Rotary. Her work with Right to Sight led to her co-ordinating a global movement with other dedicated eye surgeons to eradicate needless blindness on a global scale through the World Health Organisation Vision2020 movement.

ln the beginning Kate started the charity with a €100,000 of her own savings and then subsequently raised over 5 million euros to get the project of the ground. Right to Sight is all about high quality, high volume eye care including adapting cutting-edge technology to empower African eye surgeons to carry out cataract procedures in local communities. In addition, patients travelled for miles once they heard of the success of the surgeons results and Right to Sight bought buses and vans for every centre to transport patients from vast distances in order to maintain high volume cataract surgery. In the first few years of the Right for Sight project over 180 African surgeons were sent to the Aravan lnstitute in lndia to train to be expert cataract surgeons.

Kate managed to keep all of this going with dedicated staff of over 20 people and continued to maintain a very successful ophthalmology practice here in Dublin. In particular, she became a world expert in the use of Botulinum toxin in oculo-plastic conditions and wrote a comprehensive textbook about this.

ln recent years she has also made significant efforts to reduce the severity of glaucoma associated blindness in Africa. Glaucoma is a potentially blinding condition if not detected and treated early. The project uses artificial intelligence to screen Africans on their mobile phones for the signs of glaucoma by examination of the optic nerve.

And so to summarise Kate Coleman has made a significant contribution to the provision of cataract surgery services in many countries across Africa through the education and training of African eye surgeons to deliver high volume high quality care to reduce preventable blindness. She is now embarking on a further project to reduce glaucoma related blindness which is the commonest cause of visual impairment and blindness across Africa. This has been achieved through enormous drive and energy. It is clear now that she has made a difference and Right to Sight now continues to flourish and will continue to expand and deliver improvement in eye care across Africa.
We congratulate Dr Coleman on this much deserved honour and wish her continued success in her philanthropic work.