EpiCor Therapeutics Wins UCD Start-Up of the Year
EpiCor Therapeutics, an early-stage biotech start-up, has won University College Dublin's (UCD) 2016 Start-Up of the Year Award. The UCD School of Medicine start-up won the Award, and a €20,000 prize, after being declared overall winner of the 2016 UCD VentureLaunch Accelerator Programme.
EpiCor Therapeutics is developing new disease-modifying treatments that target the mechanisms underlying the development of heart failure. The initial focus of EpiCor Therapeutics is to repurpose an existing drug, 5-azacytidine, for the treatment of a devastating heart disease called hypertrophic obstructive cardiomyopathy (HOCM). The disease currently affects around 175,000 people, with associated annual healthcare costs of over $1 billion, in the US alone.
HOCM is a disease in which a portion of the heart muscle is enlarged without any obvious cause resulting in impairment of the heart. The disease, which has no approved disease-modifying therapeutics, is a significant cause of sudden cardiac death of individuals in any age group, and a leading cause of such death in young athletes. It has debilitating symptoms such as shortness of breath, chest pain and heart palpitations. In addition invasive surgical procedures for this disease have limited benefits.
EpiCor Therapeutics is currently repurposing 5-azacytidine (used mainly for the treatment of diverse bone marrow disorders) as a drug to prevent and reverse cardiac hypertrophy.
The founders of EpiCor Therapeutics are Dr John Baugh, Dr Nadia Glezeva, Dr Chris Watson, Dr Mark Ledwidge and Professor Ken McDonald. Their research indicates that this drug targets the mechanisms that drive the abnormal thickening of the heart muscle which results in the development of this disease. The start-up is also investigating the use of biomarkers to deliver targeted treatment for individuals.
Associate Professor John Baugh said,
It is an honour for EpiCor Therapeutics to win the 216 UCD Start-up of the Year Award. It is a great endorsement for us going forward as we work to develop treatments to target a variety of heart diseases, including our initial focus on hypertrophic obstructive cardiomyopathy.
He added,
We are currently seeking to raise €750,000 in seed funding to enable us to carry out pre-clinical bridging studies. Thereafter, following additional fund raising, we plan to proceed with a clinical proof-of-concept study to enable this drug to be approved as a therapeutic to treat this devastating disease.
He concluded,
EpiCor Therapeutics is the result of collaborative research, funded by Enterprise Ireland and the Heartbeat Trust, and carried out over many years with colleagues in the UCD School of Medicine, UCD Conway Institute, Queen's University Belfast, St. Vincent's University Hospital, Tallaght Hospital, St. Michael's Hospital and Cleveland Clinic, and I would like to acknowledge their contributions to our success to date.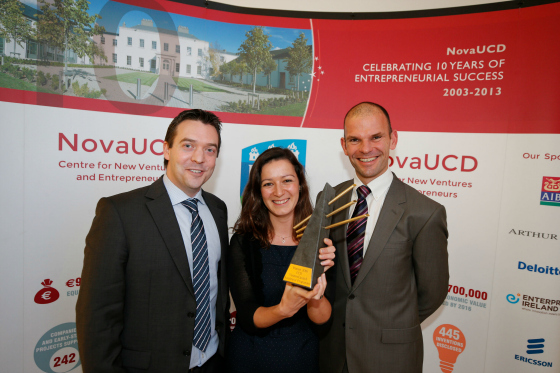 The overall objective of the annual UCD VentureLaunch Accelerator Programme is to support the creation, and to accelerate the launch, of sustainable and profitable new ventures based on intellectual property emerging from UCD.
The programme aims is to equip UCD researchers with the knowledge, skills and understanding that is required to work as part of a team successfully leading a new commercial venture.
Professor Orla Feely, UCD Vice-President for Research, Innovation and Impact said,
Excellent research and innovation are central to all that we do in UCD, delivering impact in areas of importance and opportunity. This was clearly displayed by the early-stage start-ups which participated on the 2016 UCD VentureLaunch Accelerator Programme. Through this programme we are supporting our researchers to accelerate the establishment of research-based start-ups which have global market potential.
She added,
I would like to congratulate EpiCor Therapeutics on winning this year's VentureLaunch Accelerator Award and I wish them every commercial success for the future.
The UCD VentureLaunch Accelerator Programme, which is held at NovaUCD the Centre for New Ventures and Entrepreneurs, uses the Business Model Canvas approach to start-up development. In addition to the 2016 UCD Start-up of the Year Award EpiCor Therapeutics was presented with a cheque for €10,000 sponsored by AIB, and a professional services package to the value of €10,000 sponsored by Bryan Maguire Business Consulting and Deloitte.
The 2016 UCD VentureLaunch Accelerator Programme evaluation panel, which selected the overall winner, was chaired by Brendan Cremen, UCD Director of Enterprise and Commercialisation. The other members of the panel were Dr Sharon O'Kane and Dr Sean Baker, NovaUCD Entrepreneurs in Residence in Life Sciences and ICT respectively and Dr Helen McBreen, Investment Director, Atlantic Bridge.
About the UCD VentureLaunch Accelerator Programme
The UCD VentureLaunch Accelerator Programme consists of ten 3-hour workshops, delivered over a 3-month period, using the Business Model Canvas approach to start-up development. Workshops consist of a mix of taught content and interactive sessions delivered by external experts and include talks from experienced entrepreneurs. The participating new ventures also receive expert mentoring on topics such as marketing, finance and funding, sales and pitching to investors.
The other participants on this year's programme, in addition to EpiCor Therapeutics, are profiled below.
BioPure has developed a proprietary technology that produces an exceptionally pure (>98%) natural antioxidant known as Hydroxytyrosol. Antioxidants are extremely powerful ingredients for the cosmetic, food and health industries. BioPure can produce Hydroxytyrosol 3 times cheaper and a production rate of 30 times faster than any market competitor. The founders of BioPure are Professor Kevin O'Connor, Dr Reeta Davis and Caroline Byrne, UCD School of Biomolecular and Biomedical Science and UCD Earth Institute.
Cortex Analytics provides the Total Patient Value (TPV) toolkit, a new data-analytics measurement system for pharma/medtech companies. The toolkit will enable these companies to identify key patient outcomes earlier in drug/product development. It identifies key metrics relating to patient adherence and willingness to pay, to enhance decision-making to reduce development costs, as well as facilitatingproduct marketing to improve sales. The founder of Cortex Analytics is Dr Daniel Regan,UCD School of Psychology.
DuBrand protects medical device brands. DuBrand's novel technology for applying a bar code provides anti-counterfeit protection and traceability for medical device parts, meeting stringent industry regulations. The founders of DuBrand are Dr Eamonn Ahearne, Dr Diego Carou and Dr Jinghang Liu, UCD School of Mechanical and Materials Engineering.
Latch Medical is developing a revolutionary tissue anchorage system based on microtechnology. Where surgery is necessary, the cutting of skin is mandated, but existing methods of invasive wound closure are meticulous, time-consuming and promote infection risk and scarring. By eliminating the need to penetrate the full-thickness of the skin, Latch Medical's Relialoc Skin Closure System can decrease infection risk, improve cosmetic outcomes and save operative time. The founders of Latch Medical are Dr Seamus Morris and Dr Nicky Bertollo, UCD School of Medicine and Dr Eoin O'Cearbhaill,UCD School of Mechanical and Materials Engineering.
NovaUCD, the hub for new ventures and entrepreneurs at University College Dublin, nurtures and supports new high-tech and knowledge-intensive companies as part of UCD's research and innovation mission. NovaUCD provide purpose-built, state-of-the-art incubation facilities alongside a comprehensive business support programme for client companies along with a series of programmes, such as the VentureLaunch Accelerator to assist researchers who are commercialising research outputs. NovaUCD has been funded through a unique public-private partnership that includes AIB Bank, Arthur Cox, Deloitte, Enterprise Ireland, Ericsson, Goodbody Stockbrokers, UCD and Xilinx. www.ucd.ie/novaucd