From Student Research to National Workshop
Making the theory of 'multidisciplinary care' work in real world clinical practice is the focus of a workshop delivered by a team from UCD School of Medicine and the Mater Misericordiae University Hospital. The workshop was featured at a national conference on 'Preparing Healthcare Students Transition to Practice' which was hosted recently by UCC and the EPREPP Consortium as part of a project funded by the National Forum for Teaching & Learning.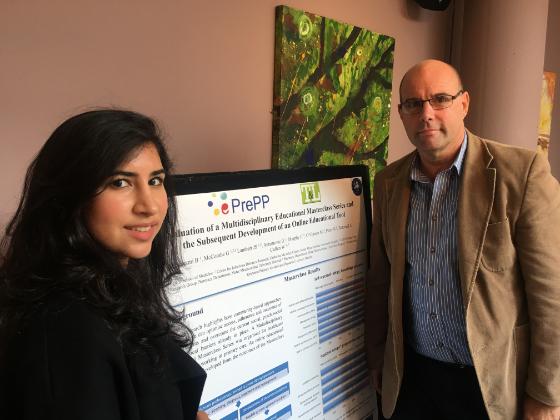 Ms Bashayer Almaazmi and Dr Geoff McCombe, UCD Medicine Primary Care Research Group
The workshop was developed following a SSRA summer student research project by Bashayer Almaazmi (UCD Medicine Stage 4) which highlighted that effective care of patients with hepatitis C infection requires close cooperation between a wide range of health and social care professionals and agencies. Supervised by Dr Geoff McCombe (UCD Medicine Primary Care Research Group), the workshop was subsequently developed with Ms Mairead O'Connor (Mater Misericordiae University Hospital), Ms Carol Murphy and Dr Jack Lambert (Hepcare Europe & MMUH), Ms Nicola Perry (Community Response) and Mr Adam Tattersall (Educational Technology, UCD Medicine). By working through scenarios based on real world clinical problems and incorporating video interviews with healthcare professionals, the workshop aimed to promote active learning and reflection among students.
Prof Walter Cullen, UCD Professor of Urban General Practice comments,
We hope this workshop will help students from all health professions to understand how multidisciplinary care can work in practice. The workshop, which was funded by EPREPP and the National Forum for Teaching & funded, will form part of our EU Third Health Programme funded work on Integrating Care for Patients who are affected by Hepatitis C.

We were especially grateful we could link our work on an EU-funded public health project and a national project on Teaching & Learning with the School's SSRA Programme. Being student driven, research informed and practice focused are the main aims of the Primary Care Research Group.
Further Information
'Joining Up Patient Care (working together to enhance hepatitis C treatment) - http://www.eprepp.ie/hepatitis-c/
UCD Primary Care Research Group - http://www.ucd.ie/medicine/primaryconnections/