Tuesday 13th June 2017, 7:30 - 9am & 5 - 7pm at UCD Catherine McAuley Centre, Mater Misericordiae University Hospital
Add to calendar
UCD CRC Graduate Studies Open Day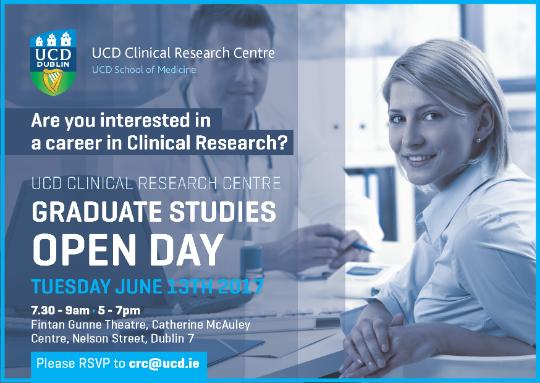 The UCD Clinical Research Centre host a Graduate Studies Open Day on Tuesday 13th June 2017 in the Fintan Gunne Theatre at the UCD Catherine McAuley Centre, Mater Misericordiae University Hospital. Staff will be available between 7:30 - 9:00am and 5:00 - 7:00pm to discuss the extensive portfolio of clinical research opportunities within Ireland's leading academic clinical research centre.
Registration
This event is free but registration via crc@ucd.ie is required.
About UCD Clinical Research Centre
The UCD Clinical Research Centre is an academic-led, multi-site patient-focused facility that supports the conduct of industry-sponsored and investigator-led clinical trials and translational research.
Founded by the UCD School of Medicine in 2006, the UCD Clinical Research Centre has had a major impact on the conduct of clinical research in Ireland establishing modern research facilities at the Mater Misericordiae University Hospital and St Vincent's University Hospital. However, the UCD Clinical Research Centre also supports clinical studies across a wide network of sites including Our Lady's Children's Hospital Crumlin, the National Maternity Hospital, the Rotunda Hospital and St James's Hospital Dublin. The UCD Clinical Research Centre is an active participant in Molecular Medicine Ireland and is engaged in international research collaborations.
In 2015/2016, the UCD Clinical Research Centre executed 189 clinical studies with over 6,500 patient contacts and over 72 academic collaborations. Its Scientific Services Laboratory has delivered over 31,00 biomarker assays, biobanked 1,300 samples of human tissue creating 40 disease-specific biobanks. Its educational programmes have seen over 110 graduate students from 27 countries world-wide receive expert training in the conduct of clinical and translational research.
For more information on the