Posted 11 April 2012
UCD Choral Scholars scoop special jury prize and two medals at Concorso Corale Internazionale
The UCD Choral Scholars have been awarded a special jury prize and two medals for second place in both the 'Mixed Choir – a cappella – with compulsory piece' competition category, and 'Sacred Music' competition category at the Concorso Corale Internazionale 12th International Choir Competition in Riva del Garda, Italy.
This is the first time that the UCD Choral Scholars have performed in an international competition. Their programme included eight choral works by Irish and international composers, and they gave two joint performances with ensembles from Japan and Estonia.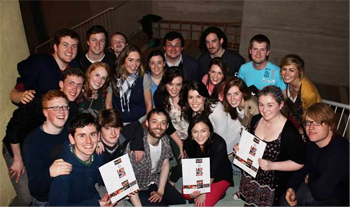 A special jury prize (Premio Speciale) was awarded for their performance of Beati quorum via by Dublin-born composer Charles Villiers Stanford (1852-1924).
The competition involved thirty-eight international choirs competing across nine categories, with UCD Choral Scholars pitted against ensembles from Slovenia, Norway, Germany, Sweden, Finland, Italy, Estonia and the United States.
"Participation in the Concorso Corale Internazionale in Riva was an exhilarating experience for our students, who can stand tall over their record of two medals and a special jury prize from the international jury of five. This kind of competitive tournament forms and informs our musicians, and I would be keen for UCD Choral Scholars to challenge in similar international competitions in the future," said Desmond Earley, Artistic Director, UCD Choral Scholars.
"It would be wonderful to see the development of a European universities chamber-choir competition, and perhaps even see the first competition hosted by University College Dublin."
Concorso Corale Internazionale (RESULTS, PDF) is one of the most traditional choir competitions of INTERKULTUR.
Alternating with the International Choir Competition Budapest, it takes place every two years in the Holy Week before Easter. There are categories in different levels of difficulty with or without compulsory piece.
Although primarily a concert chamber choir, UCD Choral Scholars have engaged in national competitions for the past twelve years, winning the national category in the Sligo International Festival in 2004, and the national prize in RTÉ's An Cór televised competition in 2011.
The UCD Choral Scholars will perform Beati quorum via at their Annual Spring Concert on 19th April, St. Bartholomew's Church, Clyde Road, Dublin.
UCD Choral Scholars 2011/2012:
Tadhg Walsh-Peelo (BCL), UCD Bass Choral Scholar
Orna Toolan (BA), UCD Alto Choral Scholar
Diarmuid Sugrue (MB BCh BAO), UCD Bass Choral Scholar
Niall Stafford (BComm), UCD Tenor Choral Scholar
Grace Sauder (PhD Business & Law), UCD Soprano Choral Scholar
Megan O'Neill (BA), UCD Alto Choral Scholar
Oisin O'Callaghan (BCL), UCD Bass Choral Scholar
Caitríona Ní Chathasaigh (MB BCh BAO), UCD Alto Choral Scholar
Niamh Murrray (BA International), UCD Soprano Choral Scholar
Glenn Murphy (BA), UCD Tenor Choral Scholar
Fiona Lynch (MB BCh BAO), UCD Soprano Choral Scholar
Tilen Kranjc (PhD Health Sciences), UCD Bass Choral Scholar
Susie Gibbons (BA), UCD Soprano Choral Scholar
Niamh Fogarty (BA), UCD Soprano Choral Scholar
Emma Fletcher (MB BCh BAO), UCD Alto Choral Scholar
Emlyn Farrell (BSc Science) UCD Tenor Choral Scholar
Jeremy Crothers (BBL), UCD Tenor Choral Scholar


Rory Lynch (BA), UCD Ad Astra Vocal Scholar (guest)
Mark Ennis (BMus), UCD Ad Astra Vocal Scholar (guest)
Emily Doyle (BSc Radiography), UCD Ad Astra Vocal Scholar (guest)


Desmond Earley, Artistic Director, UCD Choral Scholars
Watch the UCD Choral Scholars perform Lionel Richie's 'All Night Long'
(Produced by UCD University Relations)