Posted: 01 Aug 2012
UCD Imagine Science Film Festival – Science Expression Competition Winners
The winners of the Science Expression Competition, part of the UCD Imagine Science Film Festival celebrating Dublin City of Science 2012 and ESOF, have been announced.
The competition led by UCD Research and The National Film School, Dun Laoghaire Institute of Art, Design & Technology, and supported by Science Foundation Ireland, was aimed at linking scientists and student filmmakers together to create new Irish science films.
It challenged teams of scientists and students to create short three-minute films with a strong visual dynamic, and an imaginative, provocative, and unconventional storyline.
"Scientists have important things to say and film makers can help convey their stories," said Professor Des Fitzgerald, Vice-President for Research at University College Dublin, and a member of the judging panel.
"It was a genuine surprise for me to see the quality of the productions given the small budgets. The winner had the edge because the narrative was so strong and beautifully told in the space of a few minutes. I hope we can do this again - we have great stories to tell and we've just got started."
"All the films shone but one, Invisible, was a corker and, I'm pleased to say, the other judges agreed," said Dr Barry J Gibb Multi-Media Director at the
Wellcome Trust
, a member of the judging panel.
Winning Film - Invisible (Directed by Evin O'Neill)
When a science and superhero obsessed boy finds out about the importance of invisible-to-the-naked-eye marine micro-organisms he decides to use his own perceived invisibility to help his parents.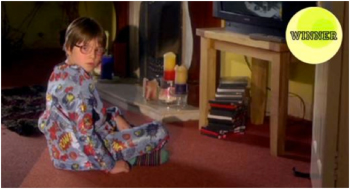 Still from Invisible
For the making of Invisible, Evin O'Neill, a film student at Dun Laoghaire Institute of Art, Design & Technology worked with Dr Emmanuel Reynaud, a cell biologist from the UCD School of Biology & Environment Science, University College Dublin.
Dr Reynaud was part of the Tara vessel expedition that mapped the range of plankton in oceans across the globe. While invisible to the naked eye, plankton are essential in supporting life on earth, not least in producing oxygen.
Dr. Reynaud is currently working on the epithelia functions within artificial epithelial tissues (lung, kidney, gut) by creating artificial systems for cell biology. These in turn can be applied to explore the fundamental basis of human disease, such as protein defects (cystic fibrosis, lung), water retention (kidney diseases), tumour formation (Epithelial Mesenchymal Transition EMT, metastasis) and infections, and to develop novel approaches for drug screening against specifically targeted functions.
Runner-up (Honourable Mention): A Rogue Idea (Directed by Niall Toner)
The film highlights the existence of rogue waves and how understanding their genesis is relevant to a number of areas of science. Through visual metaphors and a journey with a physicist from the university to the sea, the objective is to show all the facets of rogue waves: the positives and negatives of their instability and power.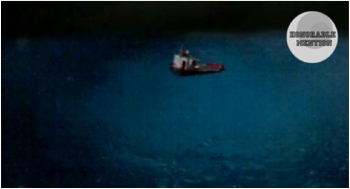 Still from A Rogue Idea
For the making of A Rogue Idea, Niall Toner, a film student at Dun Laoghaire Institute of Art, Design & Technology worked with Prof Frederic Dias from the UCD School of Mathematical Sciences, and the UCD Earth Institute, University College Dublin.
Prof Dias is an applied mathematician who specialises in ocean waves and hydrodynamics and is a European Research Council awardee. For decades scientists questioned the existence of rogue waves. They were scientifically improbable and — unlike tsunamis — there did not seem to be any specific underlying cause like an earthquake or volcanic eruption that would displace huge volumes of water. According to Prof Dias, it is always difficult to research a rogue wave because nobody can agree on a definition, yet everyone knows it to be a massive wave which is localised both in space and time. "These waves will occupy a specific area of, for example, one kilometres squared," he says.
The winning film Invisible received an AAAS Visual Science Award. Two of the team who produced the film will travel to New York for the Imagine Science Film Festival in November 2012.
The prize, which is supported by Science Foundation Ireland, also includes a Master Class with Professor Jay Anania, Head of Directing at New York University Film School.
Both the Winner and the Runner-up (with an Honourable Mention) will be screened in competition at the 5th Annual Imagine Science Film Festival in New York.
Irish film Director Conor Horgan (One Hundred Mornings) acted as a mentor to each of the thirteen film making teams that entered the competition.
The UCD IADT Science Expression Competition has created short films about science that will challenge scientists to consider new and invigorating ways of communicating their discoveries.
"The competition presented us with exactly what every emerging filmmaker wants; something new and something challenging. It gave us a great opportunity to explore the relationship between science and the visual arts and storytelling. The experience was unquestionably enlightening and rewarding. The imaginative films that came from the project would never have come under any other circumstances. I enjoyed the entire experience," said Keith Browett, Film Student and Director of 'Breaking Ground'.
For details on all of the finalists in the Science Expression Competition visit the UCD Imagine Science Film Festival Website
Science Expression Competition, Jury Panel:
Dr Barry Gibb, Filmmaker/Multimedia Producer, Wellcome Trust
Conor Horgan, Filmmaker/Writer
Nicky Gogan, Producer/Director
Donald Taylor Black, IADT Head of School of Creative Arts
Dr Graham Love, SFI, Director of Policy & Communications
Prof Desmond Fitzgerald, Vice-President for Research, UCD
Dr Alexis Gambis, Filmmaker/ISF Artistic Director & Founder
(Produced by UCD University Relations)