Posted 15 July 2015
Student venture GradHow wins inaugural UCD Startup Stars programme
An early-stage business that will equip students with the information they need to find their ideal job has won the inaugural UCD Startup Stars programme.
GradHow, a venture founded by three UCD students, is developing an online platform to help third-level graduates better understand the employment opportunities that are available, and relevant, to them.
The online tool for job seekers has been designed to improve connections between employers and universities and it also aims to streamline the graduate employment process.
Stephen Duffy, who has just completed his first year in BComm (International) at UCD, and Ben Chadwick and Alan John Browne, who have completed third year BComm at UCD, founded GradHow.
Stephen Duffy said: "The moment we won Startup Stars was incredible, a rush of delight and relief. It was a real honour considering the standard was extremely high."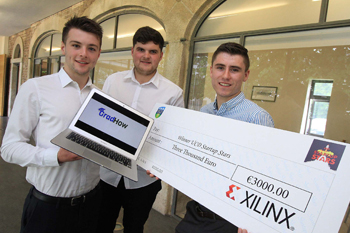 Pictured (l-r) at NovaUCD are Stephen Duffy, Alan John Browne and Ben Chadwick, founders of GradHow, overall winner of the inaugural UCD Startup Stars programme. (Nick Bradshaw, Fotonic)
He said GradHow, which is still in development, would be a tailored online platform that would "empower" students by optimising their chances of getting jobs that best suited their qualifications and experience.
"It will allow students and graduates access to information on companies that hire from their courses along with contact opportunities, the different roles that they are qualified for, and how to get there," he continued.
He said he and his two colleagues were still planning GradHow's development and were liaising with companies and universities in order to make the online platform available to students as soon as possible.
NovaUCD and the UCD Innovation Academy developed UCD Startup Stars to provide a framework, and support programme, for the university's undergraduate students who want to work together to create and develop start-up firms.

Following pitches at the end of cross-disciplinary workshops six early-stage student ventures, with a total of 16 team members, were selected to participate in an intensive mentoring programme, which took place over four weeks at NovaUCD.

After the final pitches were made GradHow was selected as the overall winner as it was judged to have the most commercial potential, and the founders received a cash prize of €3,000, sponsored by Xilinx.

The members of the final judging panel were: Brendan Cremen, UCD Director of Enterprise and Commercialisation; Libby Gribben, Senior HR Director, Xilinx; Owen O'Byrne, Head of Product, Fire Financial Services; Alan O'Dea, Entrepreneurial Specialist, UCD Innovation Academy and Andy O'Sullivan, AIB Innovation.

The sponsors of UCD Startup Stars were AIB, Arthur Cox, Deloitte, Ericsson, Goodbody Stockbrokers, Pay With Fire and Xilinx.
(Produced by UCD University Relations)