Posted 20 July 2015
Future stars of UCD and Liverpool meet in Belfield as Students come within inches of draw
Samir Belhout almost provided a stunning last-minute come back as UCD fell just short against a Liverpool XI featuring some of the Merseyside club's best young footballers.
While many UCD players will have looked forward to the fixture when it was initially announced, their ongoing adventure in Europe had meant that manager Collie O'Neill was forced to rest a large part of his first team squad in preparation for Thursday's second leg against Slovan Bratislava.
The consequence of that was an opportunity to see the brightest prospects currently being developed by the footballing schools of both UCD and Liverpool FC.
Playing against their academy counterparts from across the Irish Sea, the Belfield side started with a youthful eleven with senior experience dotted amongst the next generation of UCD talent.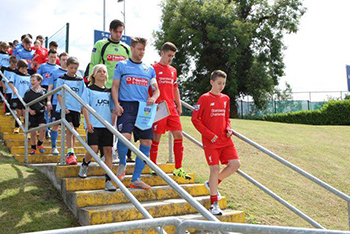 UCD and Liverpool XI take to the pitch before their friendly in the UCD Bowl
The opening ten minutes belonged to Liverpool XI who passed and moved with the kind of ambition and forward-thinking to which the UCD philosophy aspires.
Despite their high possession percentage, Liverpool XI failed to create any significant chances in the first half with the College side showing as much as resilience and professionalism as the team has throughout their European journey.
Indeed, the best chance in the opening third fell to a UCD player, when a skilful turn just outside the six-yard box left a Liverpool XI defender on the ground only for striker Ryan Swan to slip at the vital moment.
In the 26th minute, UCD again gave Liverpool XI manager, Michael Beale, a moment to see what they were capable of when Eoin Kirwan's curling effort from outside the box forced a diving save from Lawrence Vigouroux.
It was Liverpool XI who took the lead five minutes later when a cross into the box caused Jerome Sinclair and Adam Harney to collide. The ball fell invitingly to Reds captain, Cameron Brannagan, who had plenty of time to find the bottom corner.
The Students had one final effort before the half — a header that was saved well again by the Liverpool XI keeper — and the Reds will have entered their dressing room at the break frustrated at their inability to create more clear chances.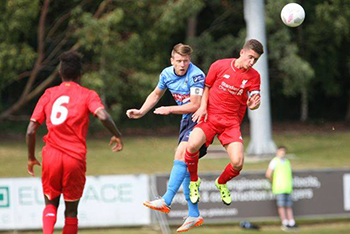 The captains of UCD and Liverpoo XI l contest a header
Samed Yesil, formerly of Bayer Leverkusen, came on at half time and had an immediate impact, scoring after just three minutes with a first time finish from a right-sided cross.
Much of the following thirty minutes was a more cagey affair owing to the rolling substitutions made by both teams but the final ten minutes brought a number of exciting moments for the thousands in attendance.
Liverpool XI's Madger Gomez hit the post when the ball broke to him inside the box while Samir Belhout had a great opportunity which found itself just wide of the post after a glancing save from the Liverpool XI goalkeeper.
Belhout was undeterred by the Reds resistance and found the net to make it 2-1 when a ball was flicked back across goal from a corner kick. 
Only minutes remained for the home side to get an equalising goal and a mistake from a Liverpool XI defender almost made it happen. UCD picked the ball up from just outside the box as the crowd refocused their attention back towards the Liverpool XI goal.
Samir Belhout scores for U.C.D. Belhout heads in from a corner after Liverpool fail to clear their lines.2-1 88 mins gone

— LFC_Academy (@LFCAcademy_) July 19, 2015
Unfortunately for the Students, Liverpool XI's goalkeeper managed to again save the team from Merseyside and pushed the ball just wide of his goal. That was to be their last chance of the game as the final whistle went seconds later.
UCD AFC: Conor Mackey (Karl Skinner 75), Dan Tobin, Maxi Kouogun, Adam Harney (Craig Hanlon 32), Sean Coyne (Dylan Roe 75); Chris Mulhall (Samir Belhout 32), Dylan Watts (Josh Collins 42), Jack Watson, Daire O'Connor (Tom O'Halloran 62), Eoin Kirwan (Jason McClelland 62); Ryan Swan (Conor Cannon 32).
Liverpool XI: Lawrence Vigoloux, Connor Randall (Matthew Virtue-Thick 44), Rafa Paez, Tom Brewitt, Sam Hart; Sergi Canos, Will Marsh, Madger Gomez, Jack Dunn; Jerome Sinclair, Cameron Brannagan (Samed Yesil (46).
(Produced by UCD University Relations)