Posted: 12 April 2006
Blackboards without chalk – UCD Quinn School of Business students go back to the future
If you graduated from UCD School of Business some 20 years ago, you might remember chalk backboards, large cramped theatres, hunting in the library for that elusive journal and wondering exactly where you were supposed to meet your classmates for a few drinks that night.
But the life of a UCD BComm student is very different today. To today's UCD BComm student 'Blackboard' is an intranet site with comprehensive course information; classes are much smaller; journals can be easily accessed on-line; and groups of classmates can be contacted simultaneously by email to arrange meeting for drinks.
As part of this year's CommDay activities, the class of 2006 invited alumni to come and see for themselves just how very different business education is in UCD today.
Organised by current UCD Quinn School of Business students with sponsorship from Price Waterhouse Coopers, the event set out to highlight how technology has impacted on and enhanced the learning environment of students.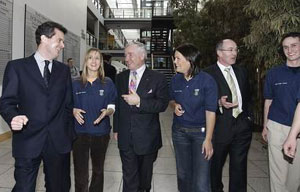 At the UCD Quinn School "Back to the Future" Evening on 6th April 2006: (left to right - Feargal O Rourke, PriceWaterhouseCoopers, Michelle Kurtz (BComm), Senator Feargal Quinn, Rebecca McCready (BComm), Paul Haran, Principal, College of Business & Law, Mark Byrne (BComm).
'Our motivation for running this event was to show past alumni the UCD Quinn School building and the new way of doing things in Commerce and also to show potential employers the quality of the education we receive' said Mark Byrne, Final Year BComm student.
Over 100 graduates returned to the UCD Quinn School of Business on April 6th. At the event, they viewed some of the projects and practical work undertaken by students and they also heard about the new BComm with Chinese Studies and other international programmes.
'The UCD School of Business has been educating the leaders of Irish industry for almost a hundred years and we are proud of the innovative approaches introduced in UCD Quinn School in recent years. Small class sizes and state-of-the-art technology facilitates learning and our students sense that they are in a small, intimate school on the forefront of business education' said Tom Begley, Dean of UCD School of Business.
According to Donal O'Connor, Senior Partner, PricewaterhouseCoopers, 'This superb new initiative by the students offers a unique platform for the students, many of whom will be tomorrow's business leaders, to showcase their talent and world class business education. Equally, for the alumni, it provides a great opportunity to share fresh perspectives with the next generation.'
'At PwC our aim is to recruit outstanding people and develop them through great training and great experience. Our sponsorship reflects our strong commitment to supporting Ireland's young talent and helping them in their challenge to become world class professionals' he continued.
Senator Feargal Quinn also spoke at the event. He mentioned the importance of students making full use of their time in university, academically and socially. 'Networking, debating, arguing and involvement with the various societies combined with excellent educational facilities and staff gives today's UCD Quinn School of Business' students fantastic opportunities and advantages'.