Taoiseach Lays Foundation Stone for
UCD's new Veterinary School
The Taoiseach Mr Bertie Ahern TD lay the foundation stone for UCD's newVeterinary School on Monday 11 December on the Belfield campus. The new Veterinary School will extend to 13,500 square metres and will represent an increase in area of 50% over what is currently available in Ballsbridge. It will cost �32 million and is scheduled for completion in August 2002.
View the Event: Real Video
Narrow band - 28K | 56K
Broad band - Network Connection.

You will require the Real Player Plug-In to view these video clips. For further information please visit www.realplayer.com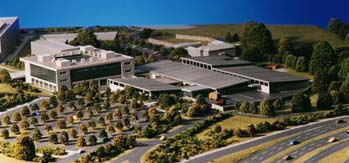 Architect's model of new Veterinary School.
Please click for larger image.
The architects for the School are Robinson Keefe & Devane, and P. J. Walls Limited is the main contractor. Interestingly, the trowel the Taoiseach used to lay the foundation stone is the same trowel as was used in 1901 by Sir Christopher Nixon, the then President of the Board of Governors of the Veterinary College, for the laying of the foundation stone of the current Veterinary College in Ballsbridge. His great grandson and great granddaughter will attend the ceremony on Monday.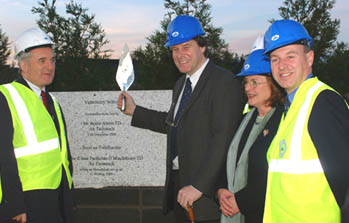 (left to right) The Taoiseach with relatives of Sir Christopher Nixon,
Sir Simon Nixon, Louise Dixon and Jack Counihan.
The new facility will enable the Faculty to deliver fully on the new curriculum for veterinary students which is designed to provide graduates with all the skills and knowledge required for entry to a career in veterinary medicine. The new veterinary teaching hospital which will be part of the complex, will be a state-of-the-art facility built to the highest standards, and will be a rich national resource. It will enable UCD's clinical students and trainee veterinary nurses to learn in an environment where high quality diagnosis and treatment of animal disease is being practised. The quality of the service which will be available at the Hospital to veterinary surgeons and their clients for the diagnosis and treatment of animal disease, will be up to the highest international standards.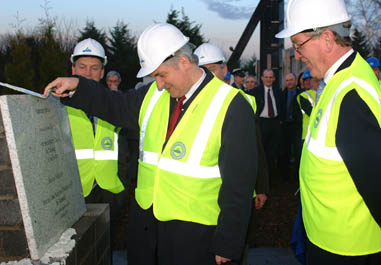 The Taoiseach lays the foundation stone as
Dr. Art Cosgrove, President UCD looks on.
In addition to having modern and well equipped laboratories, research at the Faculty will benefit enormously from being adjacent to the Faculties of Agriculture and Science and the new Conway Institute for biomolecular sciences. Research on animal health, welfare and food safety now depends on collaborations between scientists from different disciplines and the new Veterinary School will be ideally placed on the university campus to address these challenges.
For further information contact Office of Public Affairs at 716 1679.