UCD researchers and Wyeth Research win global recognition for joint research initiative into brain disease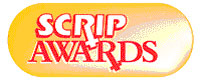 The Applied Neurotherapeutics Research Group (ANRG) at UCD Conway Institute has won first place for Best Partnership Alliance with Wyeth Research at the international Scrip Awards for their co-operative work on brain illness treatments. They were shortlisted with Allergan India PVT and Ranbaxy Laboratories – Medicines for Malaria Venture. Presented in London, The Scrip Awards are designed to recognise the excellent work taking place throughout the pharmaceutical and biotech industries globally, and give deserved recognition to the many in pharma and biotech who routinely exceed and excel, and whose work benefits mankind.
The ANRG research cluster, which is funded jointly by SFI (Science Foundation Ireland) and Wyeth Research to the tune of €10million, forms a unique, world-class team of scientists focused on building a research and development initiative to provide a new generation of drugs to be used in the treatment of brain disease. This interdisciplinary group of scientists is co-ordinated by Professor Ciaran Regan whose task is to develop a dynamic, international research hub at UCD's Conway Institute.
Treating brain diseases is notoriously difficult. Almost all of the drugs currently available to treat psychiatric and neurological
illnesses can take weeks – if not months – to bring about any
beneficial effect. So, researchers at the UCD Conway Institute, in partnership with Trinity College Dublin and Wyeth Research, based at Princeton, New Jersey, and Cambridge, Mass. focus on identifying brain activity at the molecular and cellular level which can then be specifically targeted by behaviour modifying drugs.
From the research, the ANRG expects to patent desirable molecular and cellular events as novel targets for drug development and, through licensing agreements and spin-off campus companies, the intellectual property will be used develop the cluster and support the indigenous biotechnology sector.
Wyeth Discovery supports this research investigator cluster and has made substantial commitments through the provision of finance, in-house technology and corporate mentoring in the drug development process. This academic-industry interface is unique and will ultimately identify Ireland as a science-based society and prime biotechnology investment
region. The investment is made as part of an ongoing effort to attract and support substantial involvement from industry in research initiatives in Ireland that have special promise of generating therapeutically valuable research results and other related research outcomes.
The research cluster comprises of a number of research teams led by Professor Ciaran Regan. Professor Peter Humphries, TCD; Dr William O'Connor, UCD; Dr Keith Murphy, UCD and Dr. Mene Pangalos, Wyeth. Project manager for the cluster is Dr. Jennifer Craig.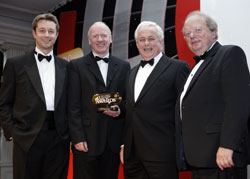 Pictured from left: Representative for Sponsor (KPMG), Prof. Frank Walsh (Senior Executive Vice-President, Wyeth Research), Prof. Ciaran Regan (Co-Ordinator ANRG) and host Mr. John Sergeant (Journalist and broadcaster)
Co-ordinated by Professor Ciaran Regan, the ANRG has been fully operational since January 2004. The main centre of the ANRG is the UCD Conway Institute. Other members of the ANRG consortium are based at Trinity College Dublin and at Wyeth Research in Princeton, USA.

>> More News and Events
<< Back to Home