Adaptive Information Cluster Produces Expressive Garments
As the Christmas party season is fast approaching, it is time once again for the fashion conscious revellers to bring out their party wear to look their absolute best on that Christmas night out. However, this year could see a fascinating development on the fashion front. Now, not only can you look fabulous in you party wear, but your dress can also reveal details about how you are feeling!
Lucy Dunne, a researcher based in the Adaptive Information Cluster (AIC), is carrying out this research in 'Expressive Garments'. She has just produced a set of expressive evening gowns, which reflect aspects of the wearer's physiological state through lights embedded in the garments. Each gown is designed to respond to a specific physiological signal – laughter, pulse, alertness and the startle reflex–with sensors in the garment detecting these physiological changes and interpreting them through changing light patterns on the garment surface.
Two of these garments are pictured below and are entitled "Pulse" and "Alert". "Pulse" records the wearer's heart rate and displays it through a pulsing electro-luminescent panel on the ribcage. "Alert" responds to changes in the wearer's galvanic skin response (a measure of alertness) by increasing or decreasing the luminosity of glowing orbs suspended in the garment's outer layer. The garments will be on display in the Brigham Young University Museum of Art in Utah, USA starting in December 2005. They will appear as part of a yearlong exhibit titled "Nostalgia and Technology".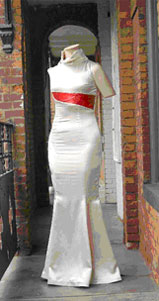 According to Lucy, "These garments raise serious questions on the social impact of wearable technology. They display previously invisible physiological responses visually, through dynamic embedded light effects, so onlookers can see at a glance the emotional state of the wearer. The primary question is, what does this mean for everyday social interactions?
Prof. Barry Smyth, Head of UCD School of Computer Science and Informatics, a Principal Investigator in the AIC, points out that, "Much of today's wearable technology research has focused on function rather than form often amounting to little more that the attachment of bulky and uncomfortable hardware on to a regular garment. Function is obviously very important to wearable technology, but expression is a crucial function of clothing that is often neglected. In the AIC we are committed to the development of technologies that are truly wearable—in that sense, we are interested in augmenting, not replacing, the existing functions of clothing".
The AIC is investigating the boundaries of garment-integrated wearable technology research, exploring the next generation of wearable technology and presenting huge opportunities for monitoring users' general health and wellbeing. In related work, AIC researchers under the supervision of Prof. Dermot Diamond are exploring the use of textile-based pressure sensors in exercise vests to measure respiratory effort or similar sensors in running shoes to measure activity levels in the wearer. This new technology may be used in a variety of ways ranging from monitoring the wellbeing of the elderly to optimising the performance of athletes".
"When it comes to developing new kinds of sensor technology, the comfort and fit implications of wearable computing applications present a whole new set of challenges and this research collaboration provides an ideal opportunity to explore these challenges," according to Prof Dermot Diamond, Director of the AIC.
The SFI funded Adaptive Information Cluster (AIC) is a multi-disciplinary research group involving leading researchers from DCU and UCD working in sensor science, software engineering, electronic engineering and computer science. Close collaboration with industry and state bodies to develop applications for this research is a priority for the AIC. Particular areas of interest are personal health management, environmental monitoring, personalized retailing, and security and threat detection.

>> More News and Events
<< Back to Home