Posted: 24 July 2006
Double National Championships Victory for UCD Athlete
UCD's Joanne Cuddihy is firmly on her way to becoming a new star in Irish athletics following her decisive victories in the 200m and 400m at the National Championships on the 22-23 July 2006.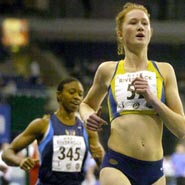 Joanne Cuddihy
With a personal best time of 23.33 seconds in the 200m, she defeated the reigning champion, Emily Maher, by a couple of clear strides. 'I just can't believe it' said Cuddihy. 'Recently, every time I step on to the track I seem to set a personal best.'
On Sunday, she won the 400m, her main event, with a new personal best time of 51.28 seconds - the fastest run by an Irish woman on native soil. If she continues to perform like this, Cuddihy looks set to topple Karen Shinkin's Irish record of 51.07 seconds.
The double victory will be a great confidence booster for Cuddihy as she heads into the European Championships next month. Over the last eighteen months she has been hampered by injury and illness, but now it seems that she has recaptured the lightning form that won her a 400m silver medal at the European Junior Championships in 2003.
'What doesn't kill you makes you stronger' said Cuddihy. 'This was the first winter where I had no set-backs so I'm delighted with everything especially my times.'
Other notable performances at the weekend by UCD athletes included: Padraig White, who won the Hammer event with a distance of 56.42 metres and James Nolan, who finished third in his first track 5,000m in a time of 14.28.10mins.