14th June 2007
Public Lecture - 'Finding our origins with the James Webb Space Telescope'
Speaker: Nobel Laureate in Physics (2006), Dr John C Mather NASA GSFC
Clinton Auditorium,
Global Irish Institute,
UCD Belfield,
Dublin 4
Time: 7.30 PM
As a successor to the Hubble Space Telescope, the James Webb Space Telescope (JWST) is planned for launch in 2013. The largest telescope mirror ever placed in space (1.5 million miles away from earth), the JWST will look even further back in time to examine the first stars and galaxies that were created after the big bang. Nobel Laureate in Physics (2006), Dr John C Mather NASA GSFC will present a public lecture describing the history of the universe in a nutshell, describing what our future holds within the realm of discovery and how the JWST will help to unravel some of the biggest mysteries of the universe.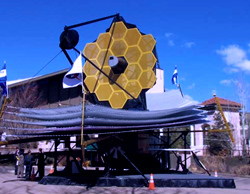 ADMISSION FREE
To reserve tickets, please contact Dr Rachel Curran
at rcurran@cp.dias.ie or telephone 01 6621333. Tickets
issued on a first come, first served basis.