Posted: 06 March 2006
Mostly Mozart
On Wednesday, 8 March, at 8pm, the UCD College Choir will present a programme celebrating the 250th anniversary of Wolfgang Amadeus Mozart in the Belfield Church Our Lady Seat of Wisdom.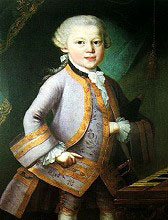 Wolfgang Amadeus Mozart
Under the leadership of Joanna Campbell Griffin, the choir will perform movements from masses and the requiem, as well as some shorter pieces like the Ave verum. Andrew Johnstone will play some of Mozart's pieces for organ, while the Alpha Quartet will present one of the Salzburg master's early string quartets.
Tickets cost €5 at the door.