New system reduces energy costs of commercial buildings
Posted: 09 March 2007
A new energy management and control system known as ICE (Intelligent Control of Energy) can save up to 30% of the gas and up to 20% of the electricity consumption associated with operating commercial buildings, according to NovaUCD-based Lightwave Technologies. The energy savings offered by the new technology may also help to reduce the carbon emissions from commercial buildings.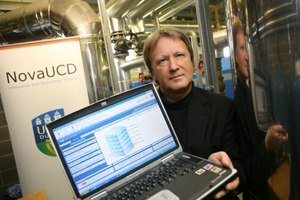 Nicholas McNulty, Founder and CEO, Lightwave Technologies
The ICE system, launched in Ireland and the UK, works alongside existing building management systems (BMS). It uses advanced artificial intelligence techniques to make real-time and efficient decisions for controlling the energy consumption in commercial buildings while maintaining existing comfort levels. It has been installed in the 12,000 m2 Q-Centre in Blanchardstown which is operated by the Quinn Group. Several large commercial buildings in London and Manchester have also installed the system.
The system communicates with the existing BMS in a building via the internet or any other IP network. It collects data remotely from the building and after analysing this data learns the building's unique thermodynamic footprint and how the building behaves over various external weather conditions. The ICE system then communicates in real-time with the BMS to, for example, optimally control the start/stop times of boilers, chillers and air-handling units for every floor and zone within the building.
With plans to install the ICE system in over 70 buildings in the UK during 2007, Lightwave Technologies founder Nicholas McNulty is confident that the company has a product capable of making very significant real-time thermal energy savings in all kinds of large commercial real-estate. "The system reduces energy costs while also making significant reductions in associated CO2 emissions."
Nicholas McNulty designed one of the world's first computerised home control systems using mains-borne signalling.
"The commercial launch of Lightwave Technologies' ICE system marks a significant breakthrough for this NovaUCD-based company," said Dr Pat Frain, Director, NovaUCD.
"Lightwave Technology has developed and tested its innovative technology over the last number of years and it is fantastic to see this energy saving technology entering the marketplace at a time when there is a growing awareness of environmental issues," he continued.
Lightwave Technologies has partnered with the OCS Group, one of the world's largest facility management companies. OCS will facilitate the installation and ongoing support of the ICE system into a wide variety of commercial buildings across the UK.
Lightwave Technologies, located at NovaUCD, was founded in 2003 and is a former winner of the NovaUCD Campus Company Development Programme.