Posted: 19 May 2006
NovaUCD Campus Company Development Programme 2006 offers support to 12 small business enterprises
NovaUCD has launched its 2006 Campus Company Development Programme (CCDP) offering 12 small business enterprises the opportunity to bring their idea from grassroots intellectual concepts to fully developed, sound commercial business enterprises competing within the business sector.
With a three-year commitment from BT valued at €100,000 coupled with five years of financial and other support to date from Enterprise Ireland, the Programme is fully enabled to assist UCD researchers and academics who are seeking to establish and develop new knowledge-intensive businesses.
High-tech ventures are making a continuing contribution to the sustained development of a knowledge-based economy in Ireland. It is recognised that many of the most innovative new ventures originate in a university environment and many of these university-based entrepreneurs require assistance in defining and developing their innovative ideas, building multi-disciplinary teams, and preparing and implementing detailed business plans. This programme addresses these and other facets of new venture formation.
Now in its 11th year, the Programme has helped 120 companies to develop their business. Previous CCDP winners include AV Edge, BiancaMed, ChangingWorlds and Lightwave Technologies. Last year's winner Rosalyn Moran, a UCD Engineering PhD student and founder of Vocal Health Screen, is currently developing a unique remote screening tool for voice diseases for use by patients of Ear Nose and Throat Clinics worldwide.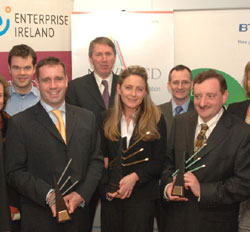 Last year's NovaUCD CCDP Award Winners (l-r): Dr David O'Connell, co-founder, Protein Partners, UCD School of Biology and Environmental Science; Rosalyn Moran, founder, Vocal Health Screen, UCD School of Electrical, Electronic and Mechanical Engineering and Dr Steven Verhaegen, co-founder, SCREED, UCD Conway Institute of Biomolecular and Biomedical Research
Anne O'Leary, Head of Business Enterprise, BT Ireland commented, "There is exceptional talent and innovation generated in this environment that may not otherwise develop into commercial entities. BT Ireland prides itself as a company that encourages smaller enterprises to realise their potential and so commends NovaUCD and these ventures on this Programme. BT is delighted to be involved and looks forward to the months ahead."
Dr Pat Frain, Director, NovaUCD, said, "Ireland needs new high-tech ventures to sustain the knowledge-based economy. In this regard NovaUCD is committed to supporting entrepreneurship and the establishment and development of new knowledge-intensive ventures. The CCDP, which has run successfully since 1996, is our main enterprise support programme designed specifically to assist academic entrepreneurs in developing start-up companies mainly to commercialise the output of UCD research." He added, "We are delighted that BT and Enterprise Ireland are continuing to support this Programme and their ongoing commitment signifies the important role it plays in supporting new UCD spin-outs."
Kevin Sherry, Manager of Enterprise Ireland's High Potential Start-Up Division said, "Enterprise Ireland is delighted to continue to work closely with NovaUCD in assisting UCD researchers and academics who are establishing new and innovative start-up companies. These new companies, which focus on the commercialisation of technology developed within UCD, form an essential element to realising the full potential of the substantial investment being made by the Irish Government into R&D." He added, "Enterprise Ireland looks forward to continuing to work with the participants on this year's Programme and to help them to realise that potential."
The CCDP is the main support programme run by NovaUCD for academic entrepreneurs who are spinning-out UCD campus companies. It is a nine-month, part-time programme designed to suit the busy timetable of researchers and academics. It offers a mix of monthly workshops, mentoring and one-to-one consultancy and is delivered by NovaUCD staff, with support from the NovaUCD sponsors, BT and Enterprise Ireland, as well as other outside experts. It is designed to assist academic entrepreneurs in the establishment and development of knowledge-intensive enterprises by reducing the lead-in time associated with setting-up a business and providing the skills necessary to transform ideas into commercially feasible ventures.
Participants on the Programme also have the opportunity to access NovaUCD's desk space and incubation facilities and associated services with guided access to financial support and information sources. The Programme culminates with a high profile Awards Evening held in November.