Posted: 07 November 2006
UCD Triumphant in Dublin Senior Football Championship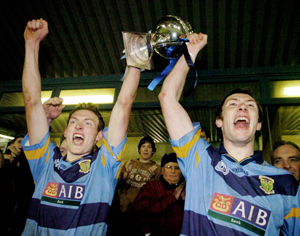 UCD's James Sherry and Billy Sheehan, right, lift the cup. Dublin Senior Football Championship Final, UCD v St. Vincents, Parnell Park, Dublin.
Picture credit:Pat Murphy/Sportsfile
UCD footballers won the Dublin Senior Football Championship for the second time in five years last night in a close encounter with old rivals St Vincent's at Parnell Park. UCD overcame a four point deficit and the vocal opposition of most of the 8,000 crowd to prove victorious thanks to an injury time point from Louth county star Shane Lennon which left the final score at UCD 0-10, St Vincent's 0-9.

The UCD players and management celebrate with the cup. Dublin Senior Football Championship Final, UCD v St. Vincents, Parnell Park, Dublin.
Picture credit:Pat Murphy/Sportsfile
At the end of a close first half, St Vincent's led by 0-4 to 0-2 with five of the six points scored coming from placed balls. At the start of the second half, Vincent's threatened for a while to overrun UCD with some magnificent points from play leaving the score at 0-7 to 0-3 after 39 minutes. The introduction of Austin O'Malley in the 40th minute proved crucial, however, as the more fluid combination play and direct movement of the UCD players began to prevail, even when the opposition had more of the possession. UCD narrowed the margin to 0-7 to 0-6 but when Vincent's pulled away again to lead 0-9 to 0-6, the small band of UCD supporters feared the worst as it looked like Vincent's would gain revenge for their loss to UCD in the 2002 decider.
Points from Lennon and O'Malley (2) brought UCD level with four minutes to go and then Lennon's decider broke Vincent's hearts and left the 8,000 crowd largely stunned into silence. Joint captains James Sherry of Fermanagh and Billy Sheehan of Laois accepted the cup after the game and vocal and emotional tribute was paid by the UCD players to Dave Billings, Mr GAA at UCD.
Also in the crowd at last night's game were UCD greats from yesteryear including Dr Pat O'Neill, Chair of the UCD GAA Scholarship Committee, Mr Justice Brian McMahon, Colm O'Rourke and Benny Gaughran.
UCD play the Meath Champions Wolfe Tones in Navan next Sunday and all at UCD are encouraged to give our new champions your full support.

UCD Sport