Posted: 21 November 2006
Scottish First Minister tours UCD Conway Institute on first official visit to Dublin
As part of his first official visit to Dublin to issue a joint declaration to strengthen political, scientific and educational links between Scotland and Ireland, the Scottish First Minister, Mr Jack McConnell toured the UCD Conway Institute at Belfield. Mr McConnell was accompanied by the British Ambassador to Ireland, Mr David Reddaway and the newly appointed science advisor to the Scottish Executive, Professor Anne Glover.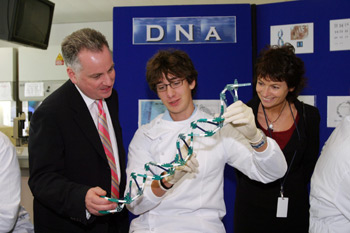 Scottish First Minister, Mr Jack McConnell (left) and the science
advisor to the Scottish Executive, Professor Anne Glover (right)
discuss DNA with a student from Patrician High School, Carrickmacross,
Co. Monaghan, at the UCD Conway Institute
Professor Janet Allen, Director of the UCD Conway Institute, led the delegation on the tour of the world-class infrastructural facility which supports multi-disciplinary, translational biomolecular and biomedical research.
The lower ground floor of the hub provides a lecture/conference theatre for 128 people and specialist research laboratories including a transgenic facility and a number of core technologies such as high- field nuclear magnetic resonance and protein crystallography.
The ground floor of the building has meeting rooms, a bioinformatics suite, a large social area and offices for the Directorate.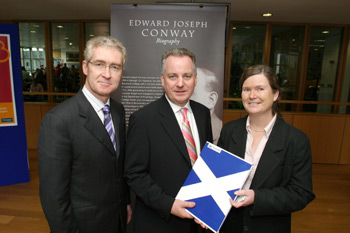 Pictured L-R: Dr Hugh Brady, UCD President; Rt Hon Jack McConnell MSP, First Minister of Scotland;
Prof Janet Allen, Director UCD Conway Institute
Teaching facilities incorporating laboratories and classrooms form an integral part of the building. Utilising these facilities, undergraduate students are embedded in a research environment from the very beginning of their studies which helps to equip them for careers in knowledge-based bioindustry and the healthcare sectors.
Several of the research groups based at the Institute have active collaborations with research groups in Scotland. These include researchers at: the University of Dundee, the University of Aberdeen, the University of Glasgow, the University of Edinburgh, the Moredun Research Institute, Edinburgh and the Queen's Medical Research Institute in Edinburgh.
Professor Cormac Taylor, a principal investigator at the UCD Conway Institute and an associate professor at the School of Medicine & Medical Science, leads a collaborative research project with researchers based at the University of Dundee. He outlined to the First Minister his research group's investigations into the cellular responses to hypoxia - a state of oxygen deficiency in the body which is sufficient to cause an impairment of function.
During his visit, Mr McConnell also took the opportunity to meet with a group of students from Patrician High School, Carrickmacross, Co. Monaghan who happened to be at the Institute on 13 Nov 2006 as part the UCD Conway Institute's Science4Schools outreach programme. The First Minister listened intently as the boys explained to him the science behind several of the experiments that they were busy conducting on the day - extracting DNA from a banana and blowing up balloons with carbon dioxide released from the fermentation of yeast.