Posted: 27 November 2006
SFI/Dell Young Women in Engineering Scholarship Awards for UCD Students
Two UCD engineering students have been awarded inaugural Science Foundation Ireland / Dell - Young Women in Engineering Scholarships.
Claire Morrison, from Thornhill College, Derry, and Niamh O' Connell, from St David's Holy Faith Secondary School, Greystones, Wicklow, were among the winners announced by Mr. Micheál Martin TD, Minister for Enterprise, Trade and Employment, at a recent award ceremony in Dublin.
Each award is worth approximately €20,000, with each winner receiving an annual award of €2,000. They also receive a Dell Precision M20 notebook computer, the assistance and support of a research active mentor throughout their undergraduate career and the opportunity to spend summers in a research internship in university or industry.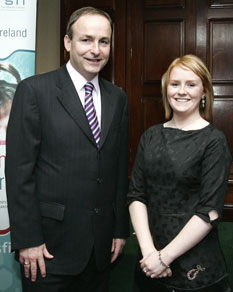 Mr Micheal Martin, TD, Minister for Enterprise, Trade & Employment and SFI/DELL Scholar recipient Claire Morrison
"These Awards are aimed at attracting and encouraging more high-achieving young women into third-level education in engineering disciplines," said Minister Martin, speaking at the award ceremony. "There is a clear and unequivocal case for increasing the participation of women in science, engineering and technology in Ireland. These Awards are a terrific first step towards addressing the challenge."
CAO statistics show that although there are more girls than boys taking Leaving Certificate science subjects, less than 15% of students who accept places on four-year engineering degree courses are female.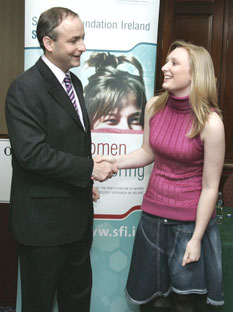 Mr Micheal Martin, TD, Minister for Enterprise, Trade & Employment and SFI/DELL Scholar recipient Niamh O'Connell
"We are proud to join with SFI to support this important programme and to play a role in helping to encourage as many talented women as possible to pursue a career in science and engineering," explained Nicky Hartery, VP Manufacturing, at Dell. "Proactive steps, such as this sponsorship programme will help to ensure that talented, innovative and driven young women will channel their energies into ICT, something that is important for the future growth and development of the sector."
Mark Keane, Director General, SFI, said "There is severe gender imbalance among students taking university engineering courses. I am confident that in the long-term these talented female students will act as mentors for others to consider undertaking careers in science and engineering. Engineering degrees provide a wide career choice and I would encourage female leaving certificate students to look at all of the options available to them."
"We are proud to have recipients of the Young Women in Engineering 2006 awards studying engineering at UCD. This initiative is invaluable in attracting high calibre students into undergraduate engineering degree courses. I would like to congratulate Niamh and Claire on their outstanding success and applaud Science Foundation Ireland and Dell for their dedicated work in raising the awareness of the excellent opportunities presented by careers in engineering," said Professor Nicholas Quirke, Principal of the UCD College of Engineering, Mathematical & Physical Sciences.
The Awards are open to female applicants who have completed the Irish Leaving Certificate either in the year they are applying to third-level education or in the previous year. They must achieve an A1 or A2 grade in Mathematics or Applied Mathematics, and an A1 or A2 in Physics, Biology, Chemistry, Technical Drawing, Engineering or Construction Studies at Higher Level in the Leaving Certificate Examination and secure a CAO Offer for an eligible course in the first round of CAO offers.