Chinese Ambassador pays tribute to UCD's strong links with China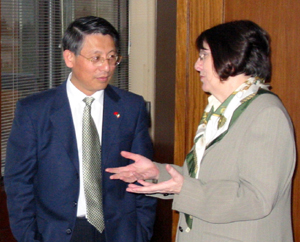 The Chinese Ambassador to Ireland, His Excellency Dr Sha Hailin pictured with Ms Mary Ruane, Director, UCD Applied Languages Centre
Marking the end of his term of office, the Chinese Ambassador to Ireland, His Excellency Dr Sha Hailin paid a special visit to UCD to pay tribute to the strong educational and business links that have been forged between UCD and China.
'I clearly remember my first visit to UCD. There have been many developments since that time. UCD is like a mirror reflecting the great changes in Irish society and culture. I am grateful to have been part of this and for the great kindness that UCD and Ireland has shown me' he said.
UCD Michael Smurfit School of Business and the China Europe International Business School (CEIBS) run an MBA student exchange programme. CEIBS is the leading China-based international business school. Its main objective is to contribute to the economic development of China and its business communities. MBS students from UCD Michael Smurfit School of Business also participate in a summer school in Tsinghua University.
UCD Quinn School of Business offers BSc degrees in Finance, Information Technology, Management and Marketing to Chinese students through distance learning in partnership with the Asia Pacific Management Institute.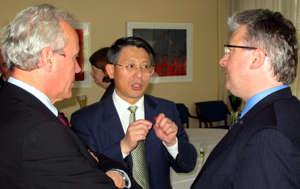 The Chinese Ambassador to Ireland, His Excellency Dr Sha Hailin (Centre) in discussion with Professor William Hall, Vice-President for International Affairs, UCD (Left); and Dr Padraic Conway, Vice-President for University Relations, UCD (Right)
In 2002, UCD and Fudan University in Shanghai initiated a joint BSc in Computer Science between UCD School of Computer Science and Informatics and Fudan Software Engineering Institute. The syllabus is based on UCD's own BSc degree in Computer Science and is taught through English to the Chinese students in Shanghai. Each year, several UCD academics travel to China to lecture on the programme. The first group of graduates from this programme were conferred in summer 2005.
Following what is to become an annual event, the participation of academics from UCD School of Philosophy in the University of Sichuan's Summer School in Philosophy and Language in 2004, there are plans for Chinese post-doctoral and PhD students to spend an academic year in UCD to further their research in the philosophy of language and related areas.
UCD Applied Language Centre (ALC) was the first university institution in Ireland to offer fully accredited programmes in Chinese language and culture. First introduced ten years ago, courses in Chinese are now offered across a range of disciplines at undergraduate and postgraduate level. The ALC also organises an annual internship programme for government officials from the greater Shanghai area in cooperation with the Department of Foreign Affairs and the Irish Consulate in Shanghai.
In February of this year, a Centre for the Irish Institute for Chinese Studies was established at UCD to develop and support educational and research links between Irish and Chinese universities. This includes exchanges between students and staff and cultural and language support for the business and diplomatic community. The Institute provides Irish third-level students the opportunity to study Chinese language and culture as part of a combined degree or as their primary focus of study. Another task performed by the Institute is the recruitment of high calibre PhD students from China into Irish research programmes in the fields of microelectronics, ICT and biotechnology – areas of prime importance in Ireland's growing technology sectors.
The Ambassador acknowledged the many new partnership programmes that have developed between UCD and Chinese universities during his term of office. He praised the strong links that these partnerships have created between the countries. 'I am positive that my successor will build on these existing relationships and increase partnerships in the years ahead' he said.
>> More News and Events
<< Back to Home