UCD's class of 1955 returns to university after 50 years.

Alice johnson and Cathal O'Neill
Over 150 veteran UCD alumni from the 'class of 1955' proudly gathered at a special ceremonial event in the O'Reilly Hall to mark the golden jubilee year of their graduation. The veteran alumni returned to witness a much-changed university where they met with old friends some of whom they had not seen for over 50 years.
Following an Ecumenical Service, the alumni were each presented with a commemorative scroll by UCD President, Dr Hugh Brady.
In his address to the group who had travelled from all around the world to attend the special event, Dr Brady remarked that he was honoured to speak to a group who had helped to shape Ireland since 1955 although he found it a little daunting because he recognised some of his ex-teachers among them. He continued by referring to the changes currently taking place at UCD. "Let no one be in doubt that while we are now pursuing a programme of change, this is about unlocking the potential of UCD, a potential which would not be possible without your contribution," he said.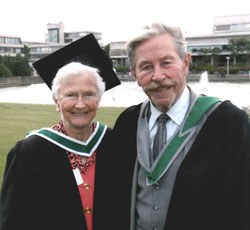 Cora Richardson and Mieczyslay Swiatkowski
Among the veteran alumni at the event was Sister Cora Richardson (70). She completed an Arts degree at UCD before joining the Missionary Sisters of the Holy Rosary and leaving Ireland to work in Africa. As a missionary, she is currently working with people suffering from AIDS in South Africa.
Also at the event was Mieczyslay Swiatkowski (81) who studied dental surgery at UCD after fighting for the Free Polish Forces during World War II.
Another of the alumni at the event, Professor Cathal O'Neill had become a world authority on architecture since graduating from UCD. He told of how he had studied in a totally different environment at Earlsfort Terrace, at a time when the student number totalled around 2,000.

>> More News and Events
<< Back to Home