UCD Researchers win SFI President of Ireland
Researcher Awards.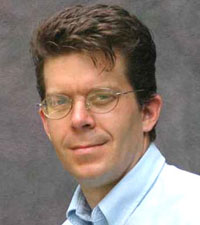 Dr. Scott Rickard
Two UCD researchers are among five recipients to receive over €4 million from Science Foundation Ireland under its President of Ireland Young Researcher Award (PIYRA) scheme. The five leading young ICT and Biotechnology researchers will each receive funding over a five year period.

The PIYRA was launched last year by SFI with the support of President of Ireland, Mary McAleese to highlight the critical roles played by innovative young researchers in developing contemporary research and education programmes for Ireland. UCD is the only Irish institution to have been awarded more than one award for the second year running.

President McAleese said she was delighted to be able to support the project and hoped the five young researchers benefiting from the award would make a significant contribution to innovative scientific research in Ireland.

This year's winners were selected following international peer review from a group of 41 high-calibre applicants. Commenting on the awards, Minister for Enterprise, Trade and Employment, Mr. Micheal Martin TD, said: 'The President of Ireland Young Researcher Award is a prestigious award for young researchers from around the world to carry out their research in third level institutions in Ireland.'

Dr. William C. Harris, Director General of SFI, said: 'The aim of the PIYRA is to support the most creative young scientists and this year's applicants were of an exceptionally high standard. The funding will provide significant and stable support to these top-tier young Researchers at a level and over a time duration that will enable them to develop careers as internationally recognised researchers.'

UCD Winners
Dr Jarlath Nally and Dr Scott Rickard are UCD's recipients of the PIYRA awards. A graduate of UCD, Jarlath Nally is currently a postdoctoral fellow in the Division of Infectious Diseases at the Department of Medicine, UCLA. The title of his research is 'Characterization of the proteome and transcriptome of Leptospira during acute and chronic infection'. Jarlath Nally will be based in the UCD School of Agriculture, Food Science and Veterinary Medicine, in the College of Life Sciences.

Scott Rickard is a lecturer in the UCD School of Electrical, Electronic and Mechanical Engineering. His Bachelor of Science and Master of Science were awarded by MIT and his PhD by Princeton University. The title of his research is 'Time-frequency/time-scale analysis, sparse signal representation theory, and finite field theory for signal processing applications'.

Other winners include:
Dr David P Finn, NUI Galway.
Dr Aoife McLysaght, TCD.
Dr Jiri Vala from UC Berkeley (to NUI Maynooth).
>> More News and Events
<< Back to Home