Posted: 15 September 2006
Chief Information and Technology Officer Appointment
UCD has appointed Ms Mary Crowe as Chief Information & Technology Officer (CIO) for the University. Ms Crowe will progress the integration of and assume responsibility for University-wide IT services including Academic & Administrative Systems, Research IT, Teaching & Learning Technologies and UCD web services.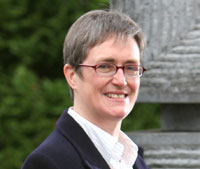 Ms. Mary Crowe
With the establishment of the new role and the creation of a unified IT Service, UCD aims to develop world class IT services for staff and students. The new integrated service will support the teaching and research mission of the University and will combine the strengths of existing IT units to fulfill this goal.
Ms Crowe is a graduate of UCD with a BE and MEngSc in Engineering. She subsequently gained an MBA at UCD Michael Smurfit School of Business.
Ms Crowe joined UCD in 2000 as Director of Computing Services. She has been responsible for the re-development of the University IT infrastructure and the introduction of universally accessible services for staff and students. Key innovative developments during this period include, the UCD Connect portal, the creation of specialized research IT services and the adoption of new eLearning environments.
The new IT Service builds on UCD's substantial IT systems base which currently delivers sophisticated web applications to students and staff, supporting UCD Horizons, learning, research and administration. The service will be formed from existing units comprising: UCD Computing Services, the Management Services Unit, the Audio Visual Centre and the Web Unit.