Peacemaker, labour rights advocate and economics pioneer awarded honorary degrees
University College Dublin has awarded honorary degrees to diplomat and peacemaker Tim O'Connor, labour rights advocate Kieran Mulvey and economist Professor Michael J. Brennan.
Honorary degrees are awarded to individuals who have attained outstanding distinction in their fields.
Tim O'Connor – Honorary Degree of Doctor of Literature
Tim O'Connor has played a pivotal role in improving Ireland's relations with the world and within its own borders as a diplomat, peace builder and diaspora advocate.
"Tim has proved a significant figure of influence and counsel in the fields of peace-making and diaspora engagement and he has often been well ahead of the curve in thinking through and articulating the challenges and opportunities in these areas," read Professor Liam Kennedy, UCD Clinton Institute for American Studies, in his citation at the conferring ceremony.
O'Connor was a diplomat in the Department of Foreign Affairs and Trade from 1979 – 2007. He held posts as Director of the Africa Unit and Director of the Human Rights Unit.
He was appointed to several crucial posts during the Northern Ireland peace process including Deputy Secretary General of the Forum for Peace and Reconciliation. O'Connor was a senior member of the Irish Government delegation during talks that led to the Good Friday Agreement in April 1998. He also worked closely with Senator George Mitchell in the review of the Agreement in 1999.
Pictured top (l-r): UCD President, Professor Andrew Deeks; Tim O'Connor;
Professor Liam Kennedy, UCD Clinton Institute for American Studies
In 2005, he served as Consul General of Ireland in New York where "he came to understand the strong role of culture in the perception and promotion of Ireland abroad and he has remained a champion."
In 2007, O'Connor was appointed Secretary General to the President of Ireland. He worked closely with President Mary McAleese, supporting her in work she did under her presidential theme of Building Bridges between Northern Ireland and the Republic of Ireland.
His work as a diplomat and first-hand experience of Irish-American relations led O'Connor to advocate for a closer relationship between Ireland and its diaspora.
In 2013, he served as Chairman of The Gathering, an initiative to encourage the Irish diaspora to return to Ireland. Almost 300,000 Irish abroad returned home for over 5,000 Gatherings across the country.
"We are all familiar with the six degrees of separation axiom, and it is sometimes said that in Ireland there are only three degrees separating us from someone we have not met before, in Tim's case it is two degrees, maybe less – it can seem that everybody on this island knows Tim O'Connor."
Kieran Mulvey – Honorary Degree of Doctor of Laws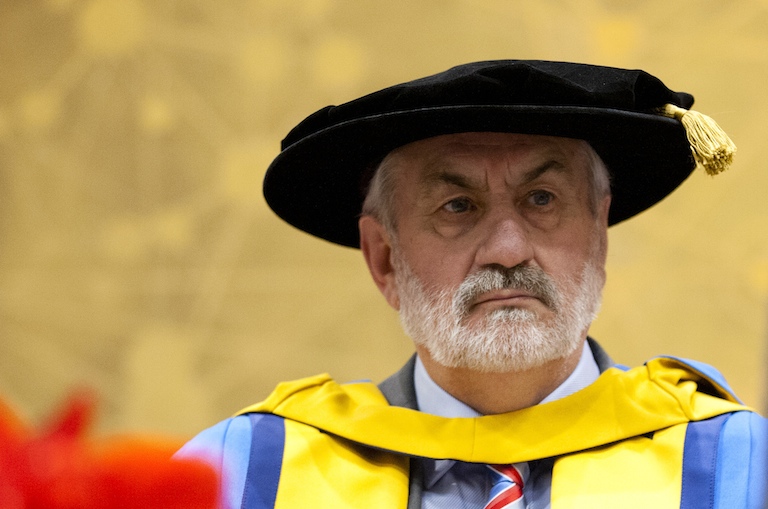 Kieran Mulvey has spent his career as both a campaigner and mediator in labour rights issues.
Mulvey "has been making peace throughout his career as a conciliator: in industrial relations, in sport, in medical affairs, in human rights and in communities wracked by disadvantage and conflict, both in Ireland and beyond," Professor Bill Roche, UCD College of Business, read in his citation at the conferring ceremony.
He served as a member of the UCD Governing Body as a student before becoming the first General Secretary of the Irish Federation of University Teachers at the age of 24. At 29, he became General Secretary of the Association of Secondary Teachers of Ireland, the main second level teachers' union in Ireland.
"His experience of growing up in a county depleted by emigration, which affected his own and his parents' families, was formative for his views on the importance of economic opportunity being available fairly to all."
"His experience as a student activist and union official in the highly turbulent 1970s and 1980s were also formative for his subsequent work as a pathfinder towards agreement and accord."
Pictured above: Kieran Mulvey
In 1991, Mulvey became the founding CEO of Labour Relations Commission, later serving as Director General of the Workplace Relations Commission.
In 2010, he called for a negotiated accord between the government and trade unions during a turbulent time of public service funding cuts. This led to the Croke Park Agreement and later the Haddington Road and Lansdowne Road Agreements. Mulvey brokered each of these as chairperson during negotiations.
He has maintained his advocacy beyond his retirement, including working with community groups to identify ways of tackling issues of drugs and gang violence in Dublin's north inner city.
To encapsulate the career and personal qualities of Kieran Mulvey, Professor Roche closed his citation by quoting journalist Julian Borger:
"In a darkening world, to persist in dialogue and reason is to rage – politely and diplomatically – against the dying of the light.
Professor Michael J. Brennan – Honorary Degree of Doctor of Laws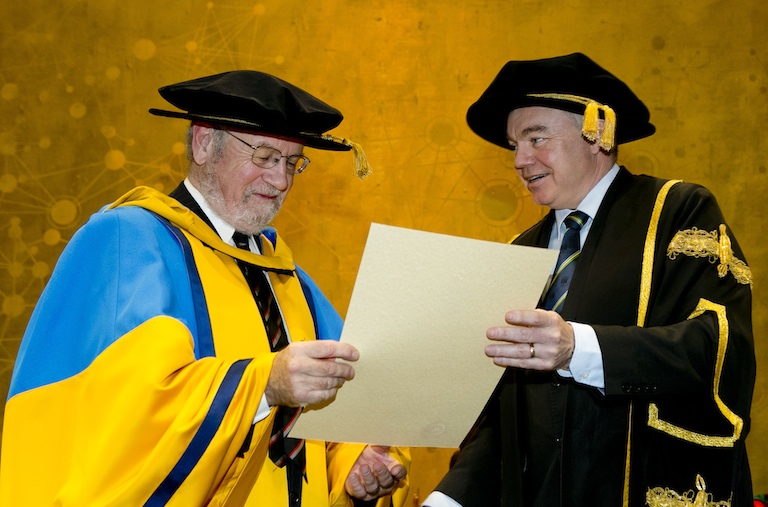 Professor Michael J. Brennan is Professor Emeritus at UCLA Anderson Graduate School of Management. He is a former Director of the National Bureau of Economic Research, home to 26 Nobel Prize winners in economics.
"Michael Brennan is one of the leading pioneers of the massive growth in the area of financial economics," Professor John Cotter, UCD College of Business, read in his citation at the conferring ceremony. "His leadership and contribution to the finance profession has been immense."
Professor Brennan's research covers several areas including microstructure, asset pricing and corporate finance. He has published four books and almost one hundred articles in leading research journals.
Pictured above (l-r): Professor Michael J. Brennan and UCD President, Professor Andrew Deeks
He is a former president of the American Finance Association and served as editor of the Journal of Finance. He was also a founding editor of the Review of Financial Studies.
His work has contributed to a large body of literature covering topics such as liquidity, option valuation and arbitrage.
Professor Brennan received his BA and BPhil from University of Oxford. He completed an MBA at University of Pittsburgh and a PhD at Massachusetts of Technology.