MagGrow wins 2016 Thrive Accelerator Award for its crop spraying technology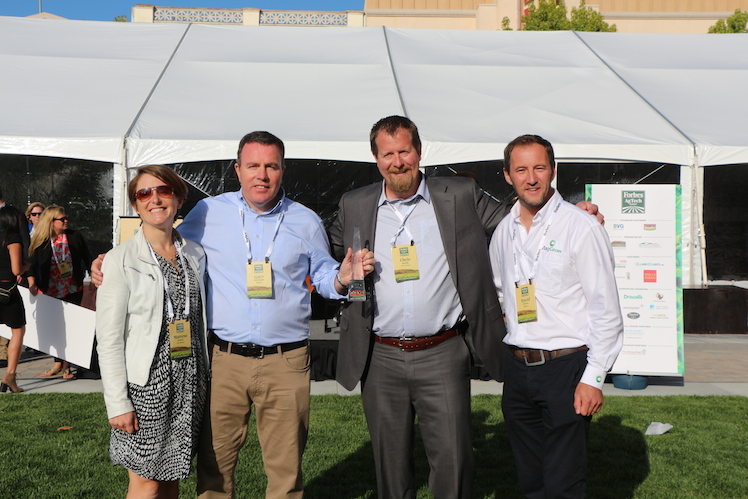 Posted July 19, 2016
Technology reduces crop spray drift by up to 80 per cent
MagGrow minimises any potential environmental damage
University College Dublin-based agtech start-up MagGrow has been named the winner of the 2016 Thrive Accelerator Sustainability Award for its crop spraying technology.
MagGrow is a magnetic spraying technology that reduces the amount of pesticides, water and other liquids that drift away from the intended target crops or plants by up to 80 per cent.
The firm received the accolade at the second annual Forbes AgTech Summit in Salinas, California.
MagGrow was one of just 12 companies from around the world, and the only company from Ireland, selected to participate in the 2016 Thrive Accelerator Programme for promising food and agtech start-ups.
Pictured top: Mareese Keane, SVG Partners, Gary Wickham, MagGrow, Chris Boody, SVG Partners and David Moore, MagGrow, in Salinas, California, at the presentation of the 2016 Thrive Accelerator Programme Awards. (Credit: Jan Janes Media); and below, video clip explaining the MagGrow technology
MagGrow is based at NovaUCD, the centre for new ventures and entrepreneurs at UCD. Gary Wickham, Derek Wickham and David Moore founded the company in 2013.
The Forbes AgTech Summit brings together over 500 of the smartest and most entrepreneurial minds in Silicon Valley and global agriculture to tackle some of the world's most critical challenges.
The Food and Agriculture Organization of the United Nations estimates that 20 to 40 per cent of global crop output is lost due to plant pests and diseases.
Growers combat pests and diseases by spraying herbicide, fungicides and insecticide to improve crop quality and yield. A consequence of spraying is spray drift, which occurs when dust or droplets that are applied move through the air or soil to an unintended site.
Nearby communities, adjacent to crop fields, plants, water supply, are all impacted by spray applications. To solve this problem MagGrow has developed a magnetic spraying technology system which utilises the fact that all living plants and soil have a magnetic field.
MagGrow's technology involves the attachment of a series of magnetic inserts onto a sprayer. An electromagnetic charge is infused into the liquid spray resulting in targeted attraction and improved coverage of the plant or soil.
The better drift control and coverage means that productivity is improved and the reduced spread of chemicals also minimises any environmental damage.
"We truly believe that every generation has the right to a sustainable supply of food and water, and so we must find better ways to grow, and that is why we developed MagGrow," said Gary Wickham, CEO, MagGrow.
Founder and CEO of technology and investment firm SVG Partners, John Hartnett, presented the award to MagGrow. He said MagGrow was the type of company that demonstrates "how we get to higher crop yield and ensure sustainability through the advent of new technologies and practices".
Nuritas Research, the Irish bioinformatics start-up, participated in the 2015 Thrive Accelerator Programme and was the winner of the 2015 Thrive Accelerator Award.
Nuritas, founded by Dr Nora Khaldi, had previously completed the three-month UCD 2013 VentureLaunch Accelerator Programme held at NovaUCD.
By: Jamie Deasy, digital journalist, UCD University Relations