Alumni Honours Award for life-saving UCD medical graduate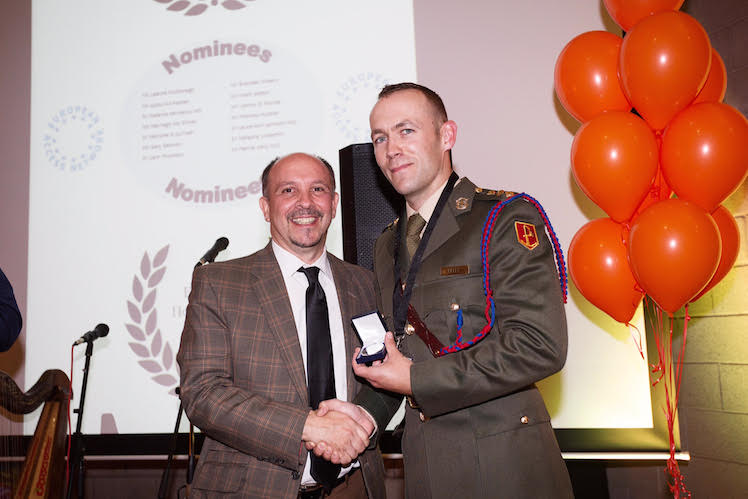 Posted June 2, 2016
UN peacekeeper and UCD graduate honoured for long track record of caring for sick
Three further university Access graduates honoured at European Access Network 25th annual conference
A University College Dublin medical graduate has received an Alumni Honours Award for his outstanding contribution to public service and global peacekeeping.
Dr Patrick Kelly (31), a UCD graduate with a Degree of Bachelor of Medicine, Surgery and Gynaecology, was presented with the Alumni Honours Award at the European Access Network 25th annual conference, held at University College Dublin.
A medical officer in the Irish Defence Forces, Dr Kelly was honoured for his peacekeeping work and his long track record of caring for the sick and vulnerable.
He began his studies at UCD through the Access programme, which provides personal and academic supports for mature students, those from socio-economically disadvantaged backgrounds and students with disabilities.
After he graduated in 2008, and following specialist training in general practice, he was commissioned as a medical officer in the Irish Defence Forces.
The Waterford City native is currently serving as a peacekeeper in the 52nd Infantry Group Quick Reaction Force with the United Nations Disengagement Observer Force in the Golan Heights – a hotly disputed conflict zone that straddles the Israel/Syria border.
Pictured top: Dr Patrick Kelly (right) who received the European Access Network Alumni Honours Award for his contribution to public service and global peacekeeping and
Mr Jamie Merisotis President and CEO of Lumina Foundation, USA at the EAN 25th annual conference at UCD
He was deployed to Sierra Leone in May 2015, where he worked in an Ebola treatment facility during an unprecedented outbreak of the contagious and deadly virus that has killed almost 4,000 people there since 2014.
Dr Kelly subsequently received the British Army Force Commander's Commendation for helping to establish a cardiac first responder scheme in Freetown, Sierra Leone, with the assistance of the UCD Centre for Emergency Medical Science.
?While working as a volunteer with the Order of Malta from 2008 to 2010, he also was instrumental in establishing Ireland's first mobile medical clinic for the homeless. In 2010, he graduated as a Master in Sports and Exercise Medicine at Trinity College Dublin.
Thomas McGrath, CEO of advanced analytics firm Elutions Inc, was one of the judges that selected Dr Kelly as the winner of the Alumni Honours Award.
"The judging panel felt Patrick stood out as he made the care and wellbeing of the poorest and most vulnerable a priority in his work," he said.
Mr Sjur Bergan, Head of the Education Department, Council of Europe, delivered a keynote speech entitled 'Competences for Democracy and Educational Access' at the EAN conference.
"Access to higher education is valuable if education is worthwhile," he said. "Access is a first step toward earning a higher education qualification... that prepares us to be active, democratic citizens…and that also helps us reflect not only on what we can do but on what we should do."
The EAN Alumni Honours Awards were established as part of the EAN silver jubilee conference this year to formally recognise the achievements Access graduates have made in the areas of leadership, innovation and impact on society. Four third-level graduates received EAN Alumnus Honours Awards.
Abdul Ali Hassan, a Somalian refugee, who is a Science graduate and and also completed a master's in Engineering at Dublin City University received the EAN Alumni Honours Award for outstanding commitment, resilience and academic excellence.

Hannagh McGinley is Bachelor of Arts degree graduate of the National University of Ireland Galway and a master's graduate in Community Development from both NUIG and Wageningen University in the Netherlands. She received an Alumni Honours Award for outstanding achievement in Traveller community development and activism.

Gary Gannon graduated with a Bachelor of Arts degree in History and Politics from Trinity College Dublin and is now a Dublin City Councillor and political activist. He received an Alumni Honours Award for outstanding achievement in bringing innovation and political change to disadvantaged communities.
By: Jamie Deasy, digital journalist, UCD University Relations