UCD and TCD create €60m start-up fund for companies from Ireland's third-level institutions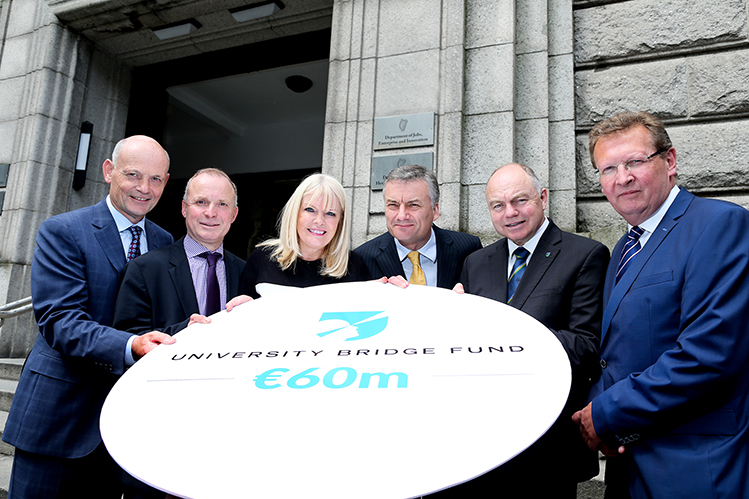 Posted June 17, 2016

Investors include European Investment Fund and Enterprise Ireland, along with AIB, Bank of Ireland and the two universities
Minister: Fund is significant boost for innovators seeking to develop third level research into successful businesses
Atlantic Bridge
, one of Europe's top performing growth technology funds, has announced a new €60 million investment fund for early stage companies with global potential that are built from world class research from all Irish third-level institutions and universities. The
University Bridge Fund
was initiated in a joint leadership collaboration between University College Dublin (UCD) and Trinity College Dublin (TCD).
The fund will leverage the Atlantic Bridge global investment platform and proven 'Bridge Model' for scaling technology companies to accelerate the commercialisation of ground breaking research generated at TCD, UCD and all third level research institutions. It will provide capital and expertise for scaling companies into the US and Chinese markets and elsewhere.
The €60 million in place will provide investment and expertise at the commercialisation stage for companies focusing on software, hardware, engineering, physical sciences, life sciences and agri-food. The fund brings together significant institutional investment from the European Investment Fund – its first cornerstone commitment in an Irish fund of this type having made similar investments in Europe - and Enterprise Ireland, as well AIB and Bank of Ireland, who are already strong supporters of UCD, TCD and the Irish technology ecosystem. TCD and UCD have also invested in the fund.
Irish companies that have benefited from the 'Bridge Model' for scaling-up technology companies include Movidius, Swrve, Fieldaware, Glonav and PolarLake. The fund will enhance success at UCD and TCD - both ranked in the Top 1% of higher education institutes world-wide - in creating spin-outs and start-ups. The universities are also ranked in the Top 5 of European universities for producing graduate entrepreneurs. Over the last 10 years, they have jointly spun-out over 60 companies, which have secured in excess of €200 million in investment, such as Equinome, Logentries and OxyMem from UCD and Genable, Opsona Therapeutics and Swrve from TCD.
Enterprise Ireland is investing in the Fund from its Seed & Venture Capital Scheme (2013-2018), supporting its key strategic aim of commercialising Irish third level research into globally scalable businesses which will create high quality jobs, stimulate exports and attract international investment. This significant investment represents its continued commitment to increasing the availability of risk capital for SMEs and ensuring there is a vibrant ecosystem of funding available in the Irish market for all startups.
Minister for Jobs, Enterprise and Innovation, Mary Mitchell O'Connor TD said, "Innovation is a key pillar of Enterprise 2025 and I am delighted that this new University Bridge Fund has been launched. This additional investment in the third level sector will provide the support for more researchers to develop viable new businesses and spin outs from the sector."
"Irish third level institutions are generating cutting edge research, which we believe has great potential to be commercialised into global companies of scale. Atlantic Bridge will bring world class investment processes, scaling expertise and an international platform to generate strong commercial returns for investors," said General Partner at Atlantic Bridge, Gerry Maguire.
"Ireland is privileged to have more top 100 innovative universities per capita than any other country in Europe, with both TCD and UCD forming part of this elite pool. It is my strong belief that Irish research organisations have the potential to generate significant global impact with this fund acting as a catalyst for the commercialisation of their research," said Head of Technology Transfer & IP Investments of European Investment Fund, Piyush Unalkat.
"Trinity and UCD are committed to achieving both economic and societal impact from our research excellence. This fund will be transformational in supporting our internationally leading research to become globally leading businesses – creating new jobs and enabling new innovative products," said Provost of Trinity, Professor Patrick Prendergast.
"The strong track record, scale and professional supports of UCD and Trinity prompted us to seek out the creation of this fund in the first place. We expect the pipeline of UCD and Trinity companies to account for at least 50% of the investment fund. We are both ambitious and confident that the University Bridge Fund will generate excellent commercial outcomes that will encourage more researchers to become entrepreneurs," said President of UCD, Professor Andrew Deeks
"A key role of Enterprise Ireland is to support innovation and the commercialisation of research into business. We are delighted to be an investor in the University Bridge Fund which is open to all third level institutions and will help develop more entrepreneurs, companies and jobs, from the research community," said Julie Sinnamon, CEO of Enterprise Ireland.