Honorary degrees for activist, science leader, linguist, justice advocate and finance expert
University College Dublin has awarded honorary degrees to five individuals who have attained outstanding distinction in their fields.
Máirín de Búrca, social activist - Honorary Degree of Doctor of Laws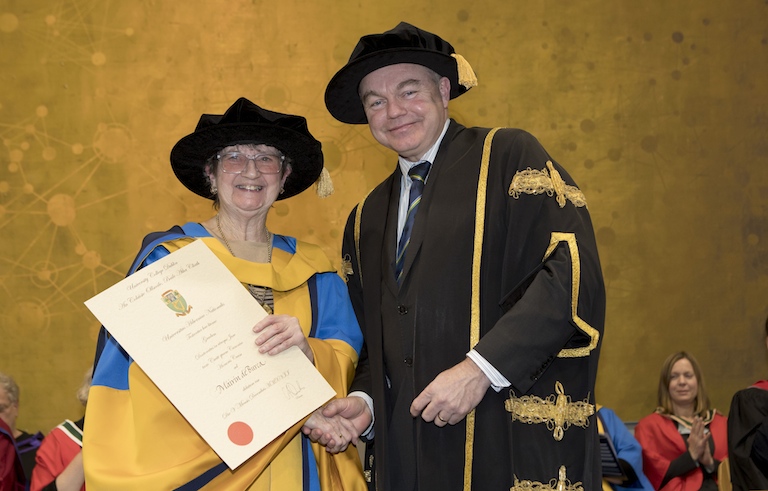 Social activist Máirín de Búrca rose to prominence as a co-founder of the Dublin Housing Action Committee (DHAC) in the late-1960s. A committed pacifist, she used civil disobedience and court action to achieve her aims.
Using the legal system to challenge injustice was a well-established political tradition, said Dr Kevin Costello, UCD School of Law, who delivered the citation. De Búrca is "perhaps the foremost exemplar of that phenomenon in Irish history."
Amid a chronic housing shortage, mass evictions and long waiting lists, de Búrca founded the DHAC to provide hundreds of families with homes by occupying and fitting-out unoccupied housing.
Pictured: Máirín de Búrca receives Honorary Degree of Doctor of Laws from UCD President Professor Andrew Deeks.
During a campaign action, she refused an order by Gardaí to disperse and was arrested. Facing prosecution, she challenged the constitutionality of the jury selection law that effectively excluded women and non-householders.
The Supreme Court upheld her complaint that it did not allow for juries that were socially-representative and the law was changed.
She campaigned against apartheid, the Vietnam War and U.S. President Richard Nixon's 1970 visit to Ireland. She was a leader in the Irish women's rights movement, the campaign for a minimum wage and a founder of the Prisoner's Rights Organisation.
A Supreme Court judge who found against her concluded his judgement by saying: "I admire Máirín de Búrca for her humanity and compassionate concern for the underprivileged, and admire her for her courage in sacrificing her liberty on their behalf."
Naledi Pandor, science leader - Honorary Degree of Doctor of Science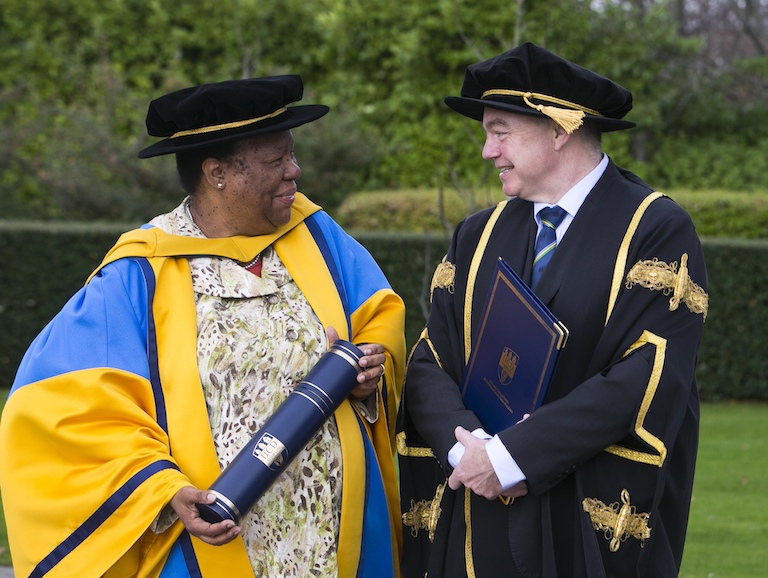 Naledi Pandor is the serving Minister of Science and Technology and has held three ministerial posts in the South African government over 13 consecutive years.
A Member of Parliament since the first post-apartheid elections in 1994, Pandor has "dedicated her career to education and science policy, based on her long-held belief that these form the twin pillars of sustainable social and economic transformation," said Professor Lorraine Hanlon, UCD School of Physics, who delivered the citation.
Pandor and her family left South Africa to go into exile in 1961. She returned in 1984 and became a professor at the University of Cape Town five years later. Under Nelson Mandela's leadership, she played an important role in shaping the education policies of the African National Congress (ANC).
Pictured: South African Minister of Science and Technology, Naledi Pandor with UCD President Professor Andrew Deeks.
Currently Minister of Science and Technology, she previously served as Minister of Education and Minister of Home Affairs. Pandor is a member of the National Executive Committee of the ANC.
She has been one of the leaders in bringing a major part of the Square Kilometre Array (SKA) to South Africa. Once completed, the radio telescope project will be the largest in the world.
"We recognise an outstanding political leader committed to scientific advancement and cooperation across the African continent and beyond," said Professor Hanlon.
She was an "unstinting advocate for the importance of education and science in moving Africa forward, empowering its citizens, reducing inequality and inspiring the next generation."
Shana Poplack, linguist - Honorary Degree of Doctor of Literature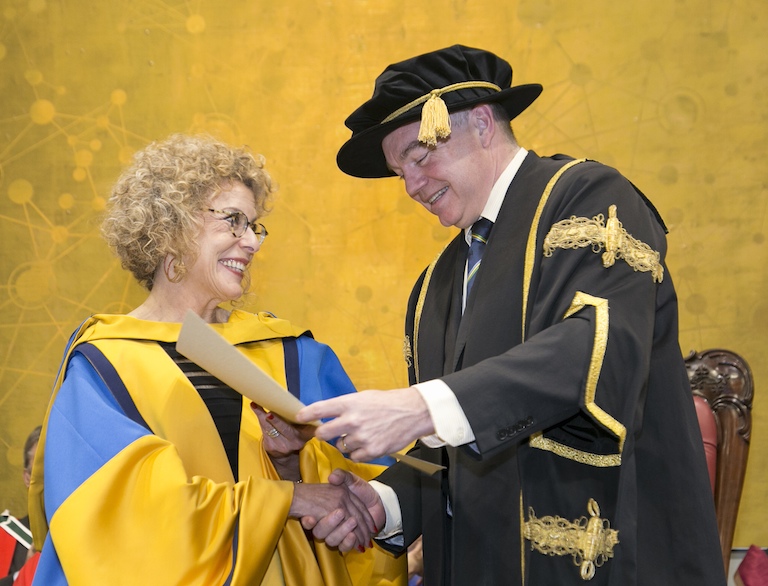 Shana Poplack is a Distinguished University Professor at the University of Ottawa whose work has helped to debunk linguistic stereotypes by providing a scientific explanation for the evolution of dialects.
She is "one of the most respected and influential linguists in the world today," said Professor Vera Regan, UCD School of Languages, Cultures and Linguistics, who read the citation.
Her work analyses common speech to understand issues related to bilingualism. It has shown that French Canadians do not speak 'bad French' but a French that has evolved naturally on Canadian soil. She also found that using words from multiple languages when speaking is a skilful use of language and not a flaw.
Completing an undergraduate and master's degree in New York, Professor Poplack then spent seven years in Paris under the guidance of the renowned linguist André Martinet. She earned her PhD at the University of Pennsylvania.
Pictured: UCD President Professor Andrew Deeks presents Professor Shana Poplack with her Honorary Degree of Doctor of Literature.
Her seminal paper, Sometimes I'll start a sentence in English y termino en español: towards a typology of code-switching, was recently recognised as the single most-cited paper in the 50-year history of the journal Linguistics.
In 1982, she founded the Sociolinguistics Laboratory at the University of Ottawa, the leading research centre in the field in Canada. In 2002, she became Distinguished Professor of Linguistics.
She is a member of the Order of Canada, Fellow of the Royal Society of Canada and Linguistic Society of America and holds the first Canada Research Chair in Linguistics.
Patricia Rickard-Clarke, justice advocate - Honorary Degree of Doctor of Science
‌
Patricia Rickard-Clarke has achieved "extraordinary accomplishments in her unflinching pursuit of justice, advocacy and the greater good of Irish society," said Professor Amanda Phelan, UCD School of Nursing, Midwifery and Health Systems.
A solicitor, Rickard-Clarke became a partner within three years of qualifying. In 1997, she was appointed Law Reform Commissioner, a post she held until her retirement in 2012.
She has been called to provide submissions to the Oireachtas on the topic of capacity, safeguarding and deprivation of liberty. Since 2015, she has served as the independent chair of the National Inter-Sectoral Committee for Safeguarding Vulnerable Adults.
Pictured: Patricia Rickard-Clarke at the honorary degrees conferring ceremony in O'Reilly Hall, UCD.
"I have personally witnessed her dedication and expert perspectives on many issues, but particularly her advocacy for the rights of vulnerable people," said Professor Phelan.
Rickard-Clarke has provided expert service to the Institute of Banking, was a member of the Society of Trust and Estate Practitioners and a member of its Special Interest Group on Capacity.
She has received the Public Sector Lay Lawyer of the Year Award, Special Merit in the Law Award and was named Women's Lawyer of the Year by the Irish Women's Lawyer Association.
Matthew Spiegel, finance and markets expert - Honorary Degree of Doctor of Laws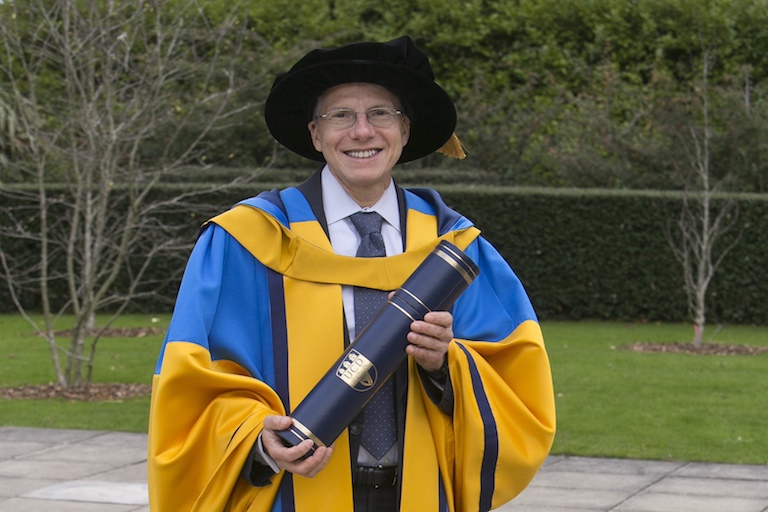 Professor of Finance at Yale School of Management, Matthew Spiegel is a "leader in financial economics both in research and business education," said Professor John Cotter, UCD College of Business, who delivered the citation.
His research has focused on market microstructure, asset pricing, real estate, corporate finance, and experimental economics. Professor Spiegel's theoretical work has helped to explain rapid changes in the stock market, what causes market breakdowns and how industry mergers impact competition.
He has held the post of president and vice-president of the Society of Financial Studies and is a past member of the Nasdaq Economic Advisory Board.
Professor Matthew Spiegel with his Honorary Degree of Doctor of Laws.
A founding editor of the Journal of Financial Markets, he is currently an advisory editor of Financial Management. He was previously editor of the Review of Financial Studies.
Professor Spiegel has been published in leading finance, economic and real estate journals. He has won several awards for his research including the NBAR Management Intelligence Citation of Excellence, Michael Brennan Best Paper Award and Ross Best Paper Award.
He holds a bachelor of arts in economics from the University of California at Berkeley and a PhD in Economics from Princeton University. He previously served as a member of the Advisory Board of the Global Finance Academy at University College Dublin.