President of Ireland Michael D Higgins visits UCD infectious disease facility in Cuba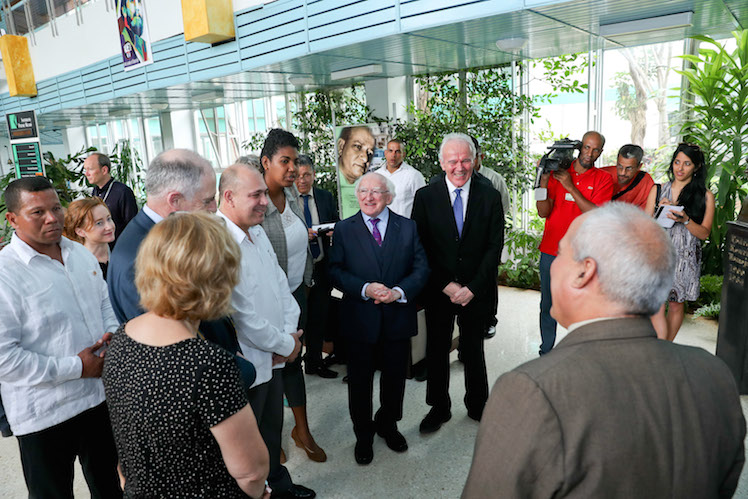 Posted February 20, 2017
UCD develops test to diagnose Zika in 40 minutes
On his official visit to Cuba, President of Ireland Michael D. Higgins visited the Pedro Kourí Institute of Tropical Medicine where University College Dublin is rolling out a new test to quickly diagnose Zika as part of Cuba's fight against the virus. The test was developed by UCD in Japan and successfully deployed during the virus epidemic in Brazil.
The effort is part of the Ireland Cuba Virology Initiative (ICVI), a partnership between UCD and Cuba's Pedro Kourí Institute of Tropical Medicine (IPK) to advance Cuba's ability to tackle viral outbreaks.

The ICVI is aiming to eliminate Cuba's dependence on commercial companies in diagnosing viruses like Zika and dengue fever. Current tests for these cost $40 each. The new test developed by UCD will cost $1.
Pictured:
President of Ireland Michael D Higgins at the Pedro Kouri institute for Tropical Medicine in Havana, Cuba, and on his immediate right, Professor William Hall, Director of the UCD Centre for Infectious Diseases, on the President's official state visit to the country
UCD's loop-mediated isothermal amplification (LAMP) test is also faster, taking about 40 minutes to give a positive or negative result. More expensive polymerase chain reaction (PCR) tests can take hours.
Under the ICVI, University College Dublin will also provide viral diagnostic training to scientists and doctors and upgrade IPK facilities.
The initiative is led by microbiologist Professor William Hall, former Director of National Virus Reference Laboratory (NVRL) at UCD. It is funded by Atlantic Philanthropies.
Cuba has recently seen a rise in Zika cases. In November, the European Centre for Disease Prevention and Control described "sporadic transmission." The status has since changed to "widespread transmission."
Professor Hall previously established the Ireland Vietnam Blood Borne Virus Initiative (IVVI) at the Vietnam Institute for Hygiene and Epidemiology. This programme built new laboratories in Hanoi and trained 10 Vietnamese scientists who completed a master's degree in virology at UCD.

He is co-founder of Global Virus Network (GVN). GVN operates in 25 countries and aims to strengthen medical preparedness and responses to potential global viral pandemics. IPK is expected to become an affiliate member of the network.

The Pedro Kourí Institute of Tropical Medicine provides research and surveillance for the prevention, control and elimination of infectious diseases. It is Cuba's national authority in microbiology, parasitology, tropical medicine and epidemiology of communicable diseases.
By: Jonny Baxter, digital journalist, UCD University Relations