UCD honours outstanding graduates with Alumni Awards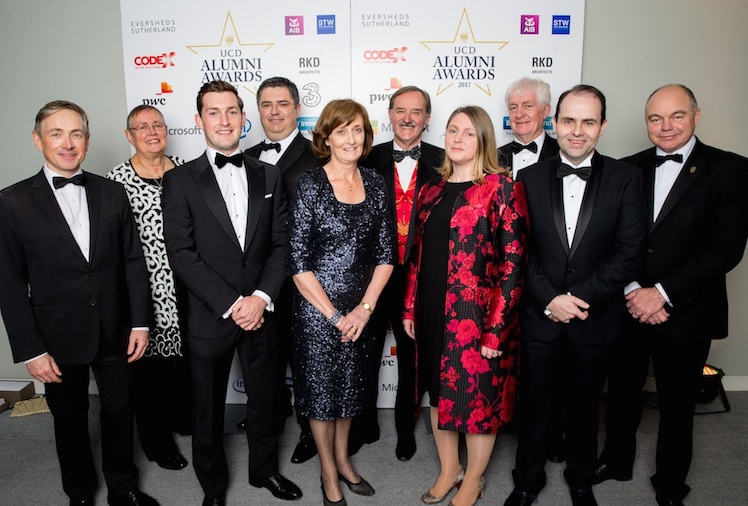 Posted: November 14, 2017
University College Dublin President Professor Andrew J Deeks has presented UCD Alumni Awards to ten of the University's notable graduates who have achieved excellence in their fields of expertise.
The awards are the University's leading annual event honouring outstanding Alumni, nominated by peers and faculty, who reflect the very best of ambition, application and achievement.
This year's awardees have excelled in the arts, health, business, agriculture, sport, engineering and architecture, academic research and impact, social science and law.
Pictured above: Alumni Awardees, Michael McGlynn, Dr Sheila Willis, Paul O'Donovan, Eamonn Sinnott, Mary Sutton, Dr Garrett Fitzgerald, Caoilfhionn Gallagher, Dr Des Rice, Dr Edmond Harty and UCD President Professor Andrew J Deeks. Pic credit: Conor Healy
The UCD Alumni Awards event was made possible through the generous support of sponsors Microsoft, Bank of Ireland, Intel, AIB, Eversheds Sutherland, RKD Architects, Codex, PwC, Three and Scott Tallon Walker, and supporters Lidl and The Gloss.
At the special alumni event, UCD President, Professor Deeks, presented awards to the following alumni:

Mary Sutton – UCD Social Sciences
Mary Sutton completed a Bachelor of Social Science degree in UCD in 1974, followed by a Master's degree in Economics at McMaster University in Canada. For most of her career, Mary worked in international development, before joining The Atlantic Philanthropies in 2008, becoming Country Director for the Republic of Ireland in 2011. Now in her tenth year with Atlantic, she is overseeing the conclusion of its work in Ireland in line with Chuck Feeney's "limited life" and "giving while living" philosophy.
Eamonn Sinnott – UCD Business
Eamonn Sinnott is Vice President of the Technology and Manufacturing Group at Intel Corporation and the General Manager of Intel in Ireland, having received an MBA from UCD in 2000. He joined Intel in 1991, and was appointed General Manager of Intel Ireland in 2010 where he was instrumental in securing the record $7 billion upgrade to the Leixlip campus. This has enabled the production of Intel's leading-edge process technologies and products from Ireland.
Dr Garret A FitzGerald – UCD Research, Innovation and Impact
Dr Garret FitzGerald is the McNeil Professor in Translational Medicine and Therapeutics at the University of Pennsylvania in Philadelphia. He chairs the Department of Systems Pharmacology and Translational Therapeutics and directs the Institute for Translational Medicine and Therapeutics at the university. He received his Bachelor of Medicine in 1974 from UCD followed by his Doctorate in 1980. Dr FitzGerald's research has been characterised by an integrative approach to explaining the mechanisms of drug action, drawing on work in cells, model organisms and humans.
Emily Logan – UCD Health Sciences
Emily Logan is the first Chief Commissioner of the Irish Human Rights and Equality Commission, appointed by President Michael D Higgins in 2014. She graduated with an MBA and Diploma in Mediation from UCD. Emily leads the IHREC in their goal to protect and promote human rights and equality. Prior to this, she served as Ireland's first Ombudsman for Children and in 2008 was appointed by her peers to the position of President of the European Network of Ombudsmen for Children.
Dr Edmond Harty – UCD Engineering & Architecture
Professor Edmond Harty is regarded as one of the world's pioneers in agricultural technology. Having completed his PhD in Agricultural and Food Engineering in 2002, his creativity, ambition, determination and leadership has helped to make Dairymaster one of the most successful agritech businesses in the international arena. Professor Harty has overseen Dairymaster's success as a global leader in technology for dairy farming.
Caoilfhionn Gallagher QC- UCD Law
London-based human rights lawyer Caoilfhionn Gallagher was made Queen's Counsel in 2017 in recognition of her exceptional international work, acting for journalists and peaceful protestors who have been arbitrarily detained all over the world. She recently led the legal team for Ibrahim Halawa, the Irish national who, at 17, was detained in Egypt in 2013. She also regularly acts for journalists worldwide who are imprisoned, prosecuted, sued or subjected to travel bans due to their journalism.
Michael McGlynn – UCD Arts & Humanities
Michael McGlynn is a composer, producer and Artistic Director of the vocal ensemble Anúna, which he founded in 1987. He created Anúna with the intent of developing an Irish form of ensemble singing that wove convincing connections between the ancient singing traditions and the literature of his homeland. Today Anúna is regarded as one of the finest vocal groups in the world and Michael's compositions have been performed Grammy-winning ensembles the Phoenix Chorale, Kansas City Chorale and Chanticleer.
Dr Sheila Willis – UCD Science
Former Director General of Forensic Science Ireland Dr Willis's career has focused on how science can be used to investigate crime and assist the administration of justice. She was been director of the laboratory from 2002 to 2016, and during this time took the organisation to the highest international standard. Sheila pioneered the introduction of DNA profiling to our legal system and recruited an expert team of molecular biologists to set up the national DNA Database System in 2015.
Dr Des Rice OBE – UCD Agriculture and Veterinary Medicine
Dr Des Rice OBE is a veterinarian who specialised in livestock nutrition. After two years in veterinary practice in Ireland, he spent four years developing a Veterinary Investigation Laboratory in El Salvador, followed by 10 years on nutritional-disease research in Belfast, obtaining a PhD. For services to the Agrifood Industry he received an OBE from the British Government in 2004. Now, through his business, CCO, he provides coaching and mentoring services on strategic, human behaviour and stress management issues to many businesses.
Paul O'Donovan – UCD Sport
Paul O'Donovan is an Irish rower, world-class sportsman and the only Irishman to win both World Championship and Olympic medals in the same year. Paul completed his BSc in Physiotherapy just this year and is our youngest Alumni Award winner ever. With his brother Gary, he won silver in the Men's Lightweight Double Sculls at the 2016 Rio Olympics, the first rowing medal won by Ireland at the Olympics. Two weeks later, the UCD Ad Astra scholar became World Champion in the Men's Lightweight Single Sculls at Rotterdam.
By: Jamie Deasy, digital journalist, UCD University Relations