UCD awarded highest number of Intel Women in Technology Scholarships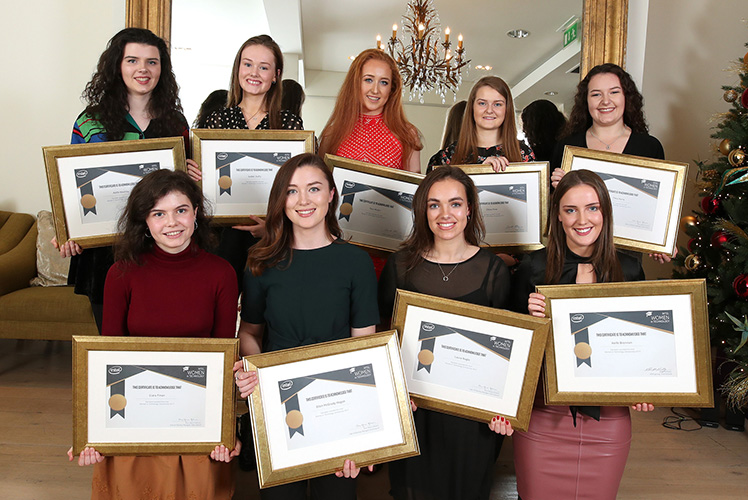 Posted: November 29, 2017
Five first-year students from University College Dublin have been accepted into the Intel Women in Technology Scholarship Programme.
Each scholar will receive an annual €3,000 grant and be paired with an Intel mentor to help them with their academic careers. They will also complete a work placement programme at the Intel campus in Leixlip.
The UCD students who received the scholarships are Chloe Fox, Computer Science, Tara McGirl, Computer Science, Aoife Brennan, Engineering, Laura Nagle, Engineering, Thea Harte, Science.
Pictured above: Back row : Tara McGirl (third) Chloe Foxe (fourth) Thea Harte (fifth); Front row: Laura Nagel (third) Aoife Brennan (fourth)
The scholarship programme aims to encourage a new generation of high-achieving women to take up the challenge of a career in science and technology. It is open to students completing a four-year undergraduate degree. Applications were welcomed from every Irish university and institute of technology.
A total of nine scholarships were awarded to students across Ireland, with the remaining four going to students at Trinity College Dublin. The number of applications received in 2017 was the most in the programme's six years.
The programme forms part of a wider focus by Intel on empowering girls and women by fostering educational opportunities and encouraging women to participate, prosper, and lead in the global economy.
By: Jamie Deasy, digital journalist, UCD University Relations