UCD Ulysses Medal for Philosopher Onora O'Neill
Posted: September 08, 2017
Baroness Onora O'Neill, who has dedicated her career to investigating trust and justice in public life, has been awarded the UCD Ulysses Medal by University College Dublin.
The medal is the highest honour the university can bestow. It was inaugurated in 2005 to highlight the creative brilliance of UCD alumnus James Joyce, who graduated in 1902 with a degree in English, French and Italian.
Pictured above: UCD President Professor Andrew J. Deeks presents the Ulysses medal to Baroness Onora O'Neil; and below,
Professor Maria Baghramian, UCD School of Philosophy, and Baroness O'Neill at UCD
Baroness Onora O'Neill, Emeritus Professor of Philosophy at the University of Cambridge and life peer of the House of Lords, was presented with the award by UCD President, Professor Andrew Deeks.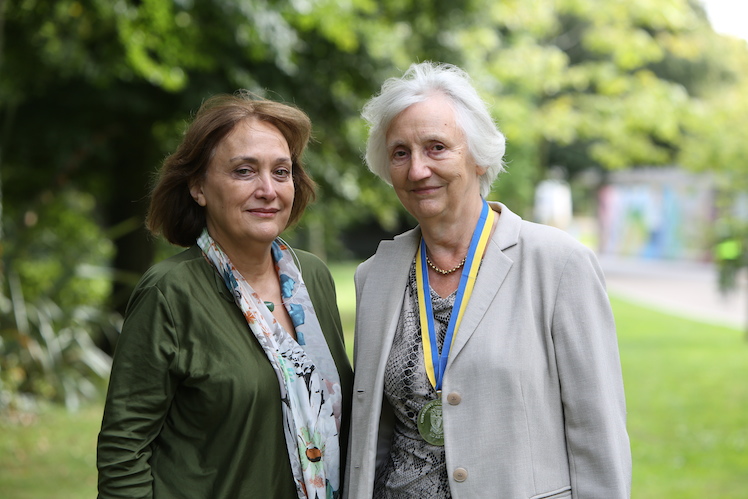 The official citation was read by Professor Maria Baghramian, Professor of American Philosophy at the UCD School of Philosophy.
In 2017, Baroness Onora O'Neill was named winner of the Holberg Prize. The honour is worth €485,000 and is awarded by the Norwegian government to outstanding scholars in the arts and humanities, social science, law or theology.
Baroness O'Neill came to the attention of the public when she delivered a five-lecture BBC series examining trust and accountability in government and institutions in a post-9/11 world. Titled A Question of Trust, the series was broadcast in 2002 as part of the BBC's Reith Lectures.
In 1999, she became a life peer in the House of Lords where she helped to shape the United Kingdom's policy on stem cell research and human tissue use. She was chair of the UK Equality and Human Rights Commission from 2013 – 2016.
She served as President of the British Academy from 2005 – 2009. She was Principal of Newnham College, University of Cambridge from 1992 – 2006 and was elected a Fellow of the Royal Society in 2007.
Baroness O'Neill has written 11 books on issues surrounding global justice and human rights. These include Faces of Hunger (1986), Bounds of Justice (2000) and Justice across Boundaries: Whose Obligations? (2016).
Born in County Antrim, Northern Ireland, Baroness O'Neill completed her undergraduate degree in philosophy, psychology and physiology at the University of Oxford. She also studied at Harvard University.
Previous recipients of the UCD Ulysses Medal include former US President Bill Clinton, Professor Noam Chomsky, Professor Axel Honneth and former Irish President Mary McAleese.
By: Dominic Martella, UCD University Relations