University honours Father Tony Coote for his 'outstanding service to all'
Posted 10 December, 2018
Father Tony Coote receiving his honorary doctorate from Professor Orla Feely, UCD Vice-President for Research, Innovation and Impact
Father Tony Coote served as the chaplain at UCD for almost ten years.
He has helped raise €550,000 for motor neurone research.
Despite his deteriorating mobility, Fr Coote completed a 550km pilgrimage across Ireland.
He is the founder of the 'Please Talk' campaign and UCD Volunteers Overseas.
An inspirational wheelchair-bound priest who has raised €550,000 for the fight against motor neurone disease has been recognised by University College Dublin.
Father Tony Coote, a former chaplain at UCD for almost ten years, was conferred with an honorary doctorate by the UCD College of Science.
Friends and family gathered to celebrated the achievements of Fr Coote, which include setting up UCD Volunteers Overseas with Professor Frank Monaghan, a student organisation working with communities in India, Haiti, Nicaragua, Tanzania and Uganda, as well as launching the 'Please Talk' campaign.
Founded in 2007 in UCD, the student-led mental health movement now reaches across 27 universities and colleges, and encourages students suffering from mental anguish to reach out for help.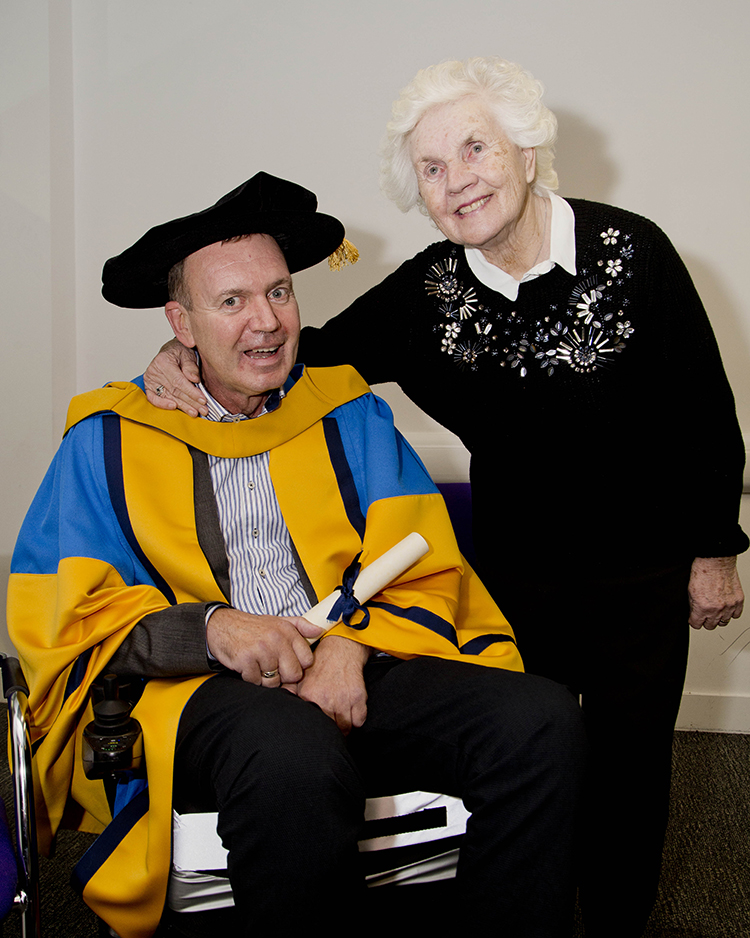 Father Tony Coote with his mother Patricia following his honorary doctorate conferring by UCD
Recently diagnosed with motor neurone disease (MND), Fr Coote refused to allow his deteriorating mobility stop him from completing a 550km pilgrimage from Letterkenny to Ballydehob over the summer.
Hundreds of people joined him on his now-famous walk, captured in a recent RTÉ documentary, and his effort helped raise €550,000 for motor neurone research.

Rather than focusing on his worsening condition, the now parish priest in St Therese, Mount Merrion, is determined to use his time to raise awareness and funds for MND sufferers.
Introducing Fr Coote at the honouring ceremony, Professor Joe Carthy, Principal at the UCD College of Science, praised the former UCD chaplain for his kindness and outstanding service to all.
"Tony has always given his life to support those in need, in communities in Ballymun, in UCD, in Mt Merrion, Ireland, Haiti, India and many other places," he said during his citation.
"It's a reality that many people, who have never heard of Tony are benefitting from his selfless giving.
"The refrain from a well known hymn, sums it up: "Ubi caritas et amor, Deus ibi est" 'Where ever charity and love are present, God is present', and Tony has brought that presence to every community he has worked in."
By: David Kearns, Digital Journalist / Media Officer, UCD University Relations