Science graduate to hone skills at European Space Agency after IRC competition win
Posted 12 December, 2018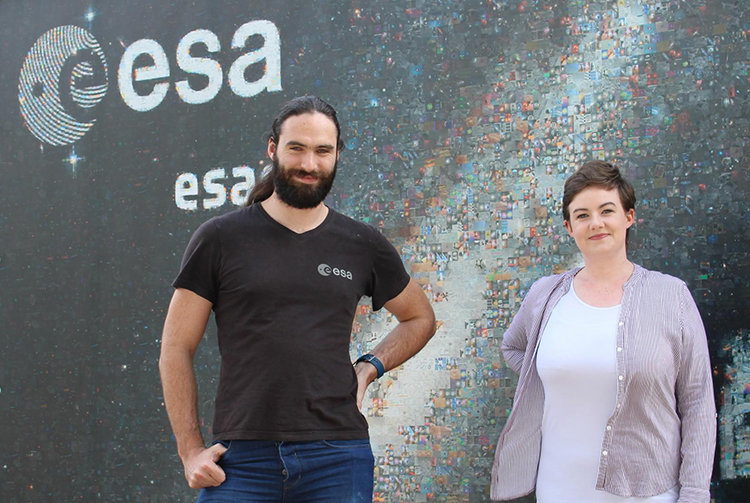 Budding researchers Cillian Murphy, UCD, and Amy Joyce, NUI Galway, will join traineeship programmes with European Space Agency
A UCD graduate has beat off stiff competition from across Ireland to earn the chance to work with the European Space Agency.
Top-ranking candidate Cillian Murphy, an alumnus from the UCD School of Physics, was selected for a traineeship programme at the ESA's Centre for Space Science in Madrid, Spain.
One of two Irish graduates chosen; the budding researcher will work on cutting-edge projects and gain practical experience in high-tech space activities such as space science, telecommunications, mission control, and human spaceflight.
A graduate with a master's degree in space and science technology, Mr Murphy will work on the Gaia Mission – an ambitious stellar survey looking to chart a 3D map of the Milky Way, revealing our galaxy's composition, formation and evolution.
"I've definitely had a lifelong love of space," he told the Irish Times.

"A story my mum loves to tell is that when I was five years old, I had the run of an entire bookshop to pick what I wanted, and I came back with a space encyclopaedia."
Mr Murphy hopes to work with the ESA in the future in the areas of astronomical research or mission control.
He is also a future Analog Astronaut candidate with the Austrian Space Forum, which sees researchers conduct missions in simulated Mars/Moon environments.
The opportunity to work alongside some of Europe's foremost space researchers was organised as part of an on-going partnership between the Irish Research Council and ESA.
Peter Brown, director of the IRC, said: "This traineeship offers the life-changing opportunity to pursue a career in Europe's gateway to space. The council is committed to supporting the development of Europe's space capability and ensuring that investment in space continues to deliver benefits to the citizens of Europe and the world."
Commenting on the announcement, Minister of State for Training, Skills and Innovation, John Halligan, said: "This is a unique opportunity… to train with the best and to develop their skills at the European Space Agency.
"Supporting a pipeline of talent plays an integral role in taking Ireland forward in its contribution to space research, development and innovation and ensures that we are continuing to contribute and collaborate on an international level."
By: David Kearns, Digital Journalist / Media Officer, UCD University Relations