Video: UCD honours Laura Brennan, advocate who restored public confidence in HPV vaccine
HPV vaccine campaigner Laura Brennan has received an honorary degree from University College Dublin in recognition of her advocacy in highlighting how the jab protects girls from developing cervical cancer as adults.
The 26-year-old, from Ennis in Co. Clare, was diagnosed with cervical cancer stage 2B two years ago, and decided to become involved with the HSE's campaign to restore public trust in the HPV vaccine after her cancer was diagnosed as terminal.
Laura contacted the HSE on Facebook to offer her personal story as encouragement for parents to have their children vaccinated against cervical cancer.
The HSE offers the HPV vaccine, free of charge, to all girls in first year in second level schools as this age group ensures the best response to the vaccine.
However vaccination wasn't available to Laura when she attended school, as this scheme wasn't introduced until 2010.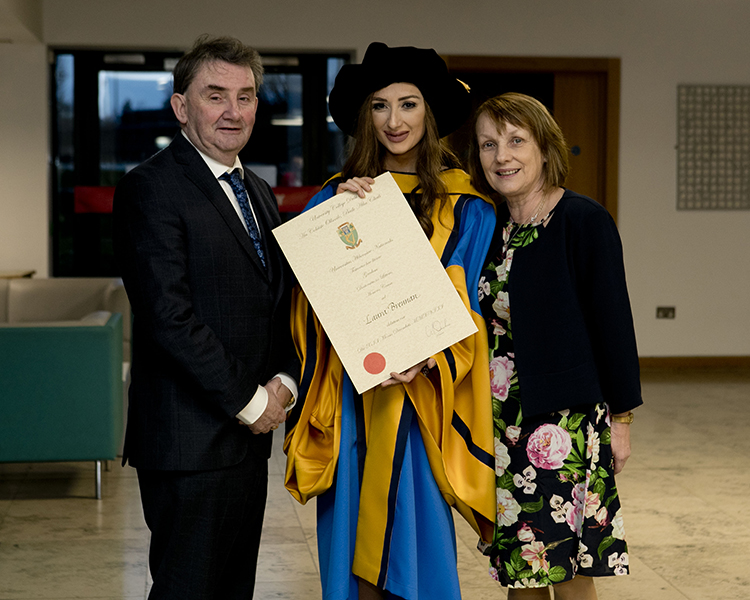 Laura with her father Larry and mother Bernadette at UCD following her honorary degree ceremony
Recommended by the World Health Organization, the International Federation of Obstetricians and Gynaecologists and the National Immunisation Advisory Committee, the HPV vaccine is soon to be made available to boys in Ireland too.
Laura's tireless efforts have been instrumental in encouraging parents to have their children vaccinated against cervical cancer.
When Laura began this work, there was a significant crisis in public confidence for the HPV vaccination.
Now the rate of vaccination is above 70% and rising, with over 250,000 girls in Ireland having received the HPV jab.
"Ireland is the only country in the developed world that has managed to overcome [this] crisis in public confidence," said Professor Donal Brennan, UCD Professor of Gynaecological Oncology at the UCD School of Medicine.

"Laura has travelled Ireland and the world to promote HPV vaccination… She has helped to rebuild trust and confidence in HPV vaccination and we can see that is increasing its uptake.
"Her honesty, courage and strength in delivering her own difficult story demonstrates the impact the patient's voice can have on the public.
"The fact that the vaccine will be extended to boys next September means that policy makers have also been listening."
Introducing Laura at the honouring ceremony, Professor Donal Brennan, who is also a Consultant Gynaecological Oncologist at the Mater Hospital, praised the HPV campaigner for helping overcome the "communication challenge" faced by life-saving vaccine.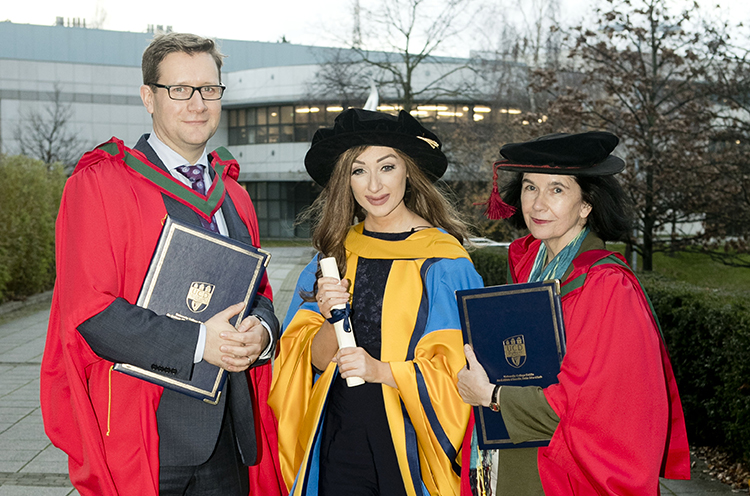 Laura Brennan, along with Professor Donal Brennan and Professor Cecily Kelleher, Principal at UCD College of Health and Agricultural Sciences
"Many years of basic science and clinical trials can be destroyed by a small number of anecdotes or videos, which can be posted online without any verification of their accuracy," he said.
"[Laura's] eloquence and honesty when speaking at scientific meetings or public events can be astonishing, making it much more difficult for the so-called professionals, like me, who have to follow in her wake.
"In many ways she has raised the bar for all of us who work in the field and we are absolutely privileged to consider her a colleague and a true partner in the on-going efforts to eradicate HPV-related cancers for future generations."

Laura Brennan at her honorary conferring at UCD
Early this month, UCD presented a Ulysses Medal, the University's highest honour, to Dr Douglas R Lowy, whose research on the molecular biology of viruses led to the development of the HPV vaccine.
Chief of the Laboratory of Cellular Oncology and Deputy Director at the United States' National Cancer Institute, Dr Lowy's research was undertaken in collaboration with his colleague Dr John Schiller.
His citation was delivered by Professor Stephen Pennington, UCD School of Medicine, who said Dr Lowy had had a "positive impact of remarkable scale" in fight to the eliminate cervical cancer and greatly reduce other HPV-associated cancers.
By: David Kearns, Digital Journalist / Media Officer, UCD University Relations