Tackle housing crisis by suspending tenants' right to buy council home, report argues
Posted 5 July, 2018
‌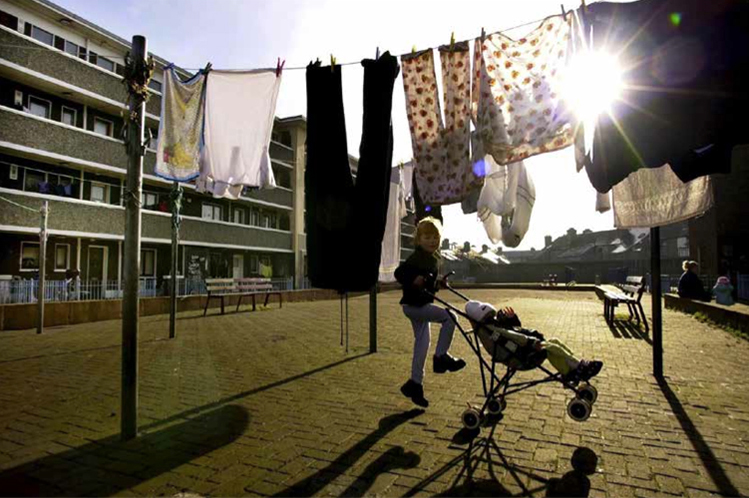 Two-thirds of all social housing in Ireland now privately owned
From 1990 to 2016, 43% of council houses built were sold to tenants
Funding for social housing was cut by 82 per cent during the last recession
Report advocates for the suspension of the tenant purchase scheme
Also calls for a hike in rents for social housing, and stopping children inheriting their parent's tenancies
A tenant's right to buy their council home must be suspended if Ireland ever hopes to tackle its housing crisis.
A new report on the future of social housing argues the country's tenant purchase scheme has significantly reduced the number of council homes available to those in dire need of them.
The report, The Future of Council Housing: An analysis of the financial sustainability of local authority provided social housing, advocates for higher rental rents for social housing, and advises councils to build smaller units for people to move into once their children have grown up and moved out.
Its authors, Professor Michelle Norris and Dr Aideen Hayden from the UCD School of Social Policy, Social Work and Social Justice, also call for the removal of successor tenancies, were children can inherit the tenancies of their parents.
Capital spending on new council housing provision by central government and local authorities, 1990-2018
Introduced in the 1930s, the tenant purchase scheme has lead to two-thirds of all council housing now being privately owned, the UCD academics note.
Between 1990 and 2016, 43% of the 82,869 council houses built during the period were sold to tenants, often up to 60% knocked off on the market value.
A total of 365,350 council housing units have been provided to Irish people since the 19th century, and during the 1960s and 1970s one-third of all house constructions were council dwellings.
Council housing tenants accounted for 73.2% of low-income renting households in 1994, that percentage dropping to 53% in the last two years.
In their report, commissioned by the Community Foundation for Ireland, the UCD academics argue increased pressure on tenants securing private rented accommodation is a "key driver of homelessness"; a problem that can only be resolved by providing more social housing.
Numbers of households in social housing and in receipt of housing allowances for private rented housing: years 1990-2016 pic.twitter.com/0jIKcilXxC

— Peter McVerry Trust (@PMVTrust) July 4, 2018
Calling for a "radical restructuring of funding of council housing", the report champions the European model of funding social housing – whereby local councils take out loans to build and maintain affordable housing.
It criticises current funding through central Government grants, arguing the "up front" costs of delivering council housing is expensive, and that in times of recession such grants are often the first to be slashed.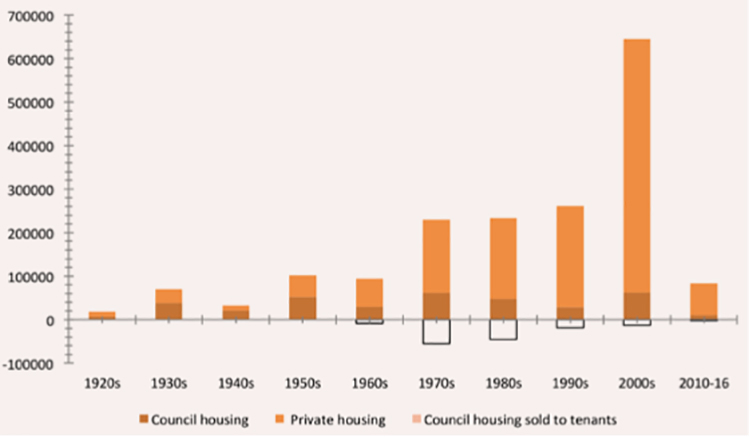 The number of council and private houses built and council houses sold to tenants, 1920s-2016
The report says there should be "compulsory deduction of council housing rents" from social welfare payments, though it stresses that the number of people in social housing in arrears is quite low.
Speaking on RTÉ's Morning Ireland, Professor Norris said that loans would provide more stability and move away from the boom/bust system that has operated over the past 30 years.
She pointed out that exchequer funding for social housing was cut by 82 per cent during the last recession.
In 2013, some €55 million was spent on council housing, but this has since increased to €561 million for 2018.
Changes to how tenants pay rents would be introduced to cover these loans.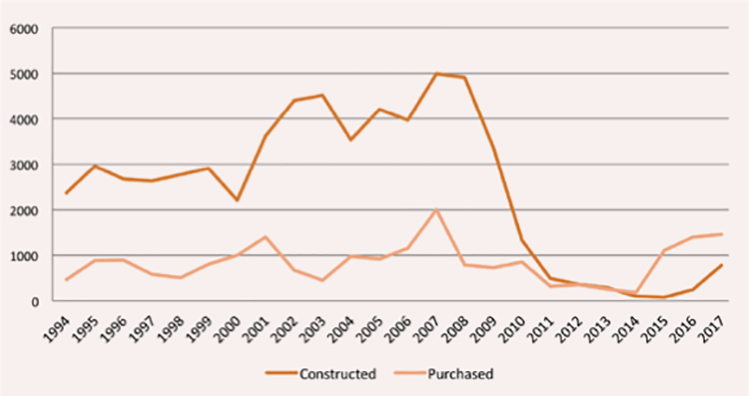 The number of new council housing dwellings constructed and purchased nationwide, 1994 to 2017
Currently rents are based on income, and often fail to cover the costs of maintaining the social housing managed by local authorities.
"Rents [for social housing] need to rise," said Ms Norris. "The cost to build the house should be reflected in the rent. That will enable the local authority to repay the loans."
She added that low-income families could safeguard by receiving an increased rent supplement from the Government.
Other recommendations included in Professor Norris and Dr Hayden's report allow for the compulsory deduction of council housing rents from social welfare payments, and that local authorities be allowed to ring fence income from rents to spend on management and maintenance of properties.
By: David Kearns, Digital Journalist / Media Officer, UCD University Relations